Family-friendly Oktoberfest celebrations abound throughout Chicago area
More than just bosomy Frauleins wielding bier steins, Oktoberfest can be a family affair, too.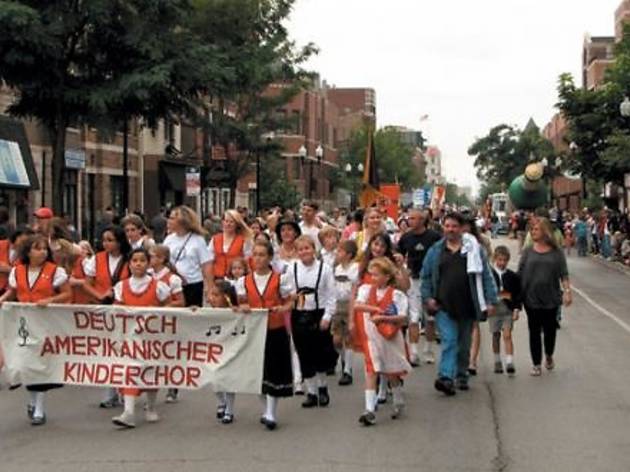 German Day Festival and Von Steuben Parade
Although the first Oktoberfest, 201 years ago, did indeed commence during the tenth month, the Munich-based party eventually inched forward in the calendar, to take advantage of late September's longer days and warmer weather. Chicago's traditionally German neighborhood, Lincoln Square, kicks off the celebration even earlier: Friday 9 launches a three-day festival that includes bands all the way from Bavaria, carnival games and lots of ethnic food. (Kids will demand seconds of bienenstich, a custard-filled cake with a nutty buttery topping.) The party kicks into full gear Saturday 10 with the popular Von Steuben Parade, which kicks off at 2pm from 4000 N Lincoln Ave and marches north up Lincoln to the fest grounds. Fri 9, 5–11pm; Sat 10, noon–10pm; Sun 11, noon–10pm. Lincoln and Leland Aves (630-653-3018, germanday.com). Free.
Berwyn Historic Depot District Oktoberfest
Not every Oktoberfest has a pretend smoke-filled building designed to teach children how to escape a house fire, but Berwyn's does. The Berwyn Fire Department's display is just one of several kid-friendly events—along with a clown, Peggy Rose Academy dancers, and make-and-take crafts—slated for the celebration's family pavilion. And old-school musical lovers can enjoy a preview of Once Upon A Mattress from Morton West High School's drama department.
OakToberfest
Some parents would consider a beer garden verboten for young ones, but kids are in luck at this year's OakToberfest, which lets tots heft a frothy mug in a root-beer garden. Meanwhile, parents can enjoy the handcrafted microbrews. Activities include karaoke, hip-hop dance classes and zucchini racing (for $3, kids can make and race their own zucchini cars). Pulled pork sandwiches, corn on the cob and bratwurst will also keep hunger at bay. Sept 16, 5–10pm; Sept 17, noon–10pm. Downtown Oak Park, Marion and Lake Sts (708-383-4145, downtownoakpark.net). Free.
KinderFest at St. Alphonsus
Lakeview's St. Alphonsus sponsors an Oktoberfest with everything you'd expect (beer, brats, bands), but families can decamp to KinderFest, a fest-inside-the-fest held September 25 from 11am–2pm. In addition to face painting, carnival games and a balloon artist, kids can craft traditional green-felt hats. Sept 23, 5–11pm; Sept 24, 11am–11pm; Sept 25, 11am–7pm. St Alphonsus Catholic Church, 1429 W Wellington Ave (773-525-0709, stalphonsuschgo.org). $5.
Naper Settlement Oktoberfest
The Naper Settlement's popular fest, with everything from rock bands to polka ensembles, boasts an entire day of kid-centric activities, including place-mat coloring and performances by Sandi Sylver Storyteller. And what would autumn be without at least one enormous Bavarian pretzel? Guten appetit! Sept 30, 4–10pm; Oct 1, 11am–10pm. Naper Settlement, 523 S Webster St, Naperville (630-420-6010, napersettlement.org). $10, $8 advance.