Food without fear
These Chicago restaurants accommodate kids with allergies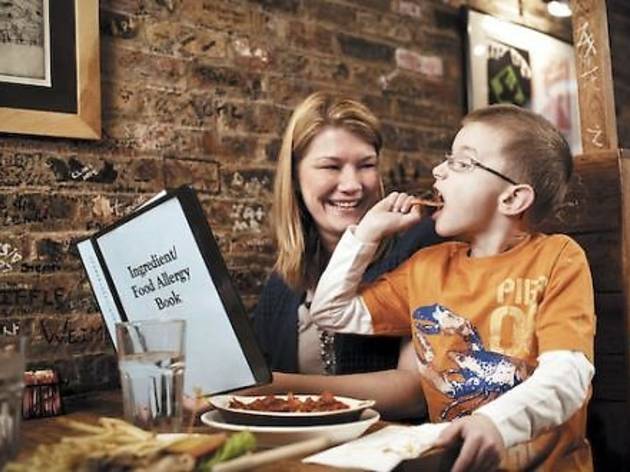 My family's restaurant experiences usually start with an inquisition. Before we order, I grill the waiter about menu ingredients, cross-contamination and other things he's usually thrilled to discuss. I don't do it to be difficult; my six-year-old daughter has celiac disease, and her diet has to be strictly gluten-free. Some restaurants just don't get it; one place we visited touted food served on gluten-free buns but had bread crumbs all over the tiny prep counter. But we've found other Chicago restaurants that bend over backward to accommodate all kinds of allergies and serve safe, kid-friendly fare. (That being said, be sure to grill the waiters yourself, to ensure they understand your kid's restrictions.) Here are a few that go the extra mile.
American Girl Café (Water Tower Place, 835 N Michigan Ave, second floor, 877-247-5223) Everything is carefully thought out at this over-the-top doll emporium—from the doll booster seats to the nut-free, allergy-free options in the café. Kids with allergies will be thrilled that they can dine in style on artfully arranged tea sandwiches made with gluten-free bread and dairy-free desserts.
Marcello's, A Father & Son Restaurant (645 W North Ave, 312-654-2550; 2475 N Milwaukee Ave, 773-252-2620) Pizza is the delicious foundation of many childhood parties . Marcello's makes sure kids with celiac disease can party, too, with gluten-free pizzas for them (and gluten-free Redbridge beer for their parents). The pizzas are prepped in a dedicated area and cooked on parchment paper so they don't touch the oven. Toppings are kept separate to avoid cross-contamination, too.
Medici on 57th (1327 E 57th St, 773-667-7394) Since so many of its customers were asking about food allergies, this Hyde Park hangout compiled a book listing the ingredients of all its dishes, highlighting major allergens. The kitchen gladly makes gluten-free and allergy-free substitutions, such as quesadillas made with corn instead of flour tortillas and roasted veggie pizza without cheese. No peanuts are on the menu, though the attached bakery does use nuts. Questions? Ask to see the book.
Pei Wei Asian Diner (2709 N Elston Ave, 773-687-0290) The quick-serve format here is a mercy for families with antsy kids. A checklist (available online and at the restaurant) details whether allergens are present in each dish. Gluten-free items, such as sweet-and-sour chicken "breaded" with potato starch, are cooked with fresh oil. When peanut-free orders come in, kitchen workers change gloves to avoid cross-contamination (the same wok is used, but cleaned between orders).
Wishbone (3300 N Lincoln Ave, 773-549-2663; 1001 W Washington Blvd, 312-850-2663) Family-friendly Wishbone is allergy-friendly, too. The menu of Southern comfort food includes allergy-conscious choices such as grilled chicken, Hoppin' John and Hoppin' Jack. The restaurant is developing a separate gluten-free menu, expected to start serving in mid-April. All food is cooked from scratch, so the kitchen can easily make substitutions, like omitting dairy or nuts.
Swirlz Cupcakes (705 W Belden Ave, 773-404-2253) and Cookie Bar (2475 N Lincoln Ave, 773-348-0300) These unrelated bakeries are go-to destinations when the parent of an allergy-afflicted kid has to pick up last-minute treats. Swirlz always has gluten-free and vegan (no milk and egg) cupcakes (try the chocolate grasshopper and the vegan red velvet options), and Cookie Bar stocks fresh vegan (oatmeal chile mango macadamia) and gluten-free (chocolate mint) cookies. Note that nuts and peanuts are used in both bakeries.
Eve Becker writes a blog for gluten-free families, glutenfreenosh.com.