General Interest Camps | 2011
NOTE: Also check out Arts Camps, Academic Camps and Sports Camps. Our favorite Midwest overnight camps are here. Did we miss a camp? Let us know by...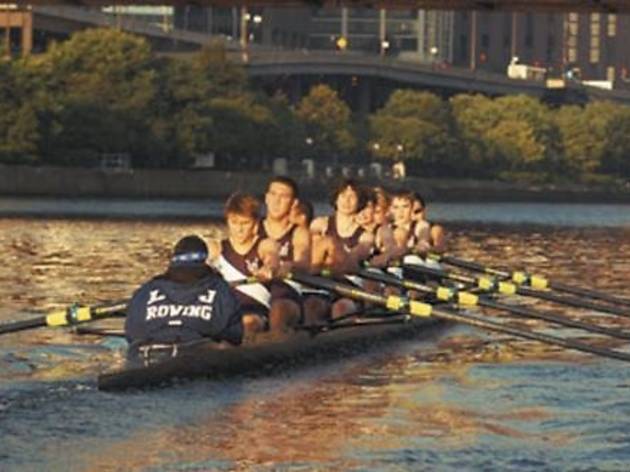 NOTE: Also check out Arts Camps, Academic Camps and Sports Camps. Our favorite Midwest overnight camps are here.
Did we miss a camp? Let us know by sending an e-mail to kids@timeoutchicago.com and we'll add it to our listings.
Akiba-Schechter Jewish Day School Through themed programs such as Ready! Set! Go! and Little Guys, Akiba-Schechter offers a play-based curriculum featuring arts and science projects, as well as yoga classes, swimming and cooking. All faiths are welcome to participate in this seven-week program. 5235 S Cornell Ave (773-493-8880). Jun 6–Jul 30. Prices and times vary. Ages 1–6.
The Ancona School A forward-thinking, Montessori-based program rooted in the philosophy that children are active learners, Ancona combines classic camp activities like swim instruction and field trips with less-traditional favorites like hip-hop dancing and yoga. 4770 S Dorchester Ave (773-924-2356). Jun 28–Aug 6, Mon–Fri 8:30am–3pm. Prices vary. Before- and after-care available. Ages 3 to 8th grade.
Avery Coonley School Your little one will exercise her brain cells and her body during this camp's dynamic programs. From swimming to chess to academic programs, kids are guaranteed to find something that interests them and a place to beat the Chicago heat. 1400 Maple Ave, Downers Grove (630-969-0800). Jun 20–Jul 29. Times and prices vary. Ages kindergarten to 8th grade.
Baker Demonstration School Preschool and kindergarten camp days brim with indoor and outdoor play, arts and crafts, music, drama, interactive games and swim instruction. Activities focus on imaginative play, artistic creativity, scientific questioning and early literacy. Campers entering first through sixth grades participate in Educational Explorations during their sessions—dabbling in topics such as potions, jazz, fairy tales and Spanish. 201 Sheridan Rd, Wilmette (847-425-5800). Jun 13–Aug 5, four-, six- and eight-week sessions available, 9am–3pm. $700 and up. Ages 3 to 9th grade.
Banner Day Camp Set in idyllic Lake Forest, Banner offers two private lakes, a large aquatic center with four heated pools and two water slides, plus indoor and outdoor facilities for sports, music, dancing, wall climbing and more. 1225 Riverwoods Rd, Lake Forest (847-295-4900). Jun 20–Aug 12, Mon–Fri 9am–4pm. Four-week session $2,340–$3,400; one- to eight-week session $1,200–$5,680. Ages 3–14.
Black Bear Academy Your little cub will spend the summer playing in the wild as much as Mother Nature allows. Every week, BBA presents a new theme for campers. Actvities like scavenger hunts, art projects and field trips round out the experience. Black Bear Academy, 1801 W Byron (733-244-0500). Jun 28–Aug 5, Tues–Thurs 9am–2pm. Prices vary. Ages 2–6.
Boys and Girls Club of Chicago Campers spend the summer exploring our fair city with field trips to baseball games, water parks and museums. And then, we're guessing, they sleep like logs every night. Clubs include Cotter, Jordan, McCormick, Valentine, King, Little Village, General Wood and Logan Square (312-235-8000, bgcc). Dates, times, prices, ages and locations vary.
Bright Horizons In these summer day camps, children experience a smattering of mind-expanding activities—including basketball, computer programming and creating a magazine. Oodles of venues host these camps throughout Chicagoland. Locations throughout Chicago, go to brighthorizons.com for more info on session dates, ages and pricing.
Brookfield Zoo Summer Day Camp Pint-size animal lovers learn about animal habitats and life as a zookeeper and take a sneak peek into the world of zoology with behind-the-scenes zoo activities. 8400 31st St, Brookfield (708-688-836). Jun 7–Aug 9; times vary. One-week session $265–$375; half-day $135–$185. Ages 4 to 8th grade.
Bubbles Academy Classic Camp activities like sports, games and arts and crafts meet specialty programming like cooking, science and yoga at this camp taught by Bubbles Academy teachers at the Catherine Cook School. Full- and half-day options are available. 1504 N Fremont (312-944-7677) Jun 13–Aug 19, Mon–Fri 9am–3pm. $45 per half-day; $90 per full-day. Ages 3–7.
Chicago Park District Expect traditional summer day-camp activities, including field trips, visits to the local pool, arts and crafts, nature exploration, sports and games at more than 200 parks throughout Chicagoland. Contact local parks for specific camp agendas. Locations throughout the city (312-742-7529). Jun 27–Aug 5. Prices and session times vary. Ages 6–12.
Chicago Waldorf School Camp days revolve around arts, nature, crafts, sports, beach play and weekly field trips to places like the Chicago Botanic Garden. 1300 W Loyola Ave (773-465-2662). Jun 13–Jul 29, Mon–Fri 9am–3pm. One-week session $200. Ages 4 –12.
Children's World Learning Centers Via themes such as Wild, Wild West, Spectacular Sports and Animal Antics, children all across Chicago can join in any or all of Kindercare's 12-week programs. 47 locations throughout Chicago. Dates, times, prices and ages vary by location.
Council Oak Montessori School While the gray towers of the city may not invoke nature at its greenest, children can still learn how to develop a green thumb through Council Oak's Summer Urban Garden Camp. Through planting and gardening, young ones prepare and eat food (harvested by them!) from a vegetable and herb garden. Cue Lion King's "Circle of Life." 11030 S Longwood Dr (773-779-7606). Jun 21–Aug 6, Mon–Fri 8:30am–3pm. Before- and after-care available. $200 per week, or $1,400 for all seven weeks. Ages 3–11.
Creative World Montessori Kids will dig the relaxed but invigorating environment, which includes academic-related activities in the morning and naptime, arts and crafts, gardening and water play in the afternoon. Creative World Montessori School, 1250 W Goodman, LaGrange (708-354-5255). Jun 6–Jul 29, 7am–6pm for half or full-day. Prices vary. Ages 3–7.
Decoma Day Camp The usual suspects like swimming, sports, games and the arts are present and accounted for. But boredom is never an option thanks to a lineup that includes archery, fencing, climbing the rock wall, martial arts and even playing video games on the docket. 4350 Walters Ave, Northbrook (847-945-4455). Jun 13–Aug 5. $1,775–$4,600. Ages 3–13.
Francis W. Parker Summer Programs Your wish is their command. Offering every sport (like yoga and soccer), activity (think LEGO architecture and chess) and class under the sun (such as ACT prep and driver's ed), kids are guaranteed to find something right up their alley. 330 W Webster Ave (773-797-5104). Days, times and prices vary by age and session. Ages prekindergarten to 9th grade.
Fred's Camp Kids in junior, senior and tween sessions develop physical coordination, social skills and self-esteem. Field trips, swimming, bowling and more round out the schedule at this teacher-founded camp. DePaul University Athletic Training Center, 2323 N Sheffield (773-818-8027). Jun 20–Aug 12, Mon–Fri 9am–3pm. $1,900–$2,000 for four weeks; $3,425–$3,615 for eight weeks. Ages 4 to 8th grade.
Grand Avenue Preschools Trips to the Lincoln Park Zoo, swimming at local pools, and a young entrepreneurs club are just some of the activities in Grand Avenue's full- and half-day camps. And because variety is the spice of life, each camp offers five different themes.Visit website for school locations . Dates, times and prices vary. Ages 3 to 5th grade.
Jewish Community Center Day Camps Programs range from the traditional camp experience to specialty sessions geared toward the arts, sports and adventure. Jewish values, tradition and Israeli culture are woven into camp days through stories, games, art and celebration. JCC also provides a residential camp in Wisconsin. Visit website for camp locations. Dates, times and prices vary. Ages 3 to 10th grade.
Kensington School For your youngest ones, lots of outdoor activities, exploration and learning development await. For older kiddos, workshops, special guests, field trips and swimming are on the agenda. 743 McClintock Dr, Burr Ridge (630-990-8000). Dates, times and prices TBD. Junior camp for ages 2–5, senior camp for kindergarten to 4th grade.
The Kids' Table With a different theme each week, not only do kids learn the basics of cooking—washing, measuring and mixing—but they explore the world of it, too, in programs such as All About Asia, South of the Border and American Classics. Children make meals and learn about the ingredients that go into them. The Kids' Table, 2337 W North Ave (773-235-2665). Jun 14–Sept 3, Mon–Fri; days, times and prices vary by age. Ages 2–10.
Lakefront Children's Academy Summer Camp Songs, games, literature, art, cooking and more—it's all here. Each week centers on a different theme, like Under the Sea, Wild Kingdom and On the Go. Campers take weekly field trips to places such as the zoo. 400 E Randolph St (312-819-1760). Jun 20–Aug 19, Mon–Fri, times and prices vary by age. Ages 2–12.
Lakeshore Athletic Club At LAC's Pee Wee Club, kids burn off some of their boundless energy through active endeavors like swimming, arts and crafts, tumbling and outdoor play. A Fun-N-Sun Adventure Camp with activities geared to ages 8–13 also is available. 1320 W Fullerton Ave (773-477-9888). Jun 13–Aug 19, Mon–Fri 9am–6pm with extended hours available. $85–$3,250 (discounts available for members). Ages prekindergarten to 13.
Latin School of Chicago Day Camp Activities range from swim lessons to computers to cooking at this day camp. Beach days, scavenger hunts and trips to local climbing walls and water parks are also on tap. Summer academic and recreational programs, sports camp, chess camp and more are available for high-school students. 1531 N Dearborn Pkwy (312-582-6080). Jun 13–Aug 5, 9am–3pm for full day; half day available for ages 3 and 4. Four-week session $650–$1,450. Ages 3–14.
Lincoln Park Zoo Conservation Camps & Zoo Crew Send your kiddo where the wild things are. Campers explore the inner workings of the zoo while counselors educate them on topics such as why we have zoos (because they are awesome, duh!), how zoos function and ecology. The new Zoo Crew camp is for children entering grades five through eight this fall. The focus is on environmentally-minded projects with the goal of making positive changes in communities. 2001 N Clark St (312-742-2056). Jun 13–Aug 12, Mon–Fri. One-week session half-day $155, one-week session full-day $310. Ages 4–14.
Little Green Tree House Childcare and Preschool Calling all green thumbs, this one's for you. Self-described as Chicago's first ecofriendly child-care center, Little Green Tree House emphasizes an organic, earth-conscious learning style. Children are served locally-sourced food as they learn about music, art, science and math. They can also play in an outdoor play space with an organic vegetable garden. 118 S Ashland Ave (312–492–9876). Dates, times, prices and ages TBD.
Little Gym Day Camp Interactive themes like Coastal Cowabunga and Ice Cave Pirate Adventure set the tone for the three-hour camp day with fitness and fun—think obstacle courses, arts and crafts, and group games. Parents can customize when campers attend: a day, a few days, or several full-week sessions. Little Gym, 3216 N Lincoln Ave (773-525-5750). Dates TBD, Mon, Wed, Fri 9am–12pm; Tue, Wed, Thu 1pm–4pm. One day $50, two days $90, three days $125, four days $155, five days $180. Ages 3–12, kids must be potty trained.
Lovebugs Preschool Should your child want to indulge his or her inner Picasso or Beethoven this summer, you're set: Lovebugs' age-specialized morning programs—orientated around dramatic play, math, music and literature—will keep youngsters plenty busy. The afternoon "Lunch and Fun" enriches the experience by allowing kids to expend oodles of energy in activities such as basketball and obstacle courses. 1327 N Larrabee St (312–225–0885). Jun 20–Aug 11, Mon–Thur, 9:15am–12pm; $175 per week, $1,300 for eight weeks. Ages 2–6.
Menomonee Club Throughout the year, the Menomonee Club provides a mix of supervised team sports and recreational and social programs for kids ages 3–18, and select programs for adults. Come summer, camps focused on sports, dance, judo, music and more are on offer at various locations throughout northern Chicagoland. Go to menomoneeclub.org for camp info and locations. Jun 20–Jul 29, times TBD. Pricing varies. Ages 3–18.
Montessori Academy of Chicago In the full-day program, each week features a new learning topic. Students have access to the school's full-size (child-safe) kitchen, new gym, saltwater aquarium, indoor and outdoor playground, and child-maintained herb garden. Oh, and tuition includes organic lunch and snacks. We just have one question: Can we hang out in these swanky digs, too?! Bonus: The early and late hours are super-convenient for working moms and dads: 7am to 6:30pm. 1335 W Randolph St (312-243-0977). Five two-week sessions begin June 13, Mon–Fri, 7am–6:30pm. $650 per session. Ages 6 weeks–12.
My Corner Playroom Day Camp At this preschool-geared day camp that promises both fun and learning, the goal is to teach children various skills through play-based activities, including self-sufficiency, problem solving, adaptation, socializing and even potty training. Your little ones will explore nature, participate in group games and make special projects. 2121 N Clybourn Ave (773-388-2121). Dates, times and prices TBD. Ages 2–6.
My Gym Kiddos enjoy fitness games, noncompetitive gymnastics, arts and crafts, music and more. Each camp program is designed to keep children moving—the emphasis is on physical development and personal success. Themes and programs change daily. Check the website for flexible drop-off/pick-up hours, pay-by-the-day options and sibling discounts. 1880 W Fullerton Ave (773-645-9600). Dates, times and prices TBD.
Near North Montessori Campers explore the city while developing skills in cooking, art, gymnastics and more. Kids also have the opportunity to swim every day. 1434 W Division St (773-384-1434). Jun 20–Aug 5, Mon–Fri 9am–3pm, with extended hours available. Ages 3–14.
Oasis Summer Day Camp Started by a teacher and his wife, Oasis Summer Camp is packed with activities ranging from swimming to sports tournaments to costume contests. Weekly field trips take children to the Lincoln Park Zoo, the Lake County Fair and more. Oasis also features the "Tree Fort Challenge," an optional reading program designed to reward campers who hit the books all summer long. 180 W Ridge Ave, Winnetka (847-858-0415). Jun 13–Aug 12, Mon–Fri 9am–3:30pm. $375–$3,000. Ages 5–12.
Skokie Park District The emphasis at these summer camps is on "adventure, friendship, fun, exploration, discovery and safety." Kiddos get a little taste of all of that good stuff via topic-specific camps (think sports camps, arts camp, theater camp and more). Go to skokieparkdistrict.org for dates, times, locations and pricing. Ages 4–17.
Smart Love Preschool Summer Program Tiny tots ages 6 months to 4 years will bask in the summer sunshine with outdoor activities in the school's enclosed gardens. They'll also get (a little) messy creating artistic masterpieces. And a little tuckered out enjoying other play-based activities. Ahh, summer. 800 W Buena Ave (773-665-8052). Dates, times and prices TBD. Ages 6 months to 4, caregivers or parent must attend.
Smarty Party Little smarty pants can join the Smarty Party this summer for "Imagine '11," a flexible and varied summer camp where moms and dads can pick and choose which time frames work best for them—a few days? A week? The whole summer? It's up to you. Every senior staffer on the team is a certified teacher, so in addition to the usual summer-camp classics such as arts and crafts, sports and story time, this camp also pays attention to reading and literacy. 1846 W Belmont Ave (773-687-0521). Jun 13–Aug 13, 9am–1pm. $50 per day, $40 per day early bird discount if registered by April 15. Ages prekindergarten to 2nd grade.
Summer Lab at the University of Chicago Laboratory School Whether kids want to stretch their minds academically or just run around in a traditional camp setting, U. of C. has it—and everything in between—covered. There are several options: Summer School, Adventure Kids Day Camp, Summer Lab Sports Camps, Fun in the Sun and Summer Lab on Stage. Bonus for non–Hyde Parkers: Summer Lab operates a courtesy North Side this year, with the same lakefront itinerary used during the regular school year. 1362 E 59th St (773-702-9450). Jun 20–Jul 29, Mon–Fri, times vary. Prices $380–$2,330. Nursery school to 12th grade.
Summer at Sacred Heart School Daily agendas range from classic camp activities—arts and crafts, drama, cooking, sports, beach play—to academic endeavors. (Think language courses, math lessons, etc.) There's also an overnight option in July. 6250 N Sheridan Rd (773-262-4446). Dates, times and prices TBD. Ages 3–15.
Tamarak Day Camp Little munchkins (as kids are affectionately called here) get the chance to do a variety of outdoor activities including swimming, performing arts, various sports, nature exploration and more. Older kids join in the fun at Super 8 and Program Plus camps, where kids go on a variety of field trips and sleepovers. Tamarak also offers special horseback-riding and golf camps for the Program Plus kids. 23970 N Elm Rd, Lincolnshire (847-634-3168). Camps run Jun 20–Aug 12, Monday–Friday, 9am–3:15pm. $2,550–$4,895. Ages 4 to 8th grade.
YMCA Summer Camps With camps all across the city offering a variety of programs ranging from drama to science, there's plenty to get those little synapses firing. In discovery camps, children explore their local areas as well as travel to forest preserves to learn about a wildlife environment. See website for YMCA locations, dates, times, prices and ages (312-932-1200).