H2Whoa!
Who needs the Dells? Make a big splash at these inexpensive water parks right here in our own back yard.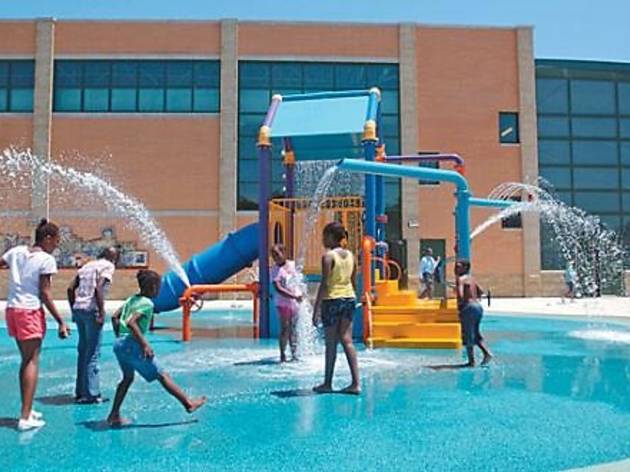 It's hot outside, the kids are restless, and your family's summer-vacation fund has morphed into your rainy-day savings (thanks, economy!). Before you take a sledgehammer to the nearest fire hydrant, check out these affordable (and way more legal) options for a cooling water-park experience.
FOR HANGING TEN: Big Surf Wave Pool
This big blue in the Northwest Suburbs holds 540,000 gallons of water and accommodates 700 people. Turbines activate periodically to create ocean-like waves that swell up to three feet tall. Grab a tube or raft ($4 day rental), lie back and close your eyes—just like Maui, right? 411 S Maple St, Mount Prospect (847-253-7873, mppd.org). Open Jun 8–Aug 16. Adults $7, kids $6, under 3 free.
FOR FAST BREAKS: Seafari Springs Aquatic Center
Even seasoned speed demons stand in awe at the base of Cheetah's Run Speed Slide, a 61-foot-tall straight body slide that spits riders into a pool at 20 mph. After that wedgie-worthy ride, slow down to check out the zero-depth pool, umbrella-like flower sprinkler with nozzles on its "stem" and 4,000-square-foot sand-filled play area. Test the waters on June 7 from 11am–1pm, when the park holds a free open house. 1700 Greenbrook Blvd, Hanover Park (630-830-0300, hpparks.org). Open Jun 5–Aug 23. Adults $10, kids and seniors $8 ($2 off after 5pm).
FOR SPRINTING IN SPRINKLES: Riis Park
This park's interactive water playground includes four in-ground fountains that spritz water up, six water cannons mounted on a bridge, and other pipes that spray sprinkler-like streams. Thank goodness, then, that it's covered in a fast-draining, nonslip surface. Riis is popular with tot-toting parents because kids over 10 (a.k.a. scary big kids) are not allowed. Kids ages six to 10 get to run amok from 2–3:30pm daily, while tots five and under splish-splash (with adult supervision) from 4–5:30pm. 6100 W Fullerton Ave (312-746-5363, chicagoparkdistrict.com). Open Jun 12–Sept 7. Free, but call for private events schedule.
FOR A GOOD SOAK: Fosco Park
Fosco's water playground is the place to go for a serious hose-down. It features five suspended buckets that slowly fill with water until they tip over, dumping five gallons on victims below. There's also a short slide, built-in water guns and several sprayers. Fosco's sweet indoor pool—which made headlines last September when it hosted Michael Phelps during a promo bit for Chicago's 2016 Olympics bid—has zero-depth entry and a separate adult area, and offers family swim times throughout the week. 1312 S Racine Ave (312-746-5086, chicagoparkdistrict.com). Open Jun 12–Sept 7. Free, but call ahead to check private events schedule.
FOR ESCAPING THAT FREAK SUMMER COLD SPELL: The Water Works
Sure, it's smaller than hotel-based indoor water parks, but the price tag is just right for a cold or rainy day. Splash around on several slides (including a 15-footer that ends in a plunge pool), a horseshoe-shaped lazy river and a recently remodeled water playground with sprays and ladders. Try to sneak away for a little grown-up decompressing in the hot tub at no extra cost. 505 N Springinsguth Rd, Schaumburg (847-490-2505, parkfun.com). Open year-round. Adults $9, kids $7.