Helmets required
Chicago kids can learn how to skateboard or ride BMX.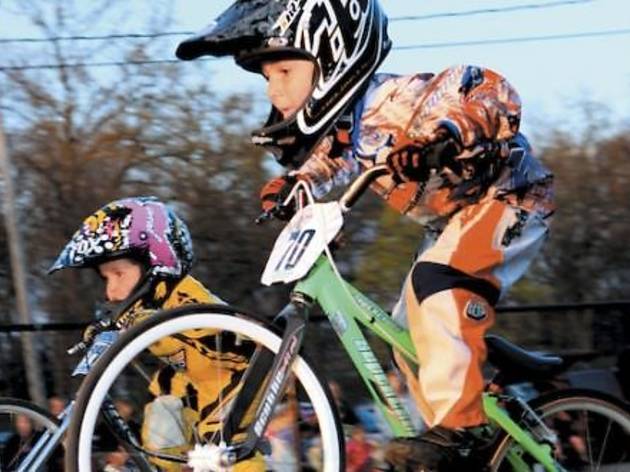 Instead of rooting for her son Jack from bleachers at a ballpark, Laura Eilts spends her Saturday morning cheering on her ten-year-old from a folding chair at the entrance of Wilson Skate Park, just east of Lake Shore Drive at Wilson Avenue.
"Since Jake doesn't play a team sport, we still wanted to support him by coming out and watching his skateboarding lessons," says Eilts, sitting next to her husband, younger son and the family dog. On a nearby ramp, Jack makes great progress during his second lesson, landing an impressive kickturn while skating alongside his instructor, Dave Kowalski.
After intensive research, Eilts found coach Kowalski through Go Skate, a private skateboarding service (goskate.com or chicagoskateboardinglessons.info). Lessons happen at local skate parks or even on the sidewalk outside your home, either in small groups or one-on-one sessions (average cost: $30–$50 per hour).
While Kowalski finds that his beginners usually start to thrive around ages 7–12, "any age is a good age to start skateboarding," says Jeff Connors, owner of Asylum Skate Park in Lake Bluff (29850 N Skokie Hwy, 847-578-5103; asylumskatepark.com). While he began at age 12, his two nephews were only four and five when they started.
Chicago kids can practice their moves at several skate parks around the city. In addition to Wilson Skate Park, others include Grant Park (337 E Randolph St) and Piotrowski Park (4247 W 31st St; more info for all three at chicagoparkdistrict.com). In the suburbs, Krush Skate Park, an indoor skate/bike facility, offers regular clinics (8059 W 185th St, Tinley Park, 708-633-7777; krushskatepark.com).
Some kids prefer to do their stunts on bike, not board. Take Alan Struna, now a 16-year-old BMX jock who's competed on the national level. His mom, Jeanine Struna, remembers how quickly he took to the sport at age nine.
"We tried it a couple of weeks, and then decided it was time to upgrade the bike our son was riding to something better for the sport," she says. "We love the sport of BMX because it is very family orientated – the whole family enjoys the day of racing." Jeanine and husband Brad volunteer at the track during races.
Compared with traditional team sports, finding BMX resources for kids can be a challenge. The three main facilities in the region sanctioned by the American Bicycle Association are a hike from Chicago: the Hill BMX in Elgin (709 Sports Way Dr, Elgin, 224-489-1893; thehillbmx.com); Rockford BMX (4950 Safford Rd, Rockford, 815-874-8719; rockfordbmx.com); and Steel Wheels BMX in Hobart, Indiana (709 N Hobart Rd, 219-947-3556; steelwheelsbmx.com). All offer clinics for beginners, or even summer camps. Once kids get comfortable with stunt cycling, they can hit the Garden, a free dirt-jumps park for city action (3400 N Rockwell Ave, 312-742-7648; thegardenjumps.com).
Although parents may initially wince when their progeny choose skateboards and stunt bikes over baseball mitts and soccer balls, kids can safely thrive at these wheely sports with the right gear and precautions. In addition to a helmet, elbow pads and knee pads are recommended. "When children wear padding, they learn skating fundamentals quicker because they are much more confident and comfortable," says Rob Dunfey, Go Skate founder.
For more details about classes and clinics for these sports, visit timeoutchicagokids.com.