Helping your kids handle pet loss
Experts suggest what to say and do when you lose a pet.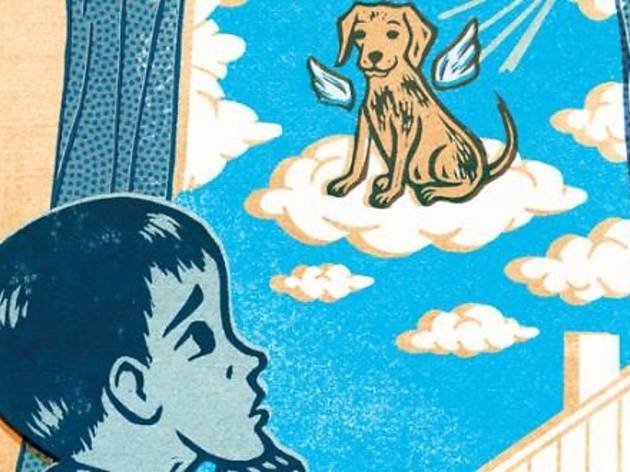 When our cat Mario died suddenly a few years ago, my daughter, then 6, witnessed the sad and scary event. We had no idea when we brought him to the vet wheezing that he was experiencing congestive heart failure and would quickly take a turn for the worse, his final moments spent gasping for air on a steel examining table right in front of us. It all happened so fast, I had no time to usher my daughter out of the room, let alone figure out whether my attention was best given to my child or our beloved pet in his last few moments.
We talked a lot about the experience, and have since been through a much more serene and planned euthanasia of our elderly dog (which my daughter opted not to attend), but I still agonize over whether I've scarred her for life. I did try my best to acknowledge her feelings and let her express them however she wanted, and that included honoring her request to have a local bakery create cookies in Mario's likeness (with "We will always love you" iced on top) to eat after burying his ashes in the backyard. Whether I'll wind up paying for some pricey therapy sessions down the road remains to be seen, but experts say helping your child find a special way to say good-bye is one way to help him or her navigate through the grief.
"No one particular thing is best; it's all so personal," says Amir Shanan, a veterinarian at Compassionate Veterinary Care in Lincoln Park who specializes in the care of terminally ill pets and offers hospice care, in-home euthanasia and memorial arrangements among his services. "They can put together a photo album, record a conversation with the deceased pet, plan a service or even a party. And it may not be a one-time thing; your child may need to say good-bye over and over again at different points in the process."
A friend told me her three children make "memory boxes" when a pet passes away—shoeboxes covered with construction paper that best matches the color of the pet's fur and decorated with pictures that they fill with mementos such as collars and favorite toys. "This helps my kids because it gives them something to do in those early moments when the loss is so raw," she says. "Later, we can look in them to remember how special our pets were to us."
When parents do have an opportunity to prepare children in advance for the loss of a pet, the best thing to do is be honest, says Kathi Fine, Ph.D., a clinical psychologist at Studio for Change in Lakeview. "Telling white lies often confuses a child and makes things harder later on," she says. Shanan agrees, "Think back to your own childhood and the lies you figured out later. It probably hurt a thousand times more."
The trick is to be direct without overwhelming your child, Fine and Shanan agree. "The devil is in the details, and medical terminology isn't going to mean much to a five-year-old anyway," Shanan says. He suggests letting your children take the lead. "Let them ask questions, and answer with a degree of detail that's age appropriate."
How you react, and how open you are with your own feelings, is equally important, Shanan adds. "More than anything else, your child will be influenced by how you're handling the situation. That means acknowledging that it's okay to be angry, to laugh, cry, not cry. It's minimizing your feelings—and theirs—that's the huge no-no."