Home for a holiday
You don't have to leave town to get away from it all with your kids.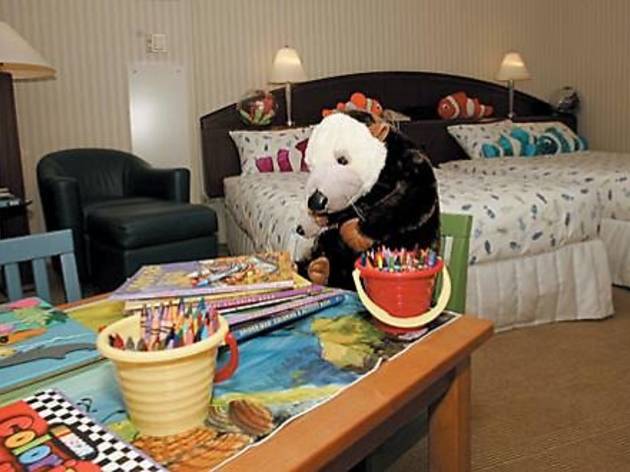 There's no reason to struggle with kids in tow through airport security to get a little R&R this spring—there are plenty of hotel options right in downtown Chicago catering to families. So pack a bag, grab your transit card and use the moolah you would've spent on airfare at one of these überluxe lodging options.
Get down to business
When kids stay at the Peninsula Hotel (108 E Superior St , 312-337-2888, chicago.peninsula.com ), they get their own set of business cards stuffed inside a backpack filled with other goodies—a coloring book, a teddy bear, popcorn and cookies. The Peninsula's "American Girl" package gives your child's doll some pampering, too, in the form of a bathrobe, slippers and a doll-sized bed of its own (for use at the hotel). Licensed baby-sitters are available for $20 per hour. Adjoining rooms through the "Pen Kids" package start at $555.
Home away from home
If your progeny are design-types who get into Trading Spaces Kids, they'll love staying at the Swissotel Chicago (323 E Wacker Dr, 312-565-0565, swissotelchicago.com ), where theme-rooms abound. The aquatic-themed kids' room (connected to their parents' room) is decked out with child-size chairs and tables, stuffed animals, Nintendo and a night-light. The suites include two bedrooms, a living room and two-and-a-half bathrooms. This "Very Important Kids" package also includes four passes to the Shedd Aquarium, with rates starting at $879 per night.
Pint-sized pampering
At the Four Seasons Hotel Chicago (120 E Delaware Pl, 312-280-8400, fourseasons.com/chicagofs ), children can indulge and relax with the same great amenities as their parents—just in smaller versions. They get their own bathrobes and a full menu of kid-friendly room-service options (including a separate menu for tweens with picks like design-your-own tacos). The hotel offers complimentary bath confetti and bath gel, baby shampoos, lotions and diapers, plus it delivers free milk and cookies at bedtime on request. Strollers are also complimentary during your stay, and board games and video games are on loan for the older kids. Baby-sitting rates start at $18.50 per hour with a four-hour minimum for one child. A "Kids in the City" package includes free room service for the 12-and-under set, a child's pass to the Shedd Aquarium, plus an in-room visit from an ice-cream man, who arrives with a traveling ice-cream sundae booth complete with balloons and a choice of flavors and toppings. Rooms start at $500, and adjoining rooms can be added for $365 per night.
Young explorers
Kids ages 3 to 12 receive goodie bags filled with maps, make-your-own postcard kits, stencils, compasses, disposable cameras and travel passports when they stay at the Westin Chicago River North (320 N Dearborn St, 312-744-1900, starwoodhotels.com ). Parents receive their own goodie bags stuffed with bandages, wipes, first-aid lotions, socket covers and a night-light. Adjoining rooms range from $259 to $399 each per night. Baby-sitting services start at $20 per hour with a four-hour minimum.
Slumber party
With freshly baked cookies and milk, a teddy bear and complimentary movies, video games and buttered popcorn, kids might never want to leave the rooms at the Sutton Place Hotel Chicago (21 E Bellevue Pl., 312-266-2100, chicago.suttonplace.com ). Deluxe rooms, which are stocked with robes, slippers and Gilchrist & Soames spa toiletries for the deep soaking tubs and separate, glass-enclosed showers, can be connected. Rates start at $274 per room with the "Family Affair" package. Not bad for a quick getaway.