Hot dogs worth a trip
Even in this hot-dog-joint-on-every-corner town, these standouts are worth going the extra mile for.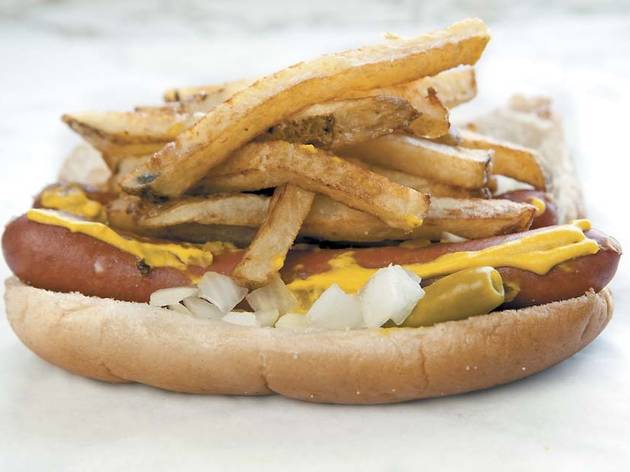 1/6
Photograph: Erica Gannett
Double dog topped with fries [and all the usual fixings] at Gene & Jude's 2720 River Rd, River Grove, 708-452-7634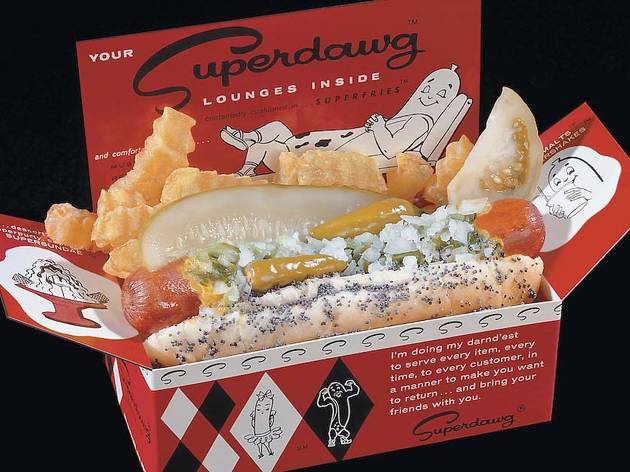 2/6
Photograph: Provided by Superdawg
Superdawg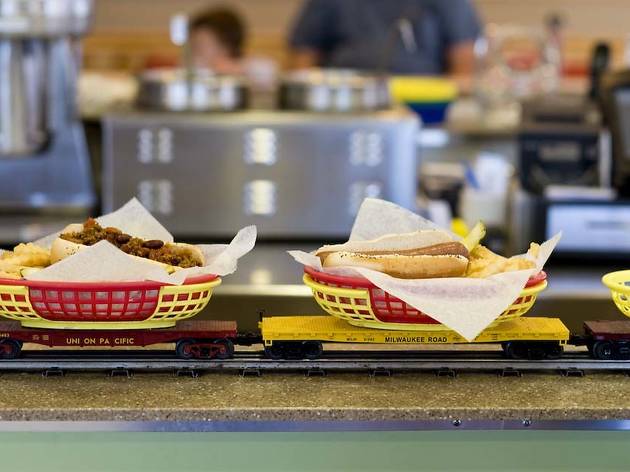 3/6
Photograph: Nicole Radja
Tallgrass beef and chili dog on the train at 2 Toots, Glen Ellyn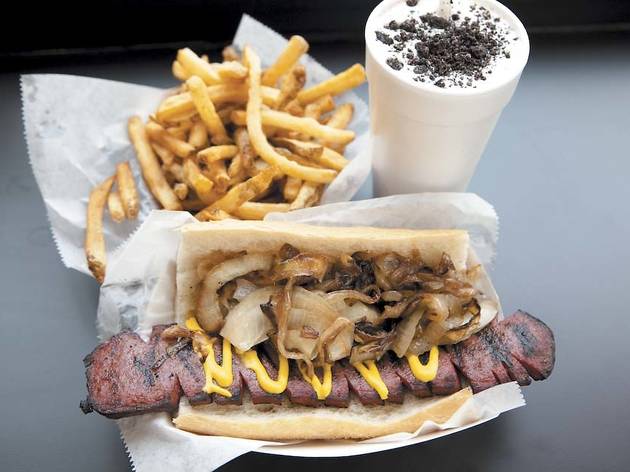 4/6
Oreo shake, char salami sandwich and fries at Poochie's, 3602 Dempster St, Skokie, 847-673-0100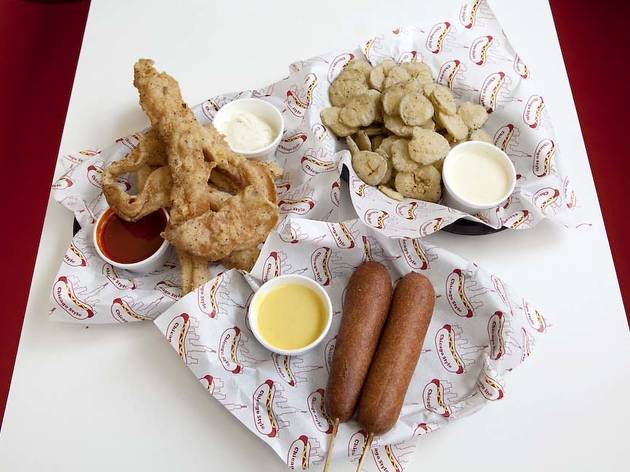 5/6
Hand-dipped corn dogs, deep-fried pickle chips and bacon at Wiener and Still Champion, 802 Dempster St, Evanston, 847-869-0100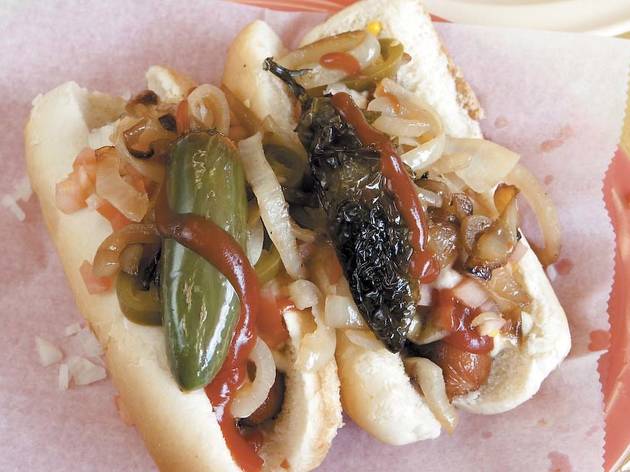 6/6
Bacon-wrapped hot dog w/ all toppings, posole roja at Delicias Mexicanas, 4148 W 26th St, 773-522-5009
Gene & Jude's
2720 River Rd, River Grove; 708-452-7634
For the wee ones
Like many Chicago hot-dog stands, Gene & Jude's has long accented its menu with simple corn tamales, masa encasing mildly sauced ground beef that's soft enough for even the young, toothless ones.
Parents' pick
Do it up right with the famous double dog, two links jammed into a bun, garnished traditionally, then topped with a fistful of freshly cut, skin-on fries (order extra for the rug rats).
Fun fact
Gene & Jude's was located at Polk St and Western Ave where it opened in 1946 and remained until co-owner Gene Mormino lost the original location in a high-stakes poker game in 1949.
Make a day of it
The Cernan Earth & Space Center at Triton College (2000 5th Ave, River Grove; 708-456-0300) is like a mini Adler Planetarium, with exhibits and kid-friendly sky shows.
Superdawg
6363 N Milwaukee Ave, 773-763-0660
For the wee ones
If there's ever a time to encourage eating veggies, it's when a Superdawg arrives in its cute cartoony box, nearly buried under the classic Chicago toppings, including pickle, tomato and piccalilli (a relish of chopped, pickled vegetables).
Parents' pick
Leave the crinkle-cut fries to the kids and go for the Superonionchips, spears of Spanish onions bathed in batter and deep-fried to deliciousness.
Fun fact
The "Maurie" and "Flaurie" hot-dog statues perched atop the roof (named for the owners) are fiberglass encasements of the original papier-mâché and chicken wire versions that were erected in 1948.
Make a day of it
Just east of the iconic drive-up is Whealan Pool Aquatic Center (6200 W Devon Ave, 773-775-1666), which has two water slides, a separate baby pool and free chaise lounges perfect for slipping into a food coma.
2Toots Grill
450 N Main St, Glen Ellyn; 630-858-4300
For the wee ones
Feed the kids classic hot dogs with a little less guilt knowing these links are made from Tallgrass beef, the grass-fed, prairie-raised cattle company owned by CBS anchor Bill Kurtis.
Parents' pick
The unadorned Tallgrass dog is fine for the kids, but you should go all out with a ladle of housemade chili on top.
Fun fact
The toy trains chugging down the line to deliver your grub are made by Lionel, the historic company founded in 1900 that became synonymous with Christmas mornings by the midcentury.
Make a day of it
Lake Ellyn Park (645 Lenox Rd, Glen Ellyn) boasts a ten-acre lake with a fishing deck, so bring the poles along for throwback fun.
Poochie's
3602 Dempster St, Skokie; 847-673-0100
For the wee ones
Set the kids on the right textural track and order their dog charred here; the crackly skin's contrast with the pillowy steamed Rosen's bun will create a fledgling foodie.
Parents' pick
The char salami sandwich is a spicier standout for more mature mouths, a sliced slab of crispy-edged salami layered onto a French roll with grilled onions and tangy mustard.
Fun fact
Poochie is the nickname of original owner Harvey Bernstein, who opened in 1969 and sold to current owner Chris Christou about 20 years ago. Bernstein still stops in weekly for a chat and a char dog.
Make a day of it
Stop at Skokie Sports Park (3459 Oakton St,Skokie; 847-674-1500) for a round on the Kid's Quest mini-golf course and a few swings in the batting cages.
Wiener and Still Champion
802 Dempster St, Evanston; 847-869-0100
For the wee ones
With frozen corn dogs the norm these days, it's a treat to find the old-school hand-dipped throwbacks here, perfect when swirled into a ketchup-mustard puddle.
Parents' pick
Live a little and go for the grease with a side of deep-fried pickle chips and a side of deep-fried bacon to go along with your dog. Exercise tomorrow.
Fun fact
The punny name comes from a grade-school contest held in 1982 to rename it after the original owner (ol' Harvey Bernstein again) sold it as Poochie's II.
Make a day of it
The neighborhood vibe and fun in-store activities (visiting children's book authors, play days with popular characters) sets Becky & Me Toys (620 Grove St, Evanston; 847-492-1030) apart from the big-box toy stores.
Delicias Mexicanas
4148 W 26th St, 773-522-5009
For the wee ones
They've had their fill of standard Chicago dogs, so veer south with a Mexican-style bacon-wrapped hot dog, the specialty of the house.
Parents' pick
The homey hominy Mexican soup known as posole is done well all around town, but this spot excels at the earthy roja ("red") version.
Fun fact
Sometimes called the Tijuana dog, this bacon-wrapped beauty gets its more common moniker, the Sonoran dog, from its region of origin, the Sonoran Desert that covers parts of Arizona, California and Northwest Mexico.
Make a day of it
No visit to Little Village is complete without a stop at Dulcelandia (3300 W 26th St, 773-522-3816), where bin after bin of imported candies will create bilingual babes out of your sweet-toothed tot.