Joe Reilly connects kids to nature through song
The Michigan singer-songwriter plays his third annual Earth Day concert at Chicago's Nature Museum.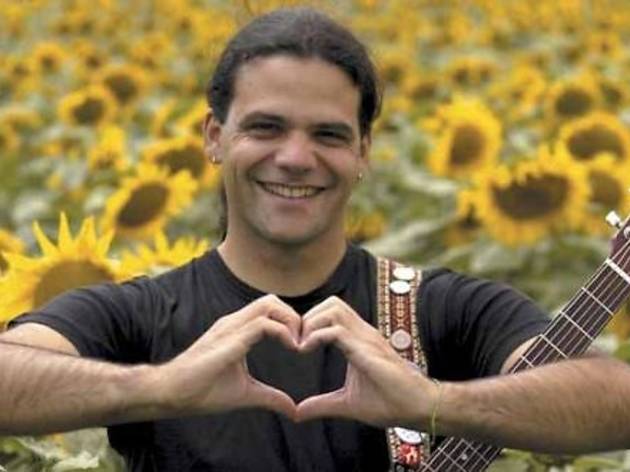 Joe Reilly says that if he could be any tree, an oak is what he'd be. Our guess is that if a tree could be any human, it would be Joe.
Jack Johnson with a Mother Nature twist, Joe Reilly composes educational– and environment–themed tunes. His two kids' albums, Children of the Earth and Let's Go Outside, encourage young people to respect and connect with the earth's wonders: land and water, plants and animals. Naturally, then, the 34-year-old will lead a concert, for the third year in a row, that anchors the Peggy Notebaert Nature Museum's Earth Day family programming April 20.
An Ann Arbor native, Reilly has family from Chicago. He moved here in 2003, and the following year won a grant from the City of Chicago Department of Cultural Affairs, which helped kickstart his music career. Still, he remained eager to use his University of Michigan degree in environmental justice, so he ultimately returned to his hometown to teach kids about the environment—and before long, his music took another leap forward, too.
"I started to bring my guitar as a way to enhance the teaching, and I found that the kids just connected with the music so well," Reilly says. "It grew very organically. I started doing more direct environmental education through my songwriting." Joe Reilly, the children's troubadour, was born.
"I never sat down and said, 'I'm going to write a bunch of songs about nature with kids.' That's just the way the music led me."
Music's been leading him, in some way, since birth. Raised in a musically inclined household, Reilly recalls his parents playing Catholic folk songs at church; at home, they listened to Bob Dylan and Joni Mitchell. His sister plays the clarinet.
"My dad would play guitar around the house, and I was mesmerized," Reilly recalls. "So I made him sit down and teach me a few scales." By age 15, he learned to play the guitar, his music influenced by a range of musicians, from the Pixies to A Tribe Called Quest. More than anything, Reilly credits much of his inspiration to his home state, where he first forged a strong bond with nature that he taps into wherever he goes.
It's no surprise that, during his big-city stint in Chicago, he found sanctuary at the Nature Museum. "It was one of my refuges," Reilly says. "One of those places where I could feel that connection to the earth and to nature."
"Joe's a great addition to our Earth Day celebration," says the Nature Museum's Glenda Gonzalez. "We invite him back every year because his original, creative songs get families excited about nature. Both the museum and Joe's music focus on sharing an environmental message with all audiences."
Although his next release—Greyhound Bus Tour, due out in May—isn't a children's album, Reilly insists his music is one and the same. "It's all coming from the same source: just wanting to express an honest voice from my heart," he says.
When he's not touring—Reilly embarks on an annual West Coast jaunt every spring, and frequents the Great Lakes region the rest of the year—he continues his duties as an educator. He often holds songwriting workshops that consist of three or four sessions, where he says he helps kids "connect with their inner creative voice."
"There's not one right or wrong way to write a song," he explains. "I use a little bit of mindfulness, some meditation and some visualization, which helps them to listen to what I call their inner songwriter."
---
Catch Joe Reilly April 20 at the Nature Museum.