Jury of peers
Chicago International Children's Film Festival keeps kids busy behind the scenes.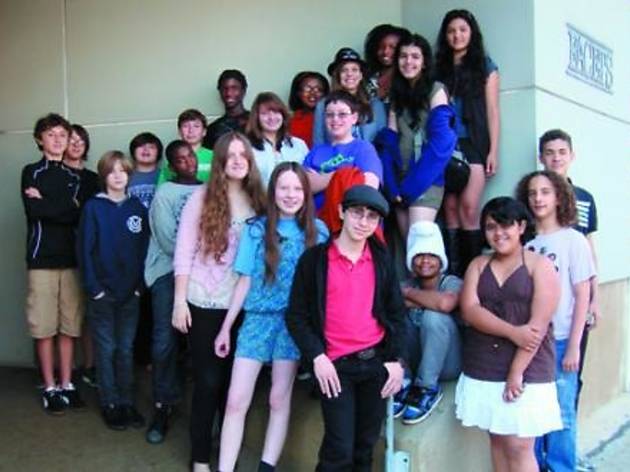 Serving on the jury of an Academy Award–qualifying film festival (at which all Oscar winners are required to have been screened in order to be chosen) is an experience few people will ever have. But thanks to the Children's Jury of the Chicago International Children's Film Festival, this is exactly what 50 kids 7–14 are able to do every year. The fest, the largest of its kind in North America, has been hosted by Facets Multi-Media every autumn for the past 28 years—but the preparation for the festival, including the Children's Jury, begins long before its annual opening ceremony.
"The first thing [kids need] to do is participate in the Facets Kids Film Camp that takes place in the summer," says Kathleen Beckman, the operations and education director of children's programs at the Lincoln Park–based nonprofit, which offers half- and full-day sessions of the camp in June and July. In the camp, kids can learn about the ABCs of film. "They learn the vocabulary of cinema, the basics of film theory and film appreciation, different types of shots, storyboarding and story development," Beckman says. The camp also includes a collaborative film project—and lots of critiquing.
In late summer every year, graduates from the camp come together to form the official, invite-only Children's Jury for that year's film festival. "We reserve the right to invite, but 99.9 percent of the time we invite everyone who participates in the camp to be a part of the jury," Beckman says.
After kids are divided into two age groups (7–10 and 11–14), jury members view films every day for two weeks, screening a total of nearly 100 films, including shorts and full-length features in a range of categories: animation, live-action, and even child-produced films ("films made for kids by kids," Beckman says, although the film festival is primarily composed of films by adults for children).
Though the screenings are a time-consuming process, camp participation provides kids with the skills needed to be a part of the jury. "We would give [a film] stars for overall appearance and write some comments about it, and say if it should get an award," says Roley Corrigan-Halpern, a nine-year-old aspiring actress.
Before screenings, jury members are given rating sheets and a brief introduction to the film; afterward, they use skills from their camp experience to assess what they've seen. "We described the plot with other people and shared our views," Roley says. "I learned a lot of opinions, and it gave me more things to think about with movies. The reviews were really fun because as a challenge we had to describe the scenery."
Jury members can not only express their own opinions but also learn from their peers. "We weren't just sharing, but we were also getting new ideas off of each other by telling each other what we personally thought," says 13-year-old Timothy Horton, a three-time jury member. "I learned a lot from my other jury members."
The rating sheets are then collected and tabulated to determine the winners from several categories, including documentary, live-action short and child-produced films. "The kids don't get to find out the winners until the last day of the film festival. On closing night, they are excited to see who won," Beckman says. An adult jury also awards similar prizes.
While the Children's Jury is, for many, a unique and special experience, it's also an extension of Facets' educational philosophy, which doesn't begin with camp or end with the festival. "The camp focuses on film, [but] the mission is broader than that. It's really about understanding and accepting different positions, different cultures and different ways of life, learning through storytelling that involves more senses," Beckman says. "The stories themselves can really touch people's lives. Everyone has a movie that's been a powerful experience for them. Everyone understands the power of film."
Being a member of the Children's Jury offers confidence that carries into their daily lives. "My teacher was saying I talk in school more," Roley says of her experience. "If I'm watching a movie [now], I'll notice if there's a little mistake and more about the actors. I think [being part of the jury] really helped me."
The Chicago International Children's Film Festival begins Friday 21 and runs through October 30.