Manners for tweens
As Tiffany's Table Manners marks its 50th year in print, we wonder if old-school manners are still relevant in 2011.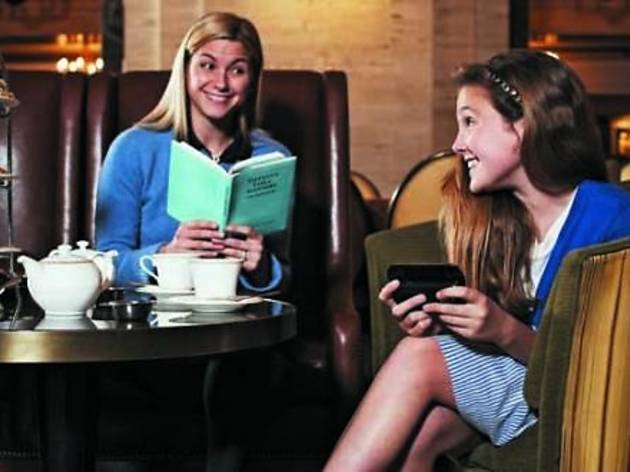 First things first: I am not the world's most polite person. But, I probably know more about etiquette than most people. And I definitely knew more than the average tween did 20-some years ago, because my mom gifted me Tiffany's Table Manners for Teenagers (Random House, $18) the day I turned 13. Through the pages of the book and under her careful guidance, I learned to never put my elbows on the table, to always ask permission to be excused and to spoon my soup away from, never toward, me.
This fall, the robin's-egg blue book is available in a special 50th-anniversary edition (same book, shimmery new cover). It contains such dining and sociability gems as "Remember that a dinner party is not a funeral, nor has your hostess invited you because she thinks you are in dire need of food." And it made me wonder: In today's smartphone society, are we better off leaving the formal rules of etiquette to Edith Wharton novels than teaching them to our kids?
To find out, I take 12-year-old volunteer Sophia Trimarco from Lakeview to a couple of fancy hotel teas. We begin at the Four Seasons, where I grew up having tea with my mom on trips to Chicago. Things start well: Sophia is a poster child of politeness. She smiles, introduces herself, keeps her elbows down and cheerfully debates whether she'll have a pot of homemade hot chocolate or tea (hot chocolate wins). As we oohh and ahh over the selection of dainty sandwiches—chicken salad, cucumber, salmon, all the same ones I remember—residing on a tower of formal china, I learn that Sophia is a very accomplished athlete who doesn't relish dressing up. (Although today she wears a dress for the occasion, she doesn't complain once.) The only etiquette issue that gives her pause is wondering whether she should finish chewing a bite of scone before responding to a question. (Tiffany's says: "Don't put too much in your mouth at once. It looks as if you were brought up in a kennel.")
After assuring her that her manners are pretty spot-on, I send Sophia home with the book and ask her to look it over in between homework and sports practices. We meet again days later for Sunday-morning tea in the gorgeous lobby of the Palmer House Hilton. Sophia notes that the bustling atmosphere is less intimate than the cozy fireplace table we enjoyed earlier in the week, but that the room is beautiful and would be perfect for a big party. (She's right.)
In between another cocoa- versus-tea debate (she bravely decides to expand her horizons, and goes with a Berry Meritage) and nibbling on heart-shaped PB&J sandwiches and gingerbread cookies, Sophia pulls out the book. She is appalled by the idea that you would not clean up after spilling your drink. (Tiffany's says: "If you knock over your water glass…don't start mopping the table with your napkin.") She also finds it unlikely that a waiter would know that placing your knife and prongs-down fork next to one another ignifies you're finished. I place my silverware in that manner and quiz the manager about what it means. "It's a really nice nonverbal way to alert the wait staff that you're ready for your plate to be cleared," she says. (Sophia thinks that's pretty cool, and I suspect she'll be using that trick from here on out.)
Speaking of nonverbal cues, those are what manners are all about, according to Courtney Turner, who teaches etiquette and cooking classes to local kids as culinary program manager for Common Threads (commonthreads.com). "I focus less on small details and more on being respectful and learning how you're being perceived at all times," she says. "Your facial expressions, your tone of voice, your posture—all of those make an impression." And the key is to convey an impression of respect: So at, say, a holiday party, instead of slouching/cringing/complaining about uncomfortable shoes (or whatever!), kids ideally would stand up straight and smile—thus respecting the folks around them.
"Kids today are so used to texting and e-mailing that they really struggle with one-on-one social situations," Turner says. "In the same way, our fast-food culture has ruined kids' ability to eat at the table." She encourages parents to make sit-down meals a normal part of the family schedule and to require that kids turn off their cell phones before eating.
And instead of focusing on which side of the table the knife, spoon and fork go on (right, right, left, hi Mom!), à la Tiffany's, Turner encourages tweens to practice respectful actions. "If you see a mom struggling with a stroller, you open the door for her," Turner says. "If we show respect, then we get good responses—and we thrive on that and become more confident people in every aspect of our lives."
Back at the Palmer House, Sophia and I agree that about 50 percent of the rules in the book are outdated, and 100 percent of the writing is outdated. But we also agree that feeling comfortable makes it easier to be polite—and a big part of feeling comfortable is knowing the rules.
[node:74351 noterms cck=field_caption; cck=field_credits;]