Mother's Day spa packages | Your time
Make the most of the precious few moments you get to yourself.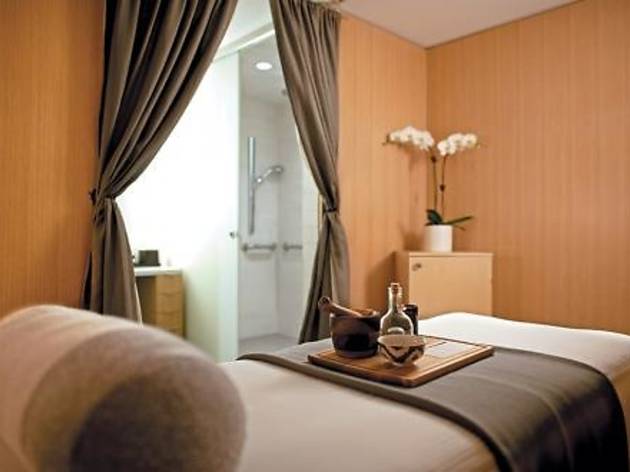 IF YOU HAVE
2 ¼ HOURS
TRY
Tasting Menu at NoMIHead, shoulders, knees and toes—everything, really—gets a relaxing workover with NoMI's create-your-own, two- or three-course tasting menu, available for 20 percent off à la carte prices. I start with the HydraFacial: The aesthetician uses a pen-like mechanism with an exfoliating tip to vacuum dead cells away, leaving my face smoother than it has been in months. Next comes a 45-minute massage, which includes arm and shoulder stretches to open up tight muscles. A nail technician paints my toes with deep red, nontoxic Deborah Lippmann polish during a pedicure, then my dreamy trinity of treatments comes to a close with a treat of fresh fruit. $240–$280 at Park Hyatt Chicago, 800 N Michigan Ave (312-335-1234, parkchicago.hyatt.com).—Martina Sheehan
IF YOU HAVE
½ DAY
TRY
Quartz spa package at Allyu SpaOne look at the serene "meditation tent"at Allyu and I'm ready to embrace my half day of Zen. I'm escorted to a private shower and infrared sauna area, where I spend 30 minutes melting away stress before a 90-minute reflexology/massage treatment. After brilliantly asking what my favorite body part to have massaged is, my massage therapist targets my feet and calves and proceeds to send me into a comalike state of sheer bliss. It's impossible to believe there's more to come, but I happily settle in for a 90-minute facial that miraculously revitalizes my weather-beaten skin. $300 at Allyu Spa, 600 W Chicago Ave (312-755-1313, allyuspa.com).—Amy Carr
IF YOU HAVE
ALL DAY
TRY
Hammam Ritual at Kohler Waters Spa Arriving early—and staying late—is key when you schedule this luxurious Turkish hydrotherapy treatment. That's because you get unlimited use of the spa pools, sauna and steam room for the day, so you can lounge as long as you like (just remember to bring a swimsuit). The treatment itself, which is all about water and warmth, instantly puts me in a dreamy state: First, I'm wrapped in a cloth body cover and warm water is poured over me. That's followed by exfoliation, more warm water, a cleansing body wash and one final warm rinse. A scalp massage and skin moisturizing treatment completes 80 minutes of the most indulgent pampering I can remember. $175–$185 at Kohler Waters Spa Burr Ridge, 775 Village Center Dr, Burr Ridge (630-323-7674, americanclubresort.com).
RECOMMENED: Things to do on Mother's Day