No room for a mudroom
How to deal with coats, shoes, backpacks, papers and all the stuff that comes in the door when you have a small space.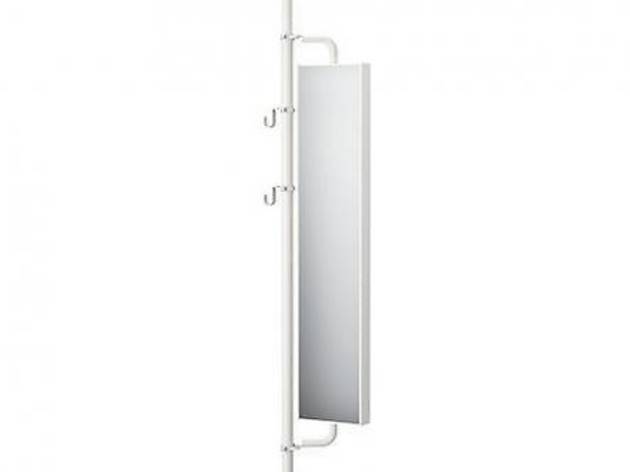 1/6
Long and lean This floor-to-ceiling tension-pole mirror is meant to be part of a closet system, but on its own in a small entryway it makes use of vertical space, with hooks for hanging coats, scarves, or small accessories such as headphones, sunglasses and leashes. Stolmen mirror, $92 at IKEA (750 E Boughton Rd, Bolingbrook, 630-972-7900, and 1800 E McConnor Pkwy, Schaumburg, 847-969-9700).
2/6
Self storage"Putting something that's traditionally from a gym or school in your home is unexpected and really fun," Davis says. Narrow and vertical, lockers can fit into small spaces and provide tucked-away storage for bulky items like sports gear and outerwear. "It's the ultimate in closed-cubby storage systems," Paradise adds. "And everyone can have their own." $638 at twentygauge.com.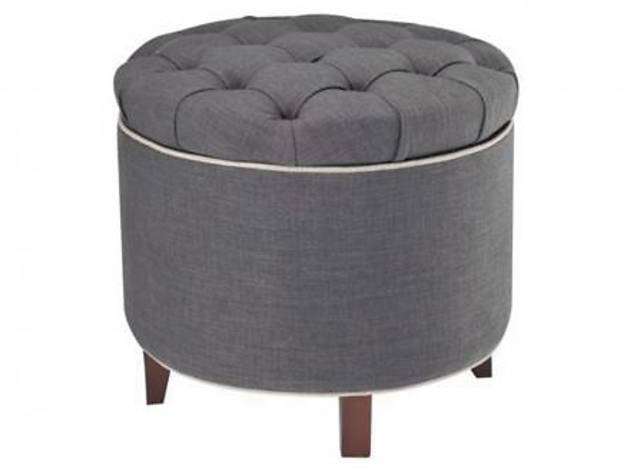 3/6
Sitting pretty"One thing that says 'mudroom' versus just 'entry' is [a place where] you can sit down," Paradise says. She suggests seating, like this ottoman, that doubles as storage for winter gear or pet accessories. "This pouf can be tucked underneath a console, and it's at kid level," Davis adds, so little ones can easily store their own stuff. Safavieh Amelia tufted storage ottoman, $144 at Target (2209 Howard St, Evanston, 847-733-1144, and other locations).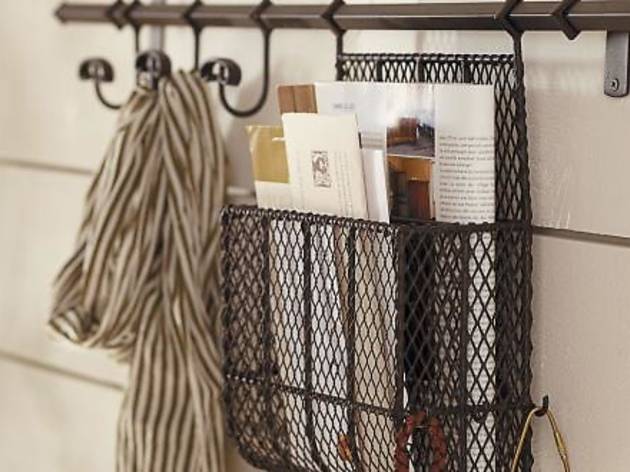 4/6
Hang timeAn iron-and-brass wall-mounted storage system comes with three movable hooks and a mesh basket that can be easily arranged in any configuration. The unit is heavy-duty enough to hang coats. "A traditional style with a vintage look," Davis says. "It works." Wilcox entryway modular storage system, $119 at potterybarn.com.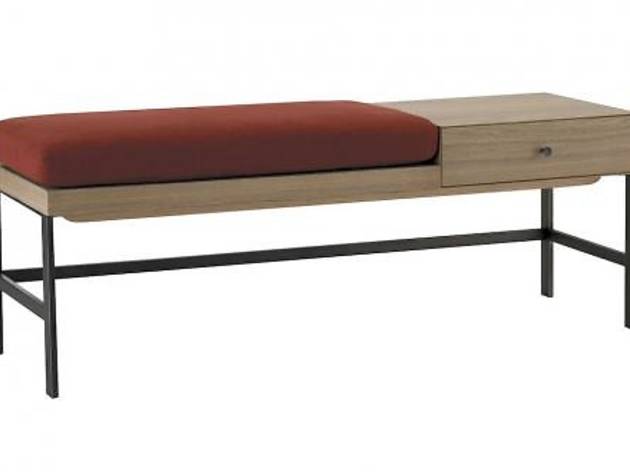 5/6
Lighten your load If you have a little more space, this modern bench is a perfect multipurpose entryway piece. "There's a place to sit, and there's a hard surface for putting something down, like a travel mug," says Paradise, who suggests tucking baskets or other storage pieces under the seat to stash additional stuff. "It's all about levels and building up." The bench drawer also allows you to store mail or hats and gloves where kids can easily access them. Offset bench, $300 at West Elm (1000 W North Ave, 312-867-1770, and 2155 W 22 St, Oak Brook, 630-368-3591).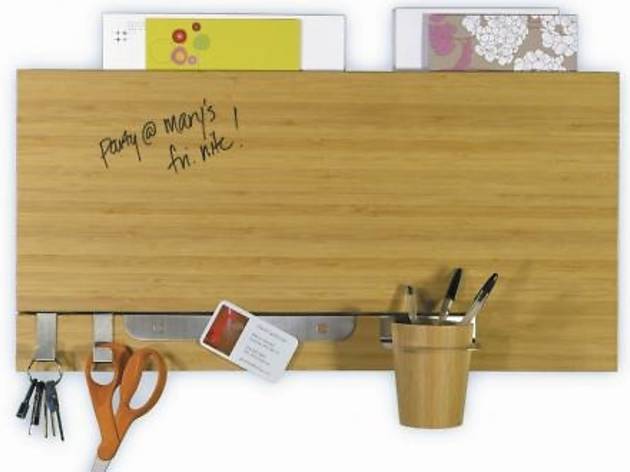 6/6
The write stuffOrganize mail and papers, plus keys, sunglasses and writing utensils and leave reminder messages on the dry erase panel. "Everything in one little station!" Paradise says. Bamboo dry-erase channel panel, $70 at seejanework.com.
"The more people, the more stuff," says Courtney Davis, design consultant and co-owner, with Lauren Paradise, of Chicago design company kelly + olive. But even if your front door opens directly into your living room, Davis says creating a mudroom is less about having all the space you need and more about smart storage.
"It comes down to things being hidden: closed storage and using good-looking pieces," Paradise says. "Otherwise it gets visually noisy." The pair recommends adding unique wall color, art or rugs to your landing area to differentiate it from other parts of the room. But whatever your set up, don't feel intimidated by a lack of space. "All you need is a little console," Paradise says, "somewhere to sit, an area to tuck your stuff. That can be achieved in a three-foot-wide space."