Overnight success | 2011
For a sleepaway camp experience, there are options for every kind of kid.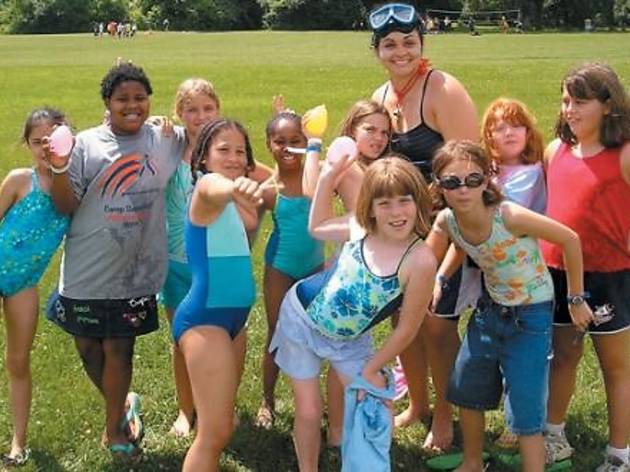 NOTE: Also check out General Interest Camps, Arts Camps, Academic Camps and Sports Camps.
Did we miss a camp? Let us know by sending an e-mail to kids@timeoutchicago.com and we'll add it to our listings.
Looking for a program where your kid can make some s'mores? Take a bow on stage? Build a telescope? Pet a bunny? We've got you covered.
Drama drama drama
For the kid who's always pulling out the jazz hands at the breakfast table, the family-owned Harand Camp of the Theatre Arts offers a chance at the spotlight. On the campus of Carthage College, 2001 Alford Park Dr, Kenosha, WI (847-864-1500).
Cost: $895 for one week (though most sessions are longer)
Distance from Chicago: 1 hour, 20 minutes
For tiny techies
Admit it—when your computer's broken, you ask your kid for help. If you can spare your tiny in-house IT assistant for a week, she'll learn video-game design or computer programming at iD Tech Camp. Kiddos can sleep in dorms or commute to-and-from every day (see Academic Listings, page 60). At Northwestern University's Evanston campus (888-709-8324). Cost: $1,200–$1,400 for one week
Distance from Chicago: 30 minutes

Future farmers
If a packet of radish seeds in the back-porch planter is not enough, send your agriculturally-oriented 4th- to 7th-grader to farm camp. At The Center in Palos Park, they'll feed and care for farm animals, plant crops, and pet tons of bunnies. 12700 Southwest Highway, Palos Park (708-361-3650).
Cost: $950 for one week
Distance from Chicago: 35 minutes
For the classicist
You went to a YMCA camp, why shouldn't your kid do the same? YMCA Camp Duncan has all your old faves: archery, campfires, crafts, canoeing and, we assume, panty raids. 32405 N Hwy 12, Ingleside (847-546-8086).
Cost: $700–$1,065 for one week
Distance from Chicago: 1 hour, 15 minutes

Inventor-in-training
When he's not fixing the garbage disposal, he's rigging the toilet to explode. Sound like someone you know? If he's entering eighth grade in the fall, he can do all of that and more at Camp Badger Exploring Engineering, which is sponsored by the UW's engineering department. On the Madison campus of the University of Wisconsin (866-529-6377). Cost: $395 for one week
Distance from Chicago: 3 hours