Parent and kid-friendly alternatives for products tweens love
We ask experts for alternative options that are still hip.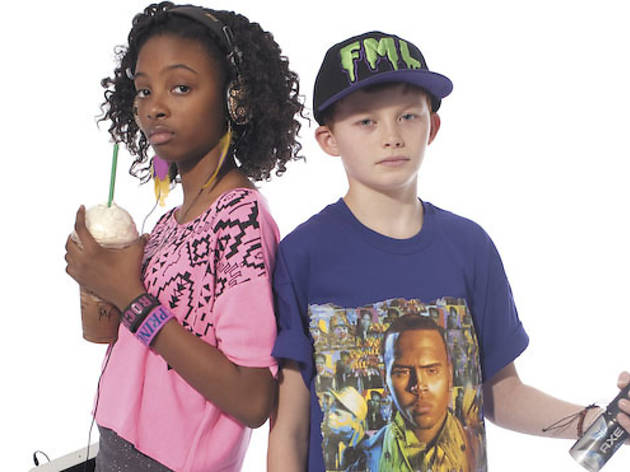 "It's a hard age," says Ellen Wartella, Ph.D., a professor of communication and psychology at Northwestern University. "Tweens are always looking up, always wanting to be like older kids." She talked to us about hot tween trends that may not sit so well with parents, and helped us find some stand-ins that should make everyone happy.
---
They want…an iPad
You can't really blame a tween for wanting to read a magazine, play Angry Birds and FaceTime with friends and relatives just like his 'rents do. "My 11-year-old and her BFF are constantly connected via FaceTime," says Lakeview mom Jill Schachner Chanen. "They wake up, FaceTime each other, eat breakfast together, hang out virtually after school, tell each other what to wear via FaceTime. Who knew FaceTime could be so annoying?" Another downer: at $500, this is a very expensive gadget.
Let them try…a Kindle Fire
"Technology is a part of all of our lives, kids and adults alike," Wartella says. "It's a complicated thing parents have to navigate." She sees no harm in letting kids use tablets, but encourages parents to lay down ground rules and think about what they can afford. To that end, Amazon.com's new Kindle Fire is a good option for many families. It retails for $199 but delivers most of the bells and whistles—except FaceTime!—that Junior covets with the iPad.
They want…Facebook
Even though the minimum age for a Facebook account is 13, many tweens lie (often with parental consent) about their birthdays to get one. Wartella warns that, even with their parents' supervision, kids may share too-personal, identifying details and say things or post pictures they'll later regret.
Let them try…Everloop
Basically a tween-ified Facebook, Everloop.com works the same way—with "goobing" instead of poking, "loops" instead of groups and more than 1,500 games to choose from in the virtual arcade. It's all in a safe, parent-monitored platform.
They want…Call of Duty
Video games are more sophisticated, more realistic and more gruesome than ever, Wartella says. Case in point: Call of Duty, in which players act as first-person shooters, advancing further into the game by killing enemies and innocent bystanders alike. (Eeesh.) It's practically a lifestyle, with its own terminology and chat groups for kids who are hardcore.
Let them try…Laser tag
Wartella says an activity like laser tag is a smart alternative for parents who want to unplug the video-game console but still give their kids the thrill of the chase with some (safe) shooting satisfaction. Games are $8.50 per person for 20 minutes at Laser Quest (4167 N Harlem Ave, Norridge, 708-457-2002). "It's healthier to be running around, instead of stuck in front of a screen," she says.
They want…High heels
"When girls have a party or school dance coming up, many of them want to dress up in high heels to emulate red carpet–walking tween starlets," says Lisa Burik, owner of the Lincoln Park tween boutique Frankie's on the Park (2332 N Clark St, 773-248-0400). The problem? Not only are heels a little too mature looking for this age group, but kids taking those first teetering steps risk twisting an ankle.
Let them try…glittery ballet flats
Girls get the schmancyness of a heel with these safer-yet-blingy options: a pair of glittery ballet flats, or even a strappy sandal or low wedge. Burik says she's seen countless mom-and-daughter duos enamored with sparkly, heel-less choices.
They want…Axe Body Spray
Have you smelled this stuff? If not, the scent names provide a hint of what to expect: Dark Temptation, Tsunami and Excite. High- schoolers dig it, but the overpowering spray is also a hit with tweens itching to smell like their cool older brothers. We're guessing its popularity comes courtesy of commercials where a nerdy guy becomes a chick magnet within moments of liberally spraying himself.
Let them try…Axe Deodorant
The brand's deodorants aren't as overpowering as the spray, and this way tween boys still get to have Axe on their dressers. Plus—let's face it—this is the age when they start needing deodorant. Win-win.
They want…Rihanna, Katy Perry and Lady Gaga
"I'm appalled by some of the lyrics pop stars are singing," says TOC Music editor Brent DiCrescenzo, who admits even he blushes at the risqué lyrics some singers belt out these days. "They're dressed up like Barbie dolls and the music sounds bubblegum sweet—but the words are absolutely filthy. No one wants to have to explain oral sex to a nine-year-old!"
Let them try…foreign pop
While you likely can't shield your kids from these pop divas, you can try to broaden their musical taste by introducing them to the music of overseas pop stars. Wonder Girls and Robyn, for example, both deliver catchy, tweenie-bopper sound minus the raunchy lyrics. Download "Be My Baby" (Wonder Girls) and "Dancing on My Own" (Robyn), both available on iTunes.
They want…caffeine-jacked coffee drinks
"Since coffee drinks are so prevalent everywhere you go, tweens have access to more caffeinated beverages now," says Vicki Shanta, a Chicago registered dietitian and mom. In addition to the loads of sugar and calories in that venti mocha with extra whip, there's too much caffeine. "More than 300mg of caffeine a day [one cup of coffee has about 100mg] can wreak havoc on the adrenal glands, particularly in tweens who are not sensitized to it—as people get older and drink caffeine they build up a tolerance," Shanta says. "Too much caffeine can create sleep disturbances and create an addictionto it."
Let them try…a fruit smoothie
Order them a smoothie, hot chocolate or non-caffeinated frozen drink at Starbucks and other chains, and have them stick to a tall (12-ounce) size.