Pet-friendly family outings
Run wild, volunteer or party down.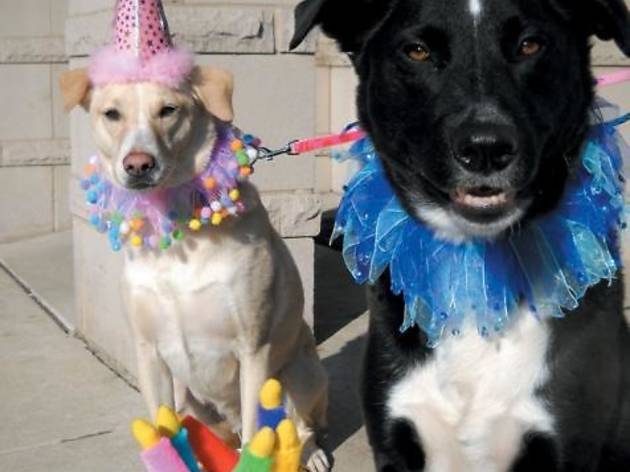 1/5
Guinness and Clover at a Dog a Holics birthday party.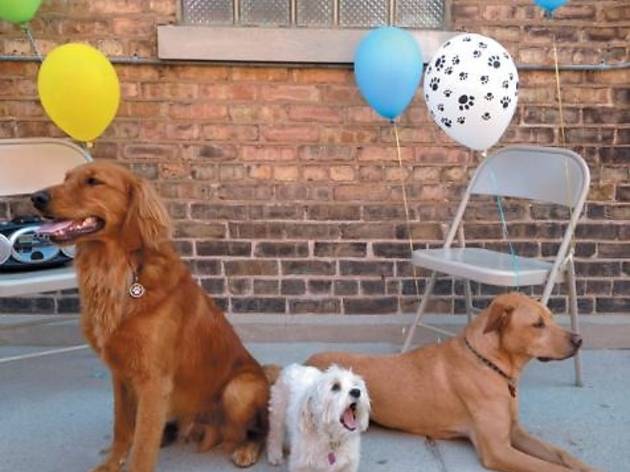 2/5
Party at Dog A Holics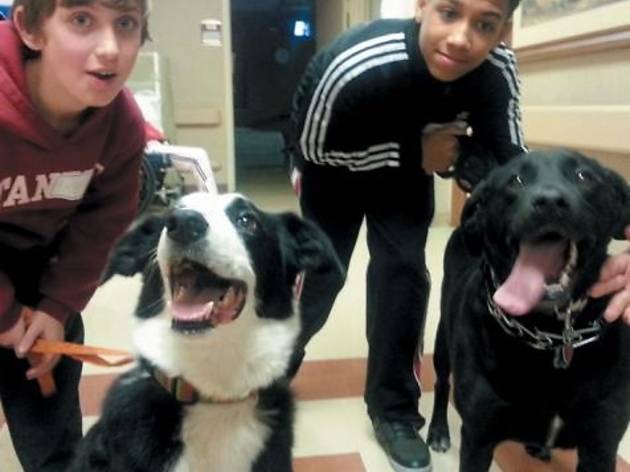 3/5
Photo: Chicago Cares
Young volunteers visit the elderly with their pets through Chicago Cares.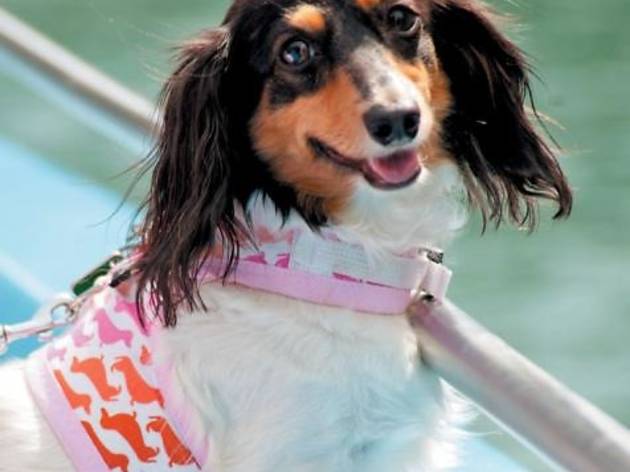 4/5
Photo: Mercury Canine Cruise
Salty dogs are welcome aboard Mercury's Canine Cruise.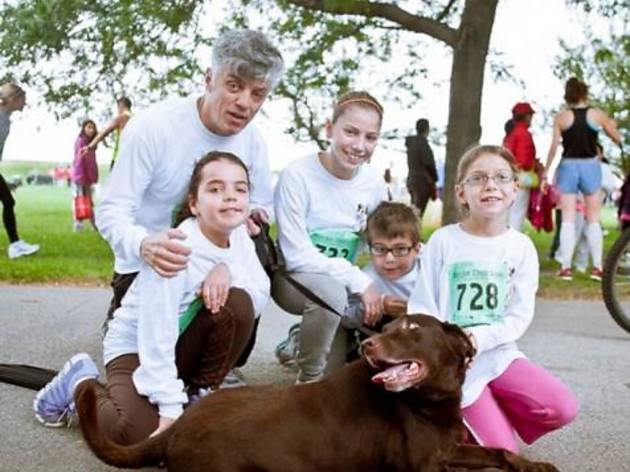 5/5
Photo: Monaghan Photography
PAWS Chicago's Run for Their Lives
1. Shake a tail feather
At the K9 Fit Club, the whole gang can get in shape at Dog Fit Dancing class. Dogs learn choreographed dance moves alongside their humans, so the routine is part agility training, part obedience training and part family fun. Tricia Montgomery, K9 Fit's founder as well as the executive director for the Chicago Veterinary Medical Association, developed the canine-human fitness club after taking off more than 130 pounds by exercising with her dog Louie. Look for an upcoming reality show on the club to be released next year, executive produced by Rachael Ray. Required membership fee is $10 per month with a six-month minimum; classes $20. 33 S Garfield St, Hinsdale; 1133 W Fulton Market, first floor (630-908-7413).
2. Explore your wild side
Lake Forest's dog-friendly area is a fully fenced-in 44-acre space broken down into smaller enclosed environments. Join man's best friend for some fresh air as he gallops freely through fields, wades in a swimming pond, and pounces down the stream and trails. Annual required permits are $120, Lake County residents $44. Daily permits, which can be purchased at a self-pay station in the parking lot, are $10, residents $5. Discounts for additional dogs. Waukegan Rd (Route 43) south of Old Mill Rd and north of Half Day Rd (Route 22), Lake Forest (847-367-6640, lcfpd.org).
3. Bark, bark, bark for the home team
Deck your human and canine kids in black and white to show your Sox pride on Chicago White Sox Dog Days, April 23 (vs. Indians) or September 16 (vs. Twins), when you can all sit together in the outfield bleachers. Pooches get treated to doggy bags, canine activities and—for the first 300 to sign up—a pre-game strut across the field. Contact Mary Weiss (mweiss@chisox.com, 312-674-5244, chicago.whitesox.mlb.com) for required pre-registration.
4. Bark in the Park
This annual fund-raiser for the Anti-Cruelty Society keeps the whole pack happy with a canine obstacle course, on-site pet psychic, pet massages, dog tattoos, nail-clipping spa, souvenir photo booth and product samples. The main event, however, is the 5K run (humans only) and 5K walk (for humans with or without dogs). May 4, 9am–noon; $35, kids ages 3–15 $15, kids under 3 free. Montrose Harbor, Montrose Ave at the lakefront (312-644-8338, barkinthepark.org).
5. Pay it forward as a pet-therapy volunteer
Families with kids ten and older and their well-behaved dogs, cats and even birds and rabbits can volunteer together for Chicago Cares' senior companionship programs. You'll visit elderly residents at Covenant Home near Lincoln Square who may need help managing their cognitive disabilities. Families with kids ten and up can also sign up to visit Covenant's Selfhelp Home, where human and animal volunteers visit with residents in common areas. Contact Chicago Cares to sign up (312-780-0800, chicagocares.org).
6. Sing happy birthday to Boo
Wrigleyville's Dog-a-holics hosts doggy fetes to celebrate birthdays, adoptions, "bark mitzvahs" and other occasions. Packages, which start at $175, include all the trappings of a solid kids' birthday soiree—only in dog form: access to an outdoor play yard and a private party room, themed decorations, doggy ice cream, a personalized puppy sheet cake and goody bags, plus contests and games led by staffers. Of course, humans are welcome, too. 3608 N Southport Ave (773-857-7600, dog-a-holics.com).
Mar 31 Doggie Easter Egg Hunt at Horner Park (chicagoparkdistrict.org) May 24–Sept 2 Dog beaches are officially open at Belmont, Foster and Montrose (chicagoparkdistrict.org) Jun 9 PAWS Chicago's Run for Their Lives at Montrose Harbor Jul 7–Sept 29 Mercury Canine Cruise Jul 13–14 PUPFest at West Fest Sept 29 Barkapalooza in Lisle Community Park Oct 4 Blessing of the Pets at Old St Pat's Oct 5 Chicago Canine Rescue's Mutt Strut in Lakeview Oct 20 Spooky Pooch Parade at Chicago Botanic Garden