Play spaces for special-needs kids
From Down syndrome to autism spectrum disorder, kids with special needs can find a place to play without feeling left out or looked down upon.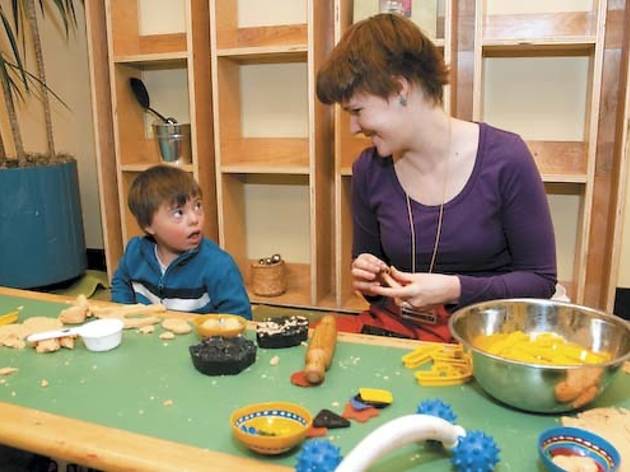 1/3
Photo: Chicago Children's Museum
Chicago Children's Museum Lead Educator MarySue Miller assists a young visitor during a recent art program.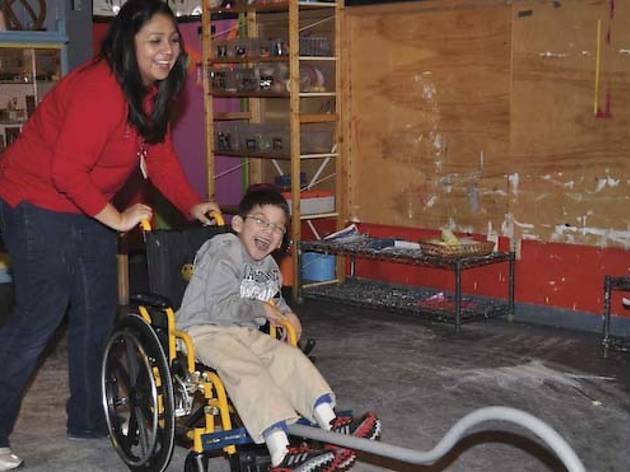 2/3
Photo: Chicago Children's Museum
Andrea Fragoso, a guest connections supervisor with Chicago Children's Museum, creates chalk art with a young visitor in the museum's Kraft Artabounds Studio.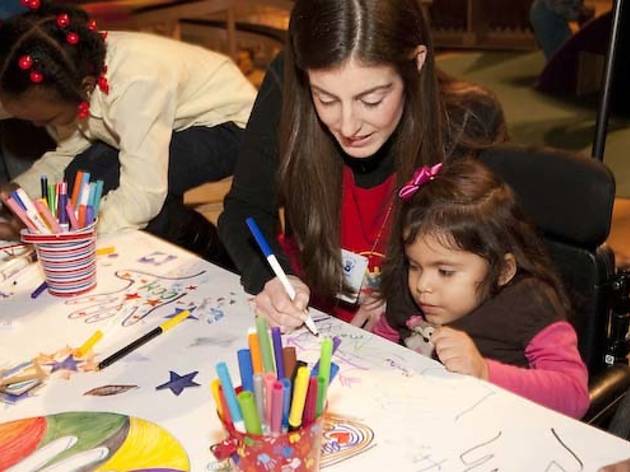 3/3
Photo: Chicago Children's Museum
Jackie Shiff, a member of the museum's Volunteer Corps, works with a recent visitor to create colorful art using hand outlines.
Parents of children with special needs know that a trip to the coffee shop or a day at the museum won't necessarily be a relaxing family outing. There can be stares. And questions. It's unfortunate, to be sure, but a reality for many. Here are a few places where kids of all ability levels are welcomed with open arms.
Kaitlin's Hideout
A sense of isolation is one reason Lisa Kelly opened Kaitlin's Hideout earlier this year, after attempts to socialize her autistic ten-year-old daughter, Kaitlin, with other children fell flat. "We don't feel like we fit in with parents and their neurotypical children," she says.
For a $10 admission fee, Kaitlin's Hideout offers a computer area, art station and toys. There's a quiet zone with black lights and neon where older kids like to hang out and decompress, Kelly says. And parents can chat and drink coffee and not worry so much about how their children are behaving. 526 Crescent Blvd, Glen Ellyn (630-460-0878), open Mon–Fri 10am–2:15pm, Sat 11am–4:30pm, Sun noon–4pm.
GiGi's Playhouse
Like Kelly, South Barrington mom Nancy Gianni channeled the experience of her daughter GiGi's initially devastating diagnosis of Down syndrome into a support network for other parents and kids. She created GiGi's Playhouse, a free play space that now has 11 U.S. locations—about half in the Chicago area—as well as one in Mexico. Each site offers slightly different activities, including one-on-one tutoring, drama clubs and physical therapy. Children who do not have Down syndrome are welcome, too. "It's a great way to talk about differences," Gianni says. 3948 N Lincoln Ave, with additional locations in the suburbs (773-583-7529), variable open-play hours.
Chicago Children's Museum
Play For All is held on the second Saturday of each month, where kids can take part in developmental arts and craft activities and use a visual storybook guide to plan their visit and alleviate anxiety. The museum also offers therapeutic play guides for most of its exhibits to help children who are working to develop motor, sensory, language, social and other skills. 700 E Grand Ave (312-527-1000). Play for All on Sat 10; register in advance by calling 312-321-6551.
DuPage Children's Museum
On the third Thursday of each month from 5–7pm, the museum offers special programming for visitors with autism and impaired vision or mobility. Projects in the art studio focus on sensory development, and adaptive equipment is available to help everyone take full advantage of the exhibits. And parents who need a little support can visit the museum's lower level to learn about resources and opportunities for their kids with community organizations. 301 N Washington St, Naperville (630-637-8000). Next Third Thursday event on December 15.