Playing with your food
Chicago-area restaurants offer entertainment to placate pint-sized diners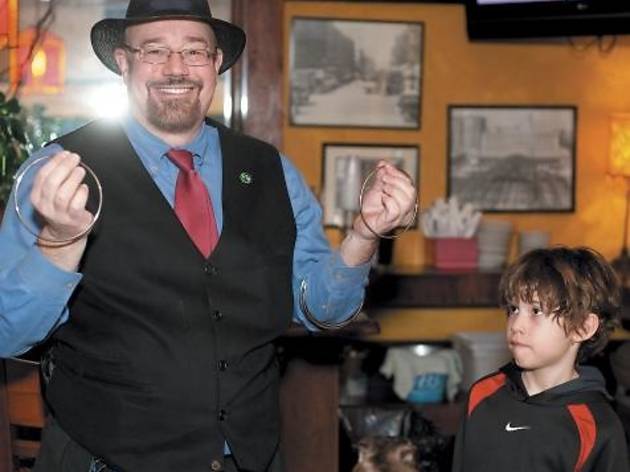 1/4
Photo: Lizz Sisson
Magician, Jay Collen, Gavin Rosz, at O'Donovans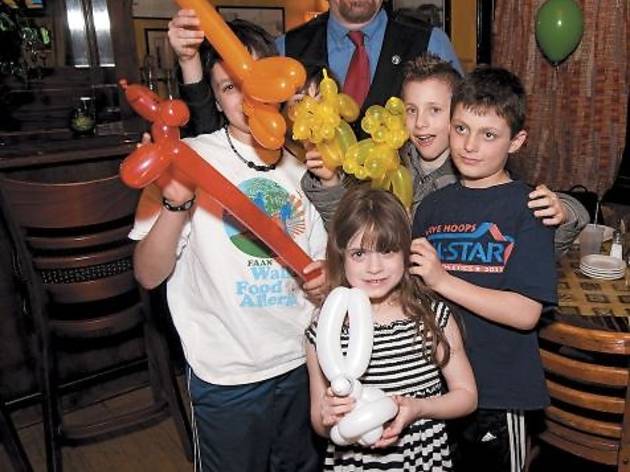 2/4
Photo: Lizz Sisson
Jay Collen, Annie Rosenfeld, Leo Rosenfeld (blue),Zack Rosz (Mohawk), at O'Donovans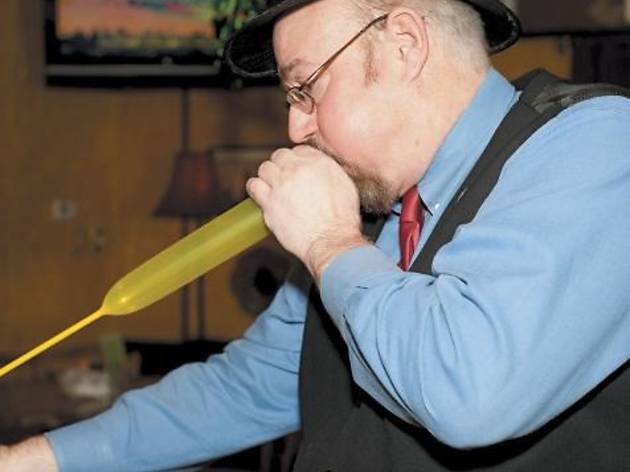 3/4
Photo: Lizz Sisson
Jay Collen at O'Donovans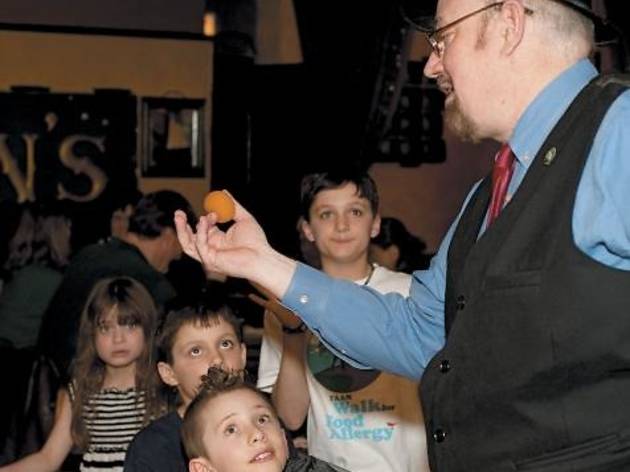 4/4
Photo: Lizz Sisson
Jay Collen at O'Donovans
O'Donovan's
2100 W Irving Park Rd, 773-478-2100
Budding Houdinis will relish a trip to this North Center pub, where magicians perform impressive card tricks and coin sleights-of-hand tableside from 6–10pm Monday through Saturday and during brunch on Sundays. The menu includes comfort food like shepherd's pie for grown-ups, plus kid-pleasing fare like mini burgers and quesadillas. (Nightly fam-friendly deals include $2 burgers on Mondays and 30-cent chicken wings on Tuesdays.) In a former incarnation, O'Donovan's was Schulien's, one of Chicago's longest-surviving taverns and one of the first to feature tableside magic. Performances are free, but be prepared to tip magicians post-performance.
D'Agostino's
1351 W Addison St, 773-477-1822; 742 W Higgins Rd, Park Ridge, 847-518-8700
Balloon twisting is elevated to art form in the hands of the bespectacled, fez-wearing Smarty Pants, who holds little ones in rapt attention while he makes his inflatable creations at D'Agostino's in Wrigleyville from 6–8pm on Tuesdays and in Park Ridge from 6–8pm on Thursdays. Using multiple balloons in each sculpture, Mr. Pants crafts a menagerie of animals and monsters, and accepts tips for his work. Kids can also keep busy waiting for pizza, pasta, sandwiches and ribs by watching the model trains that zip along overhead tracks at both locations.
Scoozi!
410 W Huron St (312-943-5900)
Take your wee Wolfgang Puck to this River North Italian joint where under-12s can assemble their own pizzas every Sunday from 5–6:30pm. Little chefs are whisked from their tables to a special station equipped with dough, sauce and toppings to ready their creations for the brick oven and give you a few moments of peace and quiet. (Maybe) even better: The kid-crafted pizzas are free.
Nick's Pizza & Pub
856 Pyott Rd, Crystal Lake, 815-356-5550; 990 S Randall Rd, Elgin, 847-531-5550
Got a big group? Call ahead and bring five or more kids ($10 each) to schedule a kitchen tour and make-your-own pizza activity at these family-friendly restaurants. Or, stop by from 6–8pm on the last Thursday of the month (both locations) for kids' bingo. Both spots also have game rooms.
The Choo Choo
600 Lee St, Des Plaines, 847-391-9815
Sure, this kitschy train-themed diner caters to kids. But you'd have to have a Grinch-sized heart not to smile as you watch your hand-formed burger (with optional grilled onions for grown-up tastes) depart the kitchen via toy train, then park itself right next to you. The diner seats 27 along the tracks and there can be a wait, especially for weekend lunch. Kids will want to cap off the meal with a cupcake, topped with a toy train whistle, and a ride on the coin-operated train at the front. Cash only.
Ed Debevic's
640 N Wells St, 312-664-1707
With those retro-grouchy, singing, dancing, abuse-slinging waiters, this River North mainstay diner is like tourist catnip—and for good reason. Kids have no excuse to be bored here, with all of the theatrical commotion. Just try sneaking in a conversation over vanilla Cokes and fries before the waitstaff launches into "YMCA." Be sure to end everyone's meal with one of those "world's smallest" sundaes. The teeny-tininess always cracks kids up.
Kim & Scott's Café Twist
2218 N Lincoln Ave, 773-281-3634
Young diners at this Lincoln Park café (which serves sandwiches, soups, smoothies and salads) can get in on the action by twisting their own soft pretzels. For $6, kids can choose from pizza, s'mores or rainbow (complete with food coloring "paint") with which to adorn their twisty treats. The topped pretzels get baked on-site.
Leona's Pizza
6935 N Sheridan Rd, 773-764-5757
The Rogers Park outpost of this popular Chicago chain of Italian restaurants herds bored kids of all ages into a playroom. Once there, they can zone out in front of six flat-screen TVs to watch movies or battle on PlayStation 3s. There are plenty of toys and puzzles for little ones, too. If they really want, parents can score a table adjacent to the room to keep an eye on things.