Science parties
Everyone knows the labratory is where the fun happens.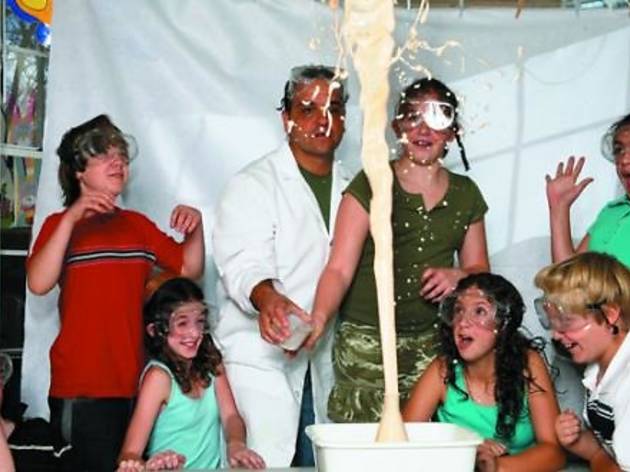 If you've got an Einstein-in-training at home, try blowing some young minds with a science-themed birthday bash. From astronomy to chemistry to zoology, these businesses and venues reward kids' endless curiosity with experiments designed to keep them thinking long after the party's over.
The professional educators at High Touch High Tech (630-227-4848, sciencemadefunchi.net) bring the party to your home. Each of the four packages, priced from $185–$200 for up to 15 kids ages four and up, has four separate hands-on science experiments, from slime and space mud to erupting volcanoes and super-growing crystals. The 75-minute parties include all supplies and the take-home activities, plus a gift for the guest of honor.
Mad-popular Mad Science (1053 N California Ave, 773-227-3345, madscience.org) also brings the festivities to you, or you can rent its Humboldt Park space. Either way, young Frankensteins conduct wild experiments with dry ice, laser lights, static or green-glowing water. Packages designed for ages 5–12 run $200–$310, and include take-home experiments plus a T-shirt for the birthday child. Optional add-ons include goodie bags and invitations.
Grandma may balk at all things slimy and slithery, but a demonstration by FrogLady Presentations (815-342-1757, thefroglady.com) will have the kids hopping in no time. FrogLady Deb Krohn brings 25 of her critters—including snakes, salamanders and bearded dragons—most of which can be held or petted. Tailored to any age group, demos last for two hours max for $300. For an additional fee, your guests can participate in the new great American pastime: turtle racing.
Don't be shocked if your kid busts out mechanical moves like Michael Jackson after a two-hour party at RobotCity Workshop (3226 N Sheffield Ave, 773-281-1008, robotcityworkshop.com). Each future engineer learns the science behind electronic Snap Circuits while building a 'bot of the birthday kid's choice. Choose from the Doodlebot, Robot Duck or Smart Robot, which has a motorized sphere that can navigate a room. Later, put these droids to the test in a maze race. RobotCity provides decorations and goodie boxes filled with wind-up toys, bubbles and activity books. Best for ages four and up, these parties cost $40 per child.
At Kids Science Labs (1500 N Kingsbury St, 312-846-1426, kslchicago.com), a relatively new 4,500-square-foot facility, party-goers ages 4–12 participate in various hands-on experiments, like making gooey slime out of household foods or concocting the opaque "dancing bubble"—made from dry ice, hot water, and a secret soap—that astoundingly won't pop when the birthday kid sticks a hand in it. Three different party options offer a choice of themes such as slime or explosions. Prices start at a beaker-breaking $675, but parents get a hefty $200 discount by enrolling their kid in a ten-week class.
Kids can spend as long as they like exploring the Museum of Science and Industry (5700 S Lake Shore Dr, 773-753-2583, msichicago.org) when you plan a party there. It's a classic way to give your child an inventive science party. For $600, 15 guests get all-day admission to the museum, use of the private party room for three hours and a choice of four food options.
Budding astrophysicists can explore the cosmos during a bash at Adler Planetarium (1300 S Lake Shore Dr, 312-294-0360, adlerplanetarium.org). Designed for ages 4–12, the $400 package gives 20 people admission to the museum exhibitions, a show in the Definiti Space Theater and use of the party room. For an additional $85, partygoers also get a 30-minute rocket, kite or craters activity with one of Adler's mission specialists. It's a celestial good time.
[node:161236 noterms cck=field_caption; cck=field_credits;]
The gift
This Green Science Enviro Battery will spark imaginations when kids channel power from all manner of natural materials (like this apple, pictured). Other kits explore solar energy, wind power and safe water ($13 at American Science and Surplus, 5316 N Milwaukee Ave, 773-763-0313, sciplus.com).
The cake

This disgustingly delicious, squeal-worthy brain cake will add just the right amount of smartypants gross factor ($300 at TipsyCake, 1944 N Damen Ave, 773-384-4418, tipsycakechicago.com).
The party favor
These Crystal Sour test-tube candies come in packs of 24, perfect for budding mad scientists with sweet teeth ($27 for 24-pack at Windy City Novelties, 800-442-9722, windycitynovelties.com).