Sick of cake? On a budget? Into the DIY thing?
Trade the traditional birthday treat for one of these sweet ideas.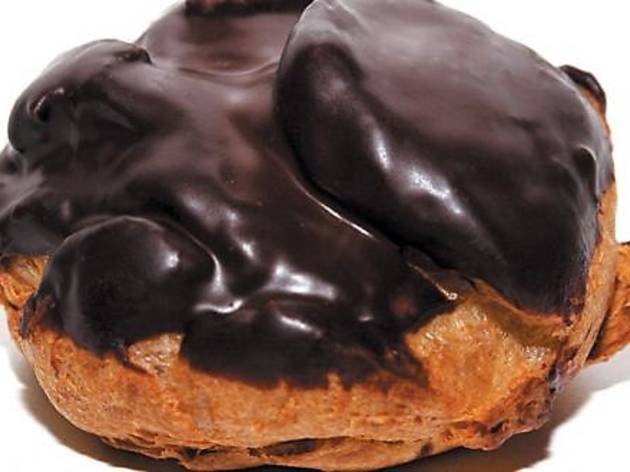 Cream-puff tower
Beard Papa's opened its first Midwest location here this winter. Haven't heard of the Japanese chain? Prepare yourself for cream-puff nirvana. The bakery with a serious cult following on the coasts makes the puffs fresh daily and fills them to order with vanilla, chocolate, strawberry or green-tea custard (you can also get chocolate glaze, éclair-style). Buy one for each kid coming to the party, stack them on a serving platter in a towering pyramid and voilà! You're supercool. (108 N State St, 312-960-9000)
Fruit pizza
It'd be weird to end your kid's party with one of those fruit bouquets, but there is a way to sneak some healthy stuff into the festivities without seeming oddball. Buy a tube of plain sugar-cookie dough, spread it out into a pizza-shaped round and bake according to instructions. Blend softened cream cheese with whipped cream and slather onto the "pizza" like sauce, then top with sliced fresh fruit, whatever you have on hand. (You can even add a few drops of red food coloring to the "sauce" to give it a tomato-y hue.)
Monkey bread
If you've never had this pull-apart sweet bread, you haven't lived. Buy a few tubes of those pop-apart biscuits in a can, quarter each biscuit, toss the quartered dough in cinnamon sugar, then layer them into a Bundt-cake pan, drizzling a brown sugar–melted butter mixture between each layer of dough. Customize with nuts or chocolate chips if you like. It's the budget-friendly, time-saver version of cinnamon rolls, plus it's infinitely more fun for kids—especially when they can act like monkeys eating it.
Macaroon tower
Give your kid a leg up in the ooh-la-la department by tapping into their inner Francophile and swapping out regular ol' cake with pretty macaroons. At Fritz Pastry, the delicate merengue pastries come in a rainbow of pastels, as well as multiple shades of chocolate-brown for flavors like mocha, S'mores and even rootbeer. Ask for an assortment, arrange them in a creative towering shape, stick candles in a few to keep it festive and voila! Now just try teaching the gang "Happy Birthday" in French. (1408 W Diversey Pkwy, 773-857-2989)
Birthday in a Box
Letting the munchkins go at it and make their own treats is always a hit—and always a mess. Cut down on the disaster zone by picking up a dozen freshly baked cupcakes, icing in four different colors and plenty of fondant flowers, stars and polka dots to enable the little artists. ($50; 1636 W Montrose Ave, 773-728-1512)