Starter camps for the preschool set in Chicago
Four great summer camp options for tiny tots.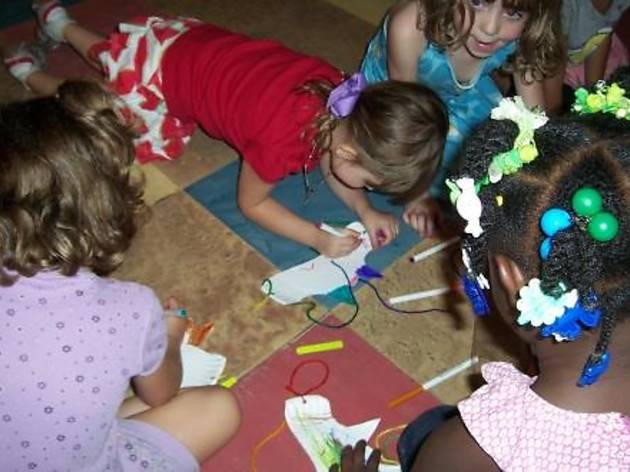 Designed especially for little tykes with even littler attention spans, starter camps are an awesome alternative to been-there-done-that day care.
Baby Buds at Li'l Buds Theater Company
Aspiring actors and actresses let their imaginations run wild every morning via dance moves, acting games and dramatic exercises in two week-long camp sessions. Instructors will introduce little ones to the building blocks of theater, such as collaboration, vocal production and body awareness. And families watch it all come together at a performance on the last day of camp.
Lil' Kickers: Soccer for Kids
Mini Abby Wambachs and Landon Donovans will kick, dribble, sprint (and giggle!) their way through soccer sessions this summer. Bunnies (18 to 24 months), Thumpers (25 to 36 months) and Cottontails (2.5- to 3.5-year olds) must be accompanied by a parent at camp. Kids will learn soccer basics during 40 to 50 minutes of coach instruction and spend the time in between blowing bubbles and playing with parachutes. The older they are, the more advanced skills they're taught.
Language Stars
The hour-long Parent and Tot immersion language classes that run during the school year will continue throughout the summer, giving your little guy or gal—a.k.a. lingual sponges ages 1 to 3—a chance to learn Mandarin, Spanish, German, French or Italian through activities like games, arts and crafts, treasure hunts, music and snack time. There are longer camp sessions for the 3- to 5-year-old set, and the kind folks running the show are happy to help you mix and match programming for the perfect fit with your schedule. Grazie!
My Corner Playroom Day Camp
Camp brims with activities right up your tot's alley—from playground time to arts and crafts. There's also a free play period, when Junior is trained to be the world's best little helper around the house: Kids will do everything from watering plants to feeding the fishies to setting the table for a family-style lunch. There's also...you're gonna love this...potty time. Yep, your kiddo gets schooled in pottytraining every day.