Super Bowl 2012 | Football camps for kids
Did the Super Bowl plant a seed of interest in football? Sign up for one of these summer camps for future Heisman-hoisters.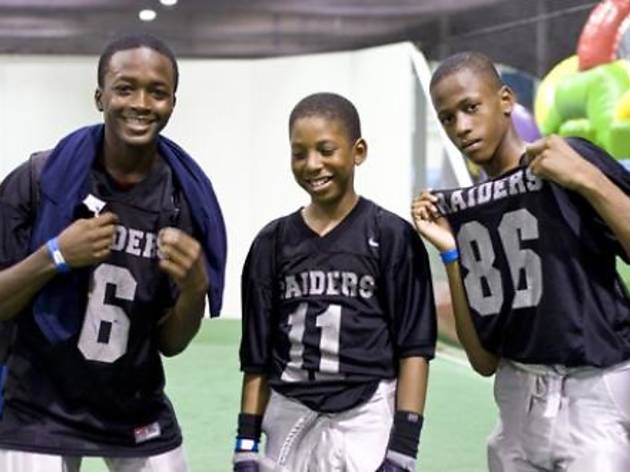 Our February/March issue of TOC Kids rounds up 135 summer camps for just about every interest under the (can't-wait-for-it!) sun. Among them are these summits for young footballers:
Alex Brown Football Camp
Top-notch high-school and college coaches, along with former Bears players, lead campers through daily practices (kids can expect to snag some autographs!). An awards ceremony caps the week.
Benedictine University, 5700 College Rd, Lisle (301-575-9400, footballcamps.com). Jul 6–9. $760 for overnight campers, $680 commuters. Ages 7–18.

Chicago Bears Youth Football Camps
Your Jay Cutler–in-training learns new skills and gains confidence under the instruction of professional, college and high-school football coaches at this non-contact, station-based training camp. Stretching, footwork and speed-training drills teach kids the fundamentals for all positions.
Locations vary (312-226-7776, bearscamp.com). Dates vary. One-week session $399–$429. Ages 6–14.
Game On! Sports Camps 4 Girls
You name it, they play it. With camps ranging from volleyball to horseback riding to lacrosse, Game On! has a sport for every girl. Whether she's never touched a ball before or is the all-star of her travel team, your daughter will improve athletic skills, build friendships and gain confidence.
Locations vary (847-229-9959, gameonsportscamp.com). Jun 11–Aug 3. Prices vary. Two-week overnight Jun 18–30 $2,500. Preschool to 10th grade.

Girls in the Game: Sports and Leadership Summer Camp
With 98% of campers receiving a scholarship and buses provided from the North, West and South sides of the city, this girl-power sports and fitness camp makes it easy for gals to experience everything from swimming and tennis to yoga and cricket.
Union Park, 1501 W Randolph St (312-674-0000, girlsinthegame.org). Jul 5–Aug 6. $1,000 per session. Ages 7–13.

RetroActive Sports Camps
Games Galore brings back old school games such as dodgeball, punchball, sputnik, capture the flag, team handball and wiffleball, just to name a few. Forget drills or practice, it's all about play, play, play!
Menomonee Club for Boys and Girls, Drucker Center, 1535 N Dayton St (312-664-4631, menomoneeclub.org). Jun 11–Aug 31. $310–$355. Ages 4–14.
---
Be sure to check out our entire list of summer camps and these eight spring break camps. Know a child who prefers sports with more European flair? Read all about Chicago Wapiti Rugby Football Club here. Registration is now open for its spring 2012 season, which runs April 15 through June 24.