Ten candy stores that keep us coming back for more
These fabulous candy emporiums are always spoiling our dinners.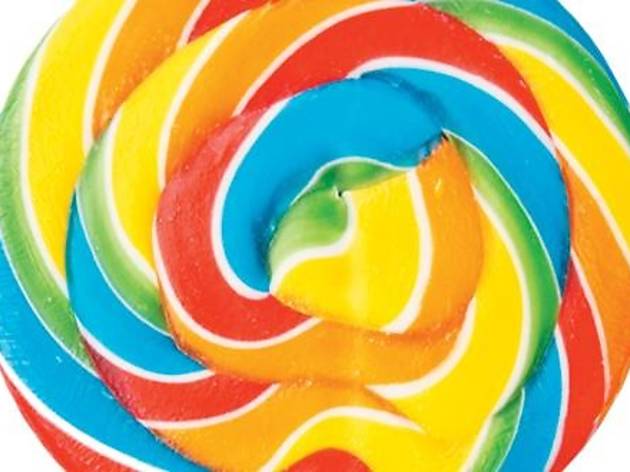 Aji Ichiban Your kids will quickly bypass the salt-dried squid at the only Chicago outpost of this Hong Kong franchise to make a beeline for kid-level bins bursting with gummies, Yan-Yan biscuit sticks, hard candy and other imported treats. If you're up for the effort, try to get them to sample some of the awesome selection of nuts and dried fruits, too. They can leave the wasabi green peas to us grown-ups. 2117A S China Pl (312-328-9998). El: Red to Cermak-Chinatown.
Candyality Sweet tooths won't know where to look first when they walk into this Southport candy shop where there's something for everyone from old-fashioned fudge lovers to sixth-grade sour addicts. Load up on by-the-pound treats (Jelly Bellys, M & Ms), retro goodies (candy buttons, Necco wafers) and chocolate truffles, then bring your loot up to the register, where owner Terese McDonald will assess your candy personality (dark chocolate = sophisticated; licorice = loyal) based on your picks. 3425 N Southport Ave (773-472-7800). El: Brown to Southport. Bus: 77, 152.
Dulcelandia If we've got any excuse to get a piñata, we head to this Mexican candy and party-store chain to watch our kids' mouths drop open at the mind-boggling selection. It's always a dilemma: Should they go for the decked-out princess or the mega-monster that's waaay bigger than they are? Once the big decision is made, we buy a couple of huge bags of sweet and spicy imported sweets to fill it, then let the kids pick out a few extra treats for themselves. They especially love the ice-cream-flavored paletas (lollipops) and tropical fruit-flavored gummies. We like the bargain we get compared to the big party store chains. Other locations throughout the city and suburbs. 3411 W Irving Park Rd (773-279-9762). Bus: 80.
Dulceria Lupitas This Pilsen mainstay for all things sweet serves up a little bit of everything: vintage brands you haven't seen in years like Cherry and Grapeheads (for those more gringo inclined), and then flavorful tamarind roll-ups, dulces, and chicle chewing gum for more authentic tastes. Having a party? Pick a piñata from their impressive selection. 1730 W 18th St (312-226-9260). El: Pink to 18th.
Georgia Nut Company Grab a cup of coffee from the café here so you can amp up on caffeine to match Junior's sugar high after he raids the bins of by-the-pound chocolates and candies at this suburban sweet shop. Watch the pros make fresh batches at the front of the store, or host a kids' candy-making party at the rear. Parents of little ones with peanut allergies should be wary of samples free for the taking. 1742 Glenview Rd, Glenview (847-724-8405).
Mr. Kite's Candy and Nuts When you come to Mr. Kite's, you'll be starry-eyed and salivating over the choices: peanut butter s'mores, Granny Smith caramel apples as big as your head, Cedar Crest ice -cream cones and frozen yogurts. But before you let your kids disappear somewhere in between delight and diabetes, take the time to talk to Dominic, the personality of the place who's been handcrafting the heavenly stuff for more than 20 years. 6 W Maple St (312-664-7270). El: Red to Clark/Division. Bus: 22 (24 hrs).
Suckers Candy, Inc. You know this Roscoe Village sweet shop is open when the giant fiberglass penguin is sitting out front. That means it's your chance to indulge cravings for candy necklaces and Junior's beloved gummy cola bottles. Gum lovers get a kick out of the massive selection, from Fruit Stripes to Gold Mine nuggets, packs of Razzles and Bazooka singles. Chocolate-dipped fruits and bars are made on site. Need a gift? The friendly staff makes cute-as-can-be custom baskets. Ice cream caps off your sugar high when the mercury climbs. 3256 N Damen Ave (773-549-1706). Bus: 50, 77.
Superior Nut and Candy The Superior name has been churning out bulk goodies like chocolate-covered raisins, caramel bull's-eyes, cashews and fruit slices since the '80s, and we sure as heck don't want them to stop. Be sure to take some giant bags of gummy worms home to keep that sugar high nice and strong. 6620 W Irving Park Rd (773-282-3930). Bus: to 80 Irving Park.
The Fudge Pot Chocoholics have been coming to this Old Town shop since 1963 to get their hands on marshmallows, strawberries, toffee and cookies dipped in the good stuff, plus white, milk and dark chocolate shaped in every mold you can imagine, from race cars to rare animals. The family-run business also makes ten flavors of fudge daily, sugar-free truffles and bark chocolate, and caramel apples for those freaks out there (you know who you are) who don't choose chocolate above all else. 1532 N Wells St (312-943-1777). Bus: 11, 22, 36, 72.
Windy City Sweets This store has been satisfying Lakeview's sweet tooth since 1983, and the original owners are still on hand to scoop ice cream and serve housemade fudge and chocolates. Kids love the huge selection of bulk candies, which includes some sugar-free options in the mix. 3308 N Broadway (773-477-6100). Bus: 36, 77, 152.