The Second City Improv Extravaganza
The Second City puts on a G-rated show for kids.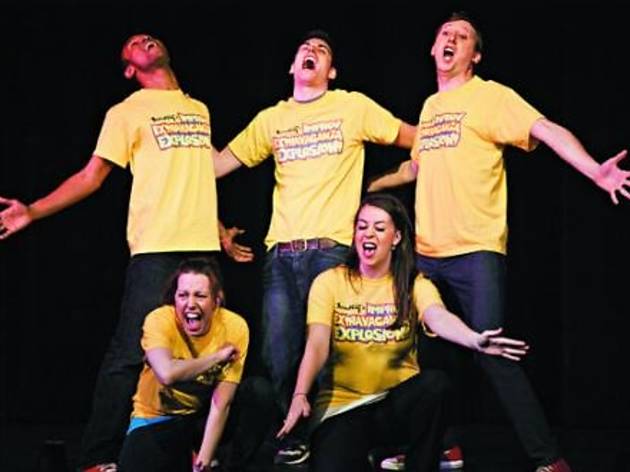 In a show of ecstatic enthusiasm normally reserved for a Justin Bieber concert, the kids at the UP Comedy Club lose their minds when the energetic ensemble of trained improvisers asks for volunteers from the audience for a game called "Circus." The task? To transform into various carnival creatures, including an alligator who speaks French, a mountain lion who enjoys giving gifts and, in a nod to the adults in attendance, "a lizard who can explain credit-default swaps."
That's just one in a series of improvised games both audience and ensemble play at the Second City's Improv Extravaganza Explosion, an afternoon show designed for the little ones, happening every Saturday at UP.
When I walked through the door on a recent June afternoon, the first thing that happened was I got leied. Note the spelling: That's lei, as in the traditional Hawaiian garland. Door greeters were placing them around all visitors' necks to celebrate summer. Inside the theater, families lunched on corn dogs, burgers, Lou Malnati's pizza and soda. The UP Comedy Club offers both a regular and kids' menu, so don't be surprised to see a mom or dad sipping chardonnay or drinking beer with their french fries.
But the not-so-serious business here is comedy, and at Explosion, a seasoned quintet guides the kid-filled crowd through 50 minutes of short-form improv games and sketches that lean heavily on participation. In "Field Trip," for example, kids assemble onstage and strike various poses as if frozen in a picture. Two ensemble members then interpret their poses as if it's part of a slideshow from a recent vacation. The kids love it.
"It's a positive, happy energy right away," says ensemble member Becky Poole, who's been with the show since its January debut. "I love performing for kids because they're on you. They keep you on your toes; they keep you honest."
In a game called "Take That Back," a child from the audience is picked at random and given a bell. Two ensemble members begin a scene; at any time, she can ring the bell, forcing the players onstage to change the previous line of dialogue, which takes the scene in an entirely new direction.
To keep the momentum, the ensemble fires on all four cylinders. "The kids are tough critics," says performer Scott Morehead. "If you lose them, it's hard to get them back. They're like, 'C'mon, I could be playing outside.' "
That kids are, in fact, responding isn't so surprising. Most adult fans of the Second City know it as temple of social-political satire that launched the careers of esteemed comedians like John Belushi, Gilda Radner, Bill Murray, Tina Fey and Stephen Colbert. What many don't know is that the improv games upon which the theater was founded were first taught by Viola Spolin to kids at the Young Actors Company for child performers in 1940s Hollywood. Spolin returned to Chicago, where she had previously lived, to conduct workshops in 1955 with the Compass Players, forerunners to the Second City. To this day, youngsters can take classes at Piper's Alley.
Former Old Town resident Rachel Boultinghouse is an Explosion fan. She now lives with her husband and seven-year-old daughter, Charlotte, in Oak Park. Because she worked in the local theater scene, visiting the Second City during her free hours was the last thing on her mind. But when a mutual friend at the theater tipped her off to the show, she decided to give it a try.
She took her daughter and a friend in March; they came back a second time with their entire block, and they're planning a third visit with her daughter's Girl Scout troop. "My daughter was holding her belly," says Boultinghouse of the experience. "I rarely see her laughing that hard, wiping tears. Kids don't see grown-ups playing like that."
Of course, much of the magic stems from the kids themselves. When children ages 4–11 are the driving engine of a show, anything can happen. On my visit, the kid picked for "Take That Back" was unsure how to ring the bell. During one sold-out performance, the crowd burst into song (Katy Perry's "Firework") before the show even began.
Not surprisingly, the audience is keen on comedy. "This is something that comes naturally to children," Morehead says. "There are some children who have stage presence and can recognize that they have to face forward and be loud. It's like, 'Holy cow, you're better at this than I am!' "
The Second City's Improv Extravaganza Explosion happens Saturdays at noon at the UP Comedy Club. See Calendar.