Tips for designing a shared room
Two Clarendon Hills sisters with very different styles redesigned their room peaceably with some help from their mom.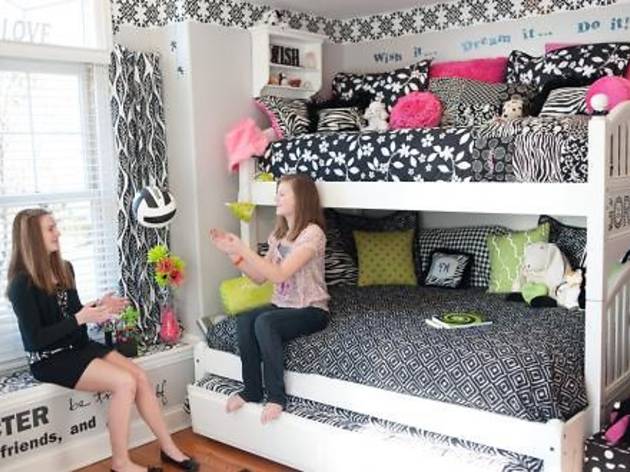 1/14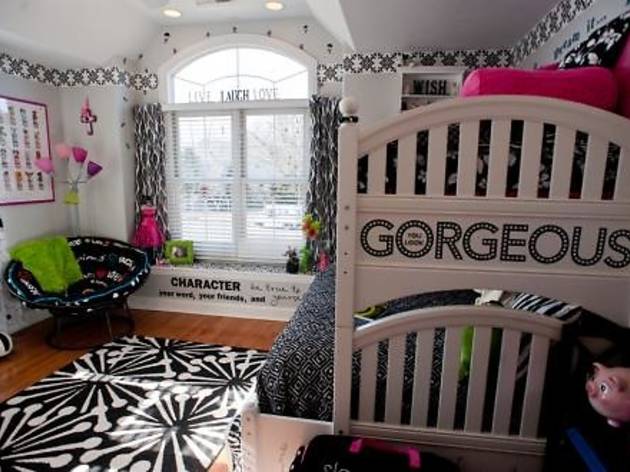 2/14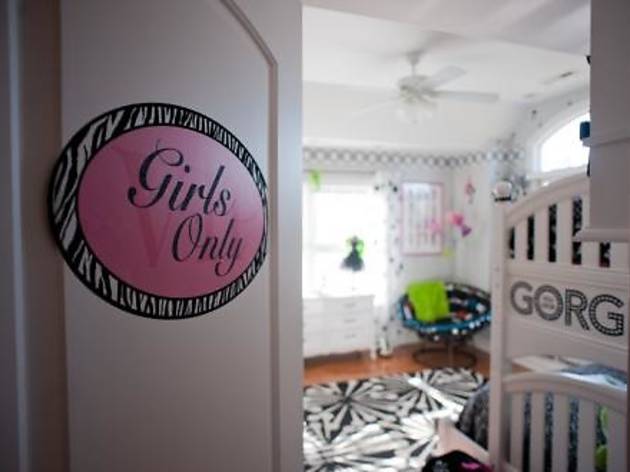 3/14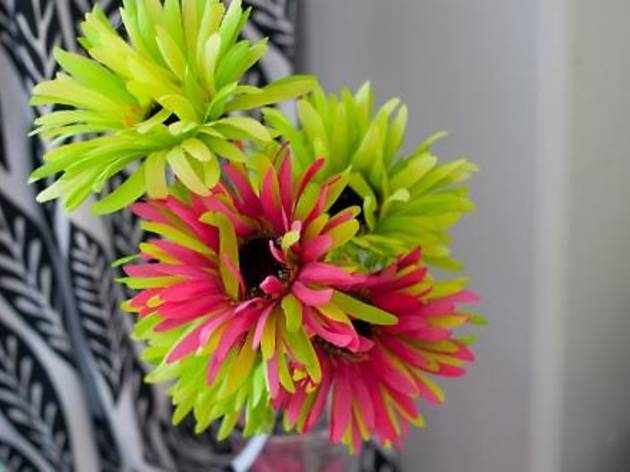 4/14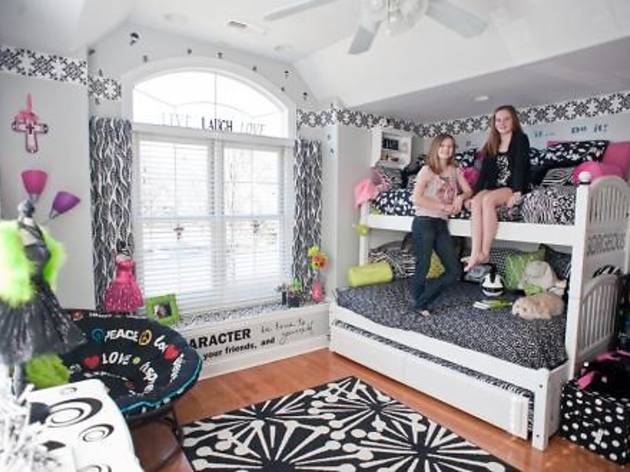 5/14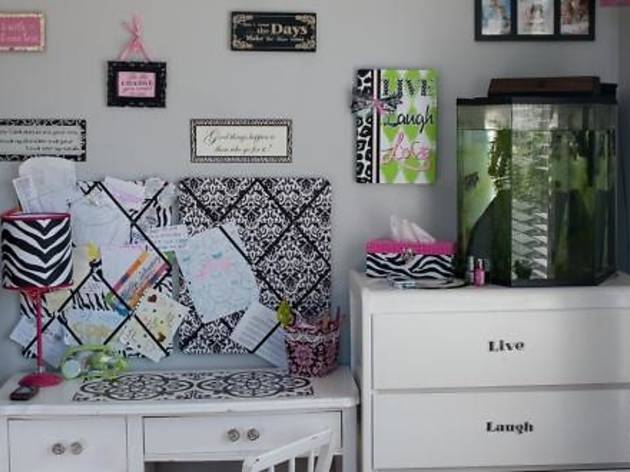 6/14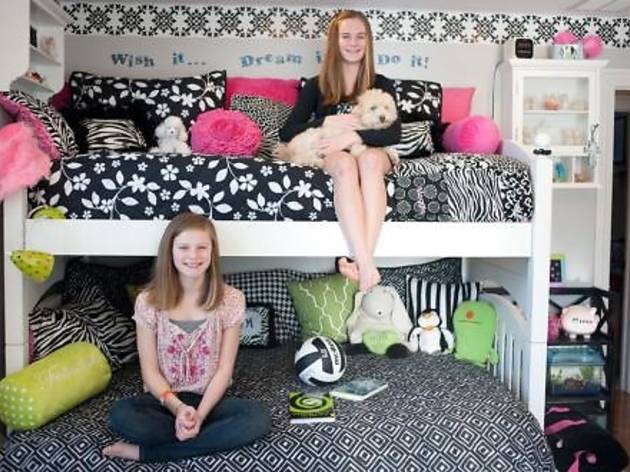 7/14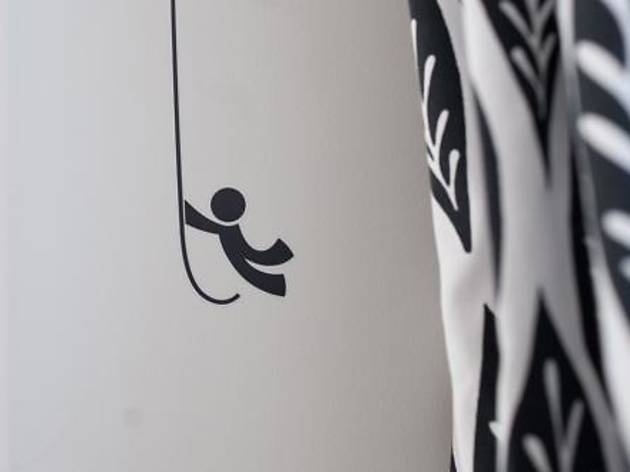 8/14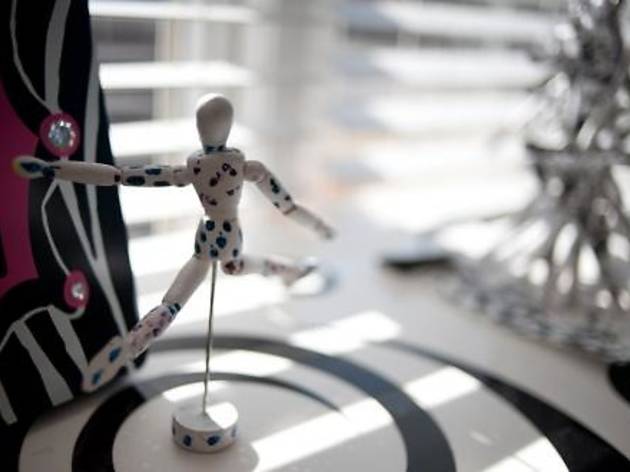 9/14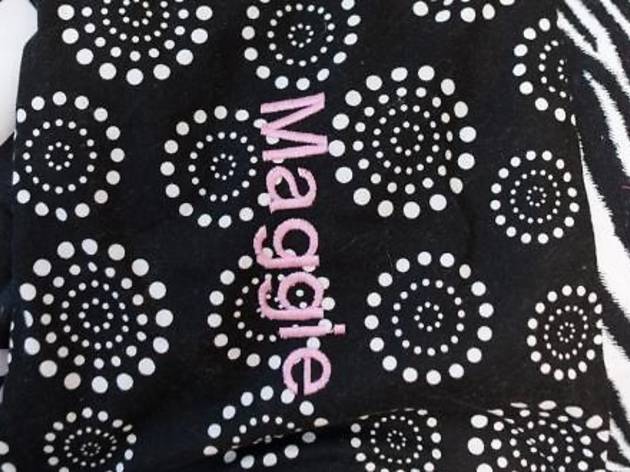 10/14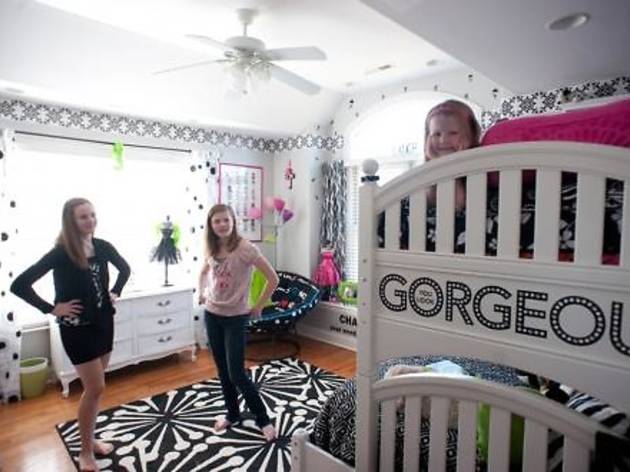 11/14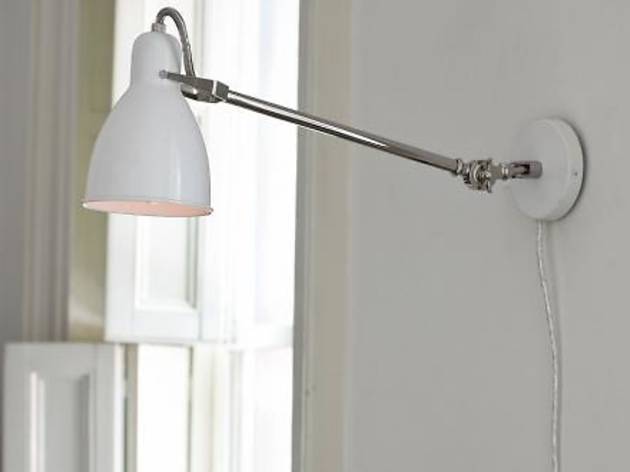 12/14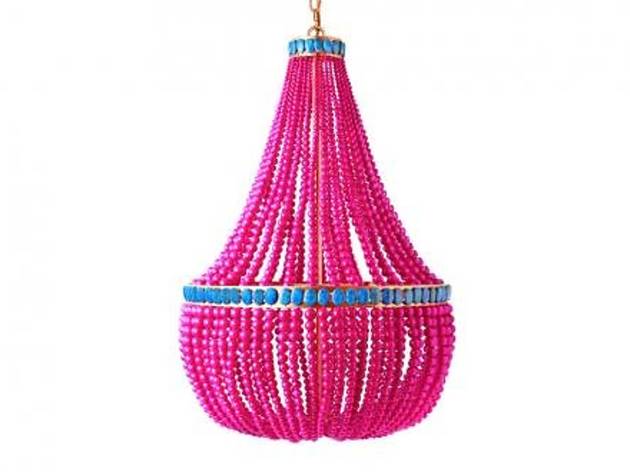 13/14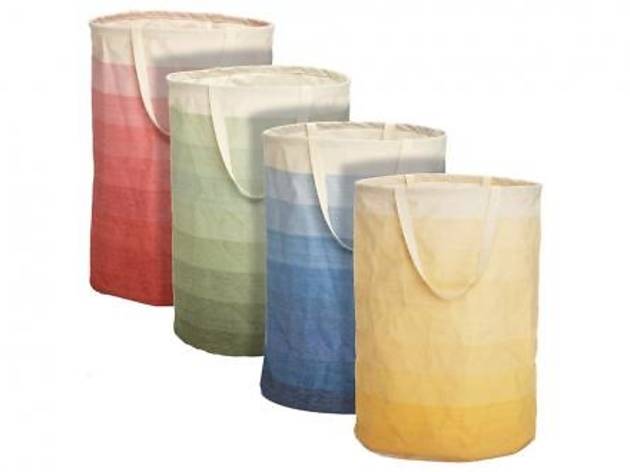 14/14
Clarendon Hills sisters Maggie and Molly Schwarz, 14 and 12, were ready to give their shared room a major design makeover, but mom Katie worried the project would turn into a nightmarish series of arguments. Sure enough, each sister's initial vision clashed wildly with the other's, from accessory choices to patterns and color schemes. Furthermore, the design scheme the girls originally created using PBteen.com's interactive tool put them way over budget. "I remember thinking, 'That's close to $2,000 and it's only on the bedding'," Katie recalls. But with careful negotiation, Mom found a coherent design solution that left everyone feeling at home—without breaking the bank.
Molly, the younger of the two, initially envisioned the room with a New York club vibe. "I wanted it to be crazy, with black walls and lots of neon. Also, maybe some splattered paint, a disco ball, lime green accents, graffiti on the walls." Older sister Maggie quickly put the brakes on that plan. "I wasn't sure exactly what I wanted, but not that! I was thinking more of a black-and-white pattern, stripes or polka dots, maybe some colored handprints. I wanted a pink color for the walls, or blue or purple."
Katie says she wanted both girls to feel they had ownership over the 12' by 14' space, which includes bunk beds and one walk-in closet, "but we weren't going to do it like Marcia and Jan [of The Brady Bunch], with a line down the middle of the room." Instead, each girl was allowed to use her preferred color—hot pink for Maggie, lime green for Molly—as an accent that would show up in accessories such as lamps, chairs, hanging organizers and throw pillows. Most of these items were purchased at Target, Walmart or Hobby Lobby.
Maggie had made a beautiful, boldly patterned black-and-white quilt in middle school, and the sisters—and Mom—agreed to build the decor around those core colors. To prevent the room from looking too wild or too busy (a concern of Katie's) , the walls had to be painted a neutral color, so the three settled on gray. "But the rest of the decor, like bedspreads, curtains, personal corkboards, the adhesive accent border and other major accessories would be black and white," Katie says. And instead of the graffiti Molly initially envisioned, the girls further personalized the room with framed quotes that they found inspirational or memorable—an idea Katie brought in from other areas of their home.
When the project wrapped up last month, both girls felt satisfied with their contributions. "You can see the body pillow is pink for Maggie," Molly notes. "And Molly picked out the green-accented garbage can, and the green blanket to throw over the papasan chair," Maggie says. "Molly also has a green Uglydoll and accent pillows on her bed, so the two colors are pretty even." Mom was happy with the more neutral results, as well as the cost, which came in under $1,000, including the bedding, papasan, drapes, rug, lamps and adornments. "This is going to have to be their room until they move out, and then when they come home from college," she says. "So they're going to have to like it for a long, long time."
Share and share alike
Interior designer Brynne Rinderknecht offers a few additional tips for siblings living in close quarters—from a collaborative project to cool decor accessories that will help kids divide and conquer.
Canopy tour
Kids in a shared room with side-by-side beds could benefit from a private canopy, Rinderknecht says. "Adding a canopy or bed crown over each bed can create a sense of individual space and soften the room at the same time." She recommends the round Travel Mosquito Net from mosquitonets.com ($53).
Don't hate, collaborate
Creating a sense of shared space is just as important as creating a sense of individual space in a shared room, Rinderknecht says. "My suggestion would be [to get kids to work on] a DIY beaded chandelier in the spirit of one of Marjorie Skouras's designs (seen here and at marjorieskourasdesign.com/products)." She also suggests visiting a craft shop like Beadniks for supplies (1937 W Division St, 773-276-2323).
Make light of the situation
"Having individual reading lights by the headboards allows each kid intimate quiet time spent in bed studying or reading," Rinderknecht says. "West Elm's Industrial Sconce($79–$139 at 1000 W North Ave, 312-867-1770, and 2155 W 22nd St, Oak Brook, 630-368-3591) can be added easily, even if they are on bunk beds."
Storage wars
Kids will want to define their portion of the closet space as well, Rinderknecht says. "A closet divider could be a good idea. And using different colored hangers and hampers helps, too." For hampers, Rinderknecht likes the Horizon Round Crunch Can by Umbra, available in various colors for $20 at the Container Store(908 W North Ave, 312-654-8450, and other locations).
Brynne Rinderknecht is design director and principal at Bedrooms by Brynne (773-960-8619).