TOC Kids City vs Suburbs roundtable
What the parents say… On schools and diversity Our group spent the most time discussing these hot-button topics. The city parents expressed...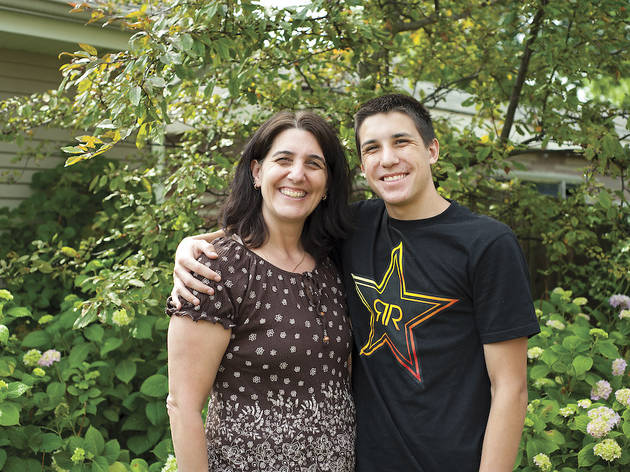 1/17
Elizabeth Jochum Photography
The Suburbanites Mount Prospect resident Mary Guzzarde and her son Dominic, 16.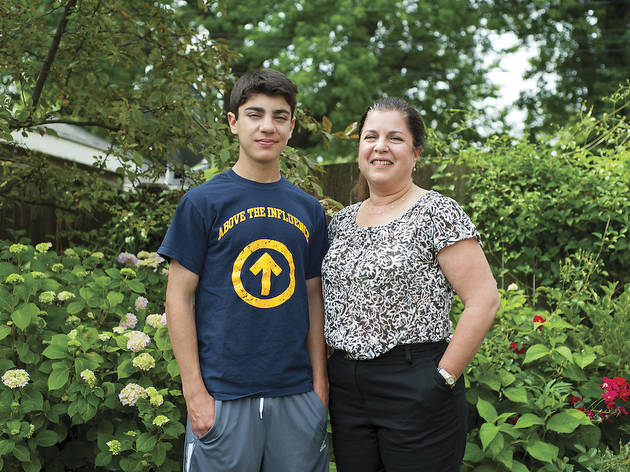 2/17
Elizabeth Jochum Photography
The Suburbanites Glenview resident Marlene Baddeloo and her son Michael, 16.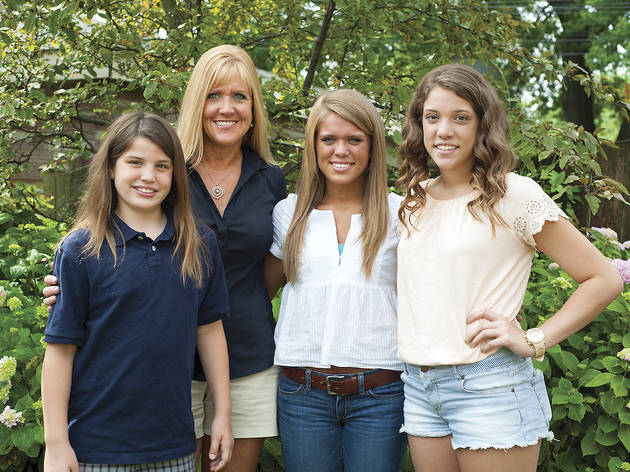 3/17
Elizabeth Jochum Photography
The Suburbanites Geneva resident Jean Medina and her daughters Sophia, 10, Isabella, 16, and Olivia, 14.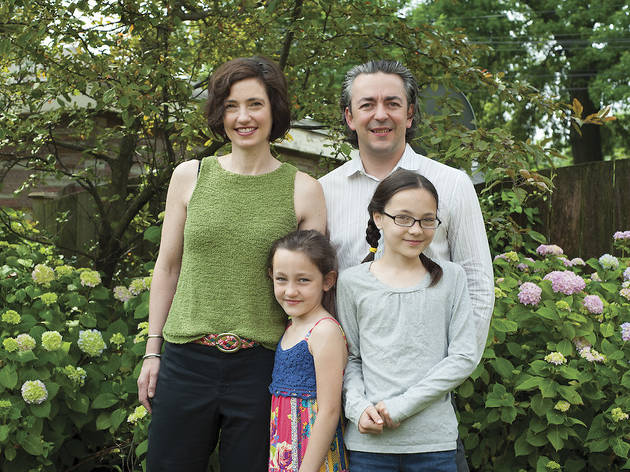 4/17
Elizabeth Jochum Photography
The Urbanites Old Irving Park residents Matthias Merges and Rachel Crowl, and daughters Tatum, 7, and Gretl, 10.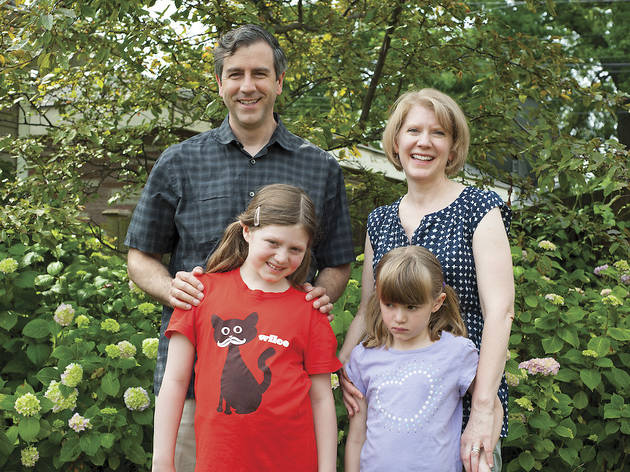 5/17
Elizabeth Jochum Photography
The Urbanites Lincoln Square residents Ken Jones and Jane Schaefer and daughters Linnea, 9, and Iris, 6.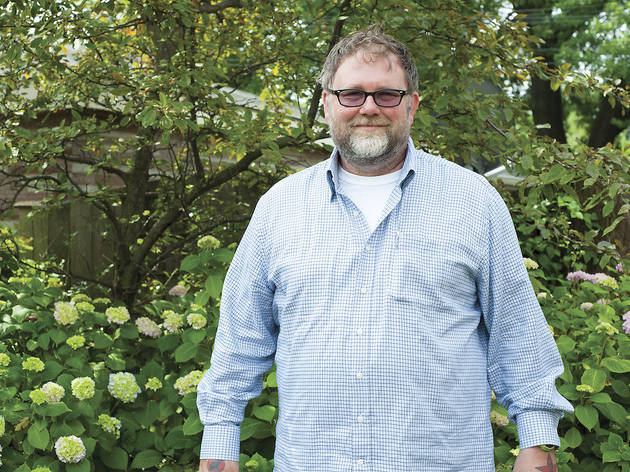 6/17
Elizabeth Jochum Photography
The Urbanites North Center resident Gregory Hall, father of Sofie, 13, and Henry, 11, (not pictured).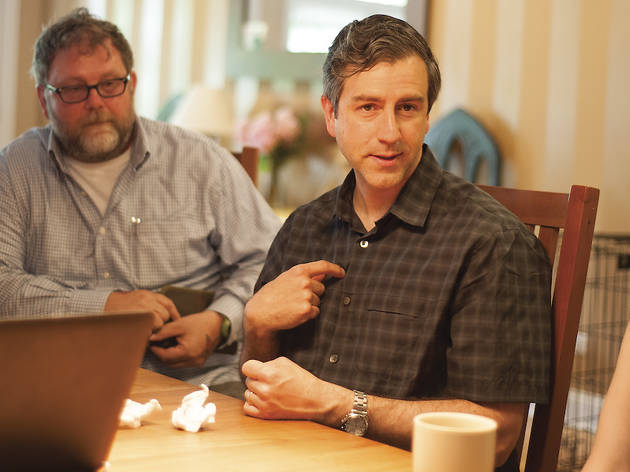 7/17
Elizabeth Jochum Photography
Roundtable City/Suburban Living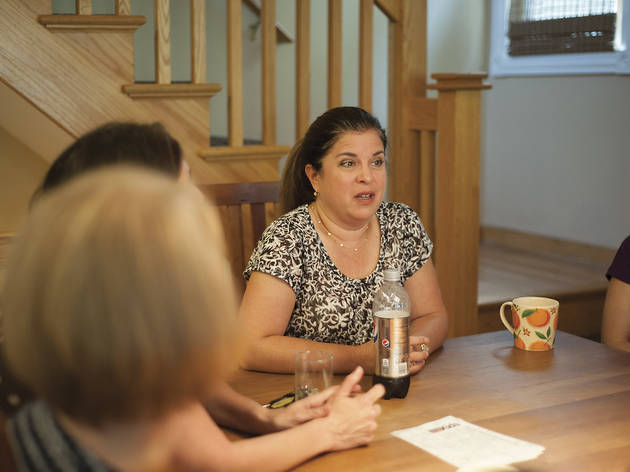 8/17
Elizabeth Jochum Photography
Roundtable City/Suburban Living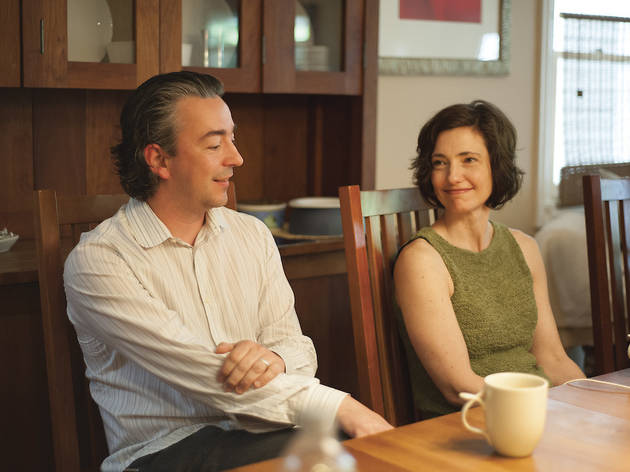 9/17
Elizabeth Jochum Photography
Roundtable City/Suburban Living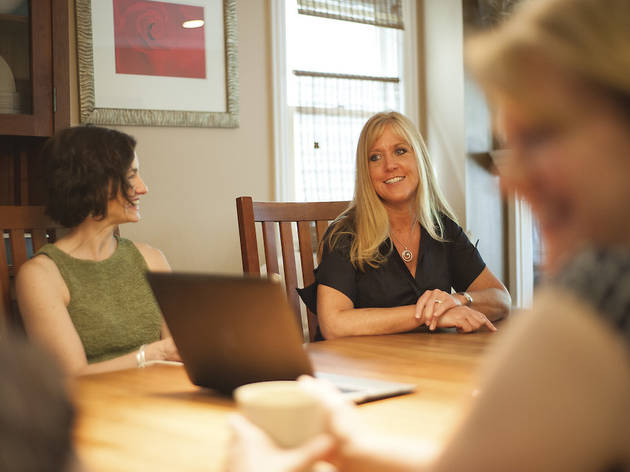 10/17
Elizabeth Jochum Photography
Roundtable City/Suburban Living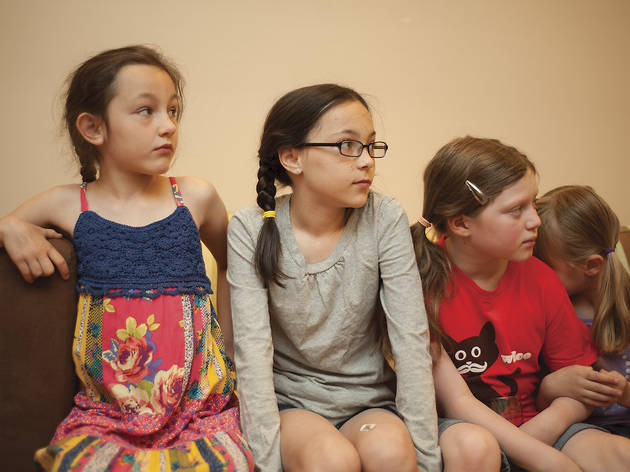 11/17
Elizabeth Jochum Photography
Roundtable City/Suburban Living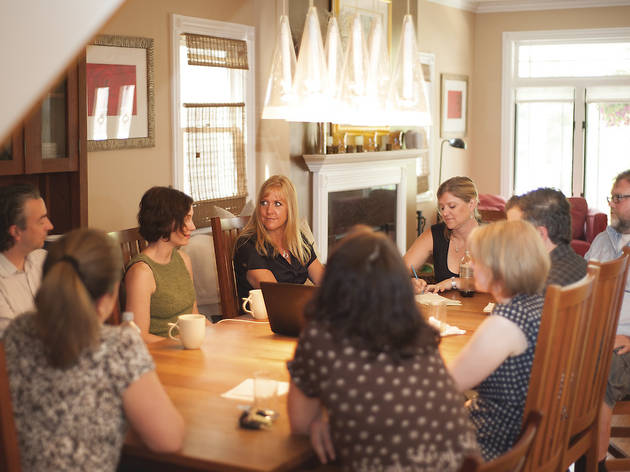 12/17
Elizabeth Jochum Photography
Roundtable City/Suburban Living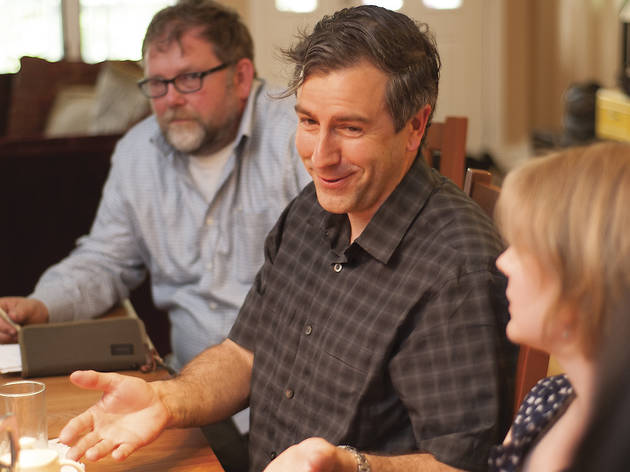 13/17
Elizabeth Jochum Photography
Roundtable City/Suburban Living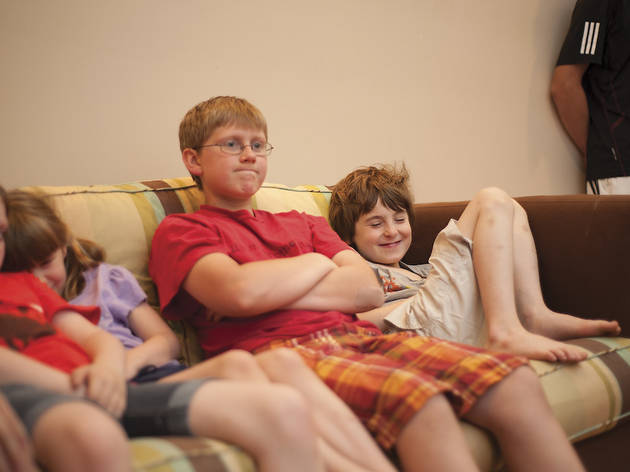 14/17
Elizabeth Jochum Photography
Roundtable City/Suburban Living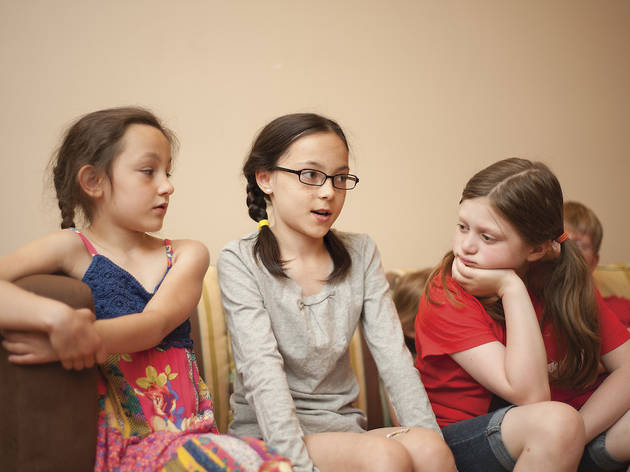 15/17
Elizabeth Jochum Photography
Roundtable City/Suburban Living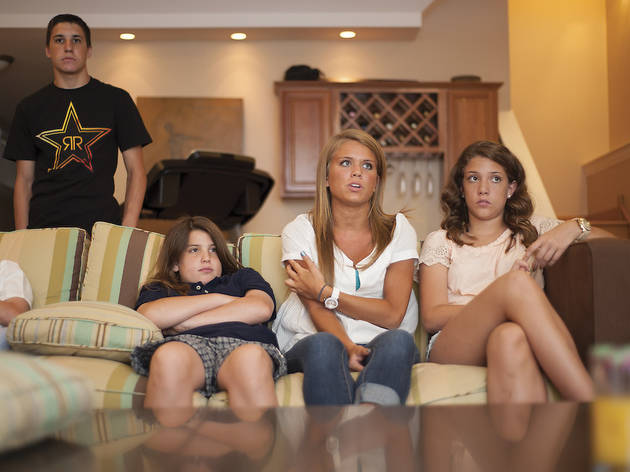 16/17
Elizabeth Jochum Photography
Roundtable City/Suburban Living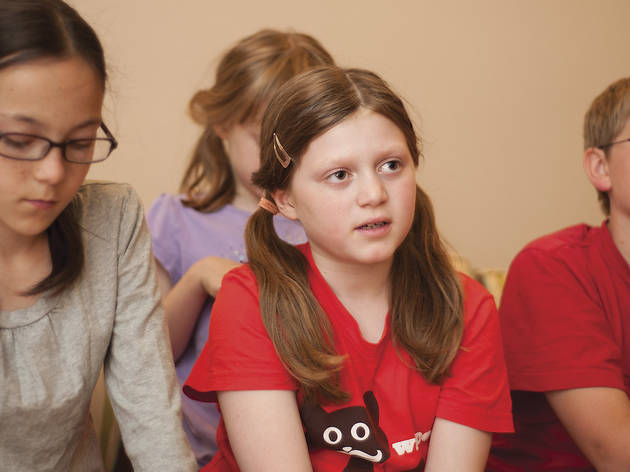 17/17
Elizabeth Jochum Photography
Roundtable City/Suburban Living
What the parents say…
On schools and diversity
Our group spent the most time discussing these hot-button topics. The city parents expressed exhaustion with their lack of choices and the hurdles they jump through—and in some cases, the hefty tuition bills they pay—to get their kids into good schools. The suburban parents marveled at how easy things are for them in comparison.
Mary Guzzarde: A reason we moved out of the city was because we wanted to be in District 57, the best school district in Mount Prospect. Why should I have to pay for education when I'm paying my taxes? We decided to see how the public school system worked out in Mount Prospect, and I see it working for us tremendously. I have a child who is extremely smart; he gets the help he needs, and I don't think he would have gotten that in the city. They wouldn't have challenged him. I see my tax dollars working for me in Mount Prospect.
Matthias Merges: We're proactive in CPS. Rachel's on the school board at Disney II Magnet School, where our daughters go to school. We founded a group called Pilot Light, where city chefs go into public schools to educate students and give them tools to make healthy decisions. We love to take part in our daughters' education, and this provides us the opportunity to do so.
Gregory Hall: I moved into the Bell school district [on the city's North Side], and people said we were crazy to pay for school when we're in this district. So we switched my kids [from private school]. It's a great neighborhood program. And it's got all of the stuff I wanted from the city; it's very diverse. When I grew up in the suburbs, everybody was white and Christian…there was nothing different.
Mary: They call Prospect High School "the white castle," because our school district lacks diversity. That's one part I miss, but all in all, we love it.
Ken Jones: We went through the testing to get our older daughter into a good CPS school when she was very young. She wasn't even in kindergarten.
Jane Schaefer: You take [your child] down to [Illinois Institute of Technology] on a day when it's an empty campus, and some stranger takes your kid away to a room and does something with her but you don't know exactly what. Now in Chicago we're starting to see test prep for three- and four-year-olds like in New York. Our daughter did well on the test, but not well enough. You needed to get 99 percent to get into some schools. We applied for a few and got wait-listed. We did look at [our neighborhood school] Chappell Elementary. What really struck us was that it was fall, and every classroom we walked into was doing test prep. That wasn't where I thought my kid would thrive.
Ken: But when we decided that we'd go private, that wasn't easy either, because it's just as competitive getting into the private schools around here. I've always joked that you could just put out a shingle and say "I'm opening up a school" and 400 parents would line up, with no proof that you have any idea what you're doing.
Greg: My daughter is now in seventh grade. This is a big year as she tries to get into the selective-enrollment public high schools, which are fantastic. But the non-selective ones are still very not-fantastic. She wants to go to [Walter Payton College Prep]. It's a free school, but I spent about three grand on tutors getting her ready for the ISATs. If you look at that versus the cost of St. Ignatius or Loyola, that's cheap. So I'm happy to pay for tutors.
Ken: In terms of making the decision to pull the plug [on the city], for us, education would be what does it. I'd really feel bad moving away just for that, but…
Jane: I mean it kind of hinges on high school. If high school doesn't go well for whatever reason, we might be moving out to the suburbs.
Ken: Or at least renting out the house we built. You hear about all these crazy stories. Does it make sense to rent out our house and move into an apartment in a really bad neighborhood so that our child would be better ranked to get into a good school? I'm sure some people do that. I don't think I'll do that.
Mary: And not everybody wants to commute to school, that's another thing. My husband and I, we both go to work, we have no one to get our kids to [wherever the best school happens to be]. We'd be traveling, our kids are going to be traveling, and do you want your kids traveling every day? Not really. Plus, we're both working parents; there's no way we could live on one income so one of us could drive them around.
Jane: And that's part of the reason we ended up at a private school. We didn't want to end up driving all over the city.
The kids' take
Dominic Guzzarde: There are some good schools in the city, but mostly private schools that you have to pay to get into.
Gretl Merges: I like my school because it's like a whole different school every year, because there are so many new people and so many new things we're doing. I've seen my cousin's school in the suburbs, in St. Charles; it's very different. Their building is longer, but our school is taller.
Isabella Medina: I love my school. I go to Geneva High School, and it's not too small, but it's not too big. I live 10–15 minutes away from the school, but there's a bus to take us. That's free, which is different than the city. If you were to use public transportation, you'd have to pay for that. In Geneva, I know that there's not a lot of variety at all—like, our whole school is basically all white. Same with religion: Everyone's mostly Christian; there's two big churches that everyone goes to. If you only stay in the suburbs, you're only in your little bubble, when in reality, life is not like that.
Linnea Jones: I know, at my school, there are a lot of different religions. Some people in my school don't even go to church, but some people are Jewish and some are Christian. There's somebody who's Muslim in our school. And then I see a lot more people who are African-American or from Mexico, so it seems like there's a lot more people in the city who are from different places. It makes me learn.
What the parents say…
On housing
The cost of housing and how much house (and yard) their money would buy were deciding factors behind our families decisions to go urban or suburban.
Jean Medina: We wanted to stay [in the city to raise our family], but we couldn't afford anything bigger than a dining-room table. Then we went to a barbecue at a friend's house in the suburbs, and the house seemed humongous and cost nothing compared to what we were looking at in the city.
Matthias: I think the cost of a house is actually something that's pretty relevant now, after the run-up from 2000. We're lucky we bought before our neighborhood got really popular. If we hadn't, there's no way we'd be in the city, really.
Jean: I love my little town on the river; at Christmastime, you think you're in It's a Wonderful Life. I love that I can get where I want to go quickly. But I miss the city. I want to live the dream of not owning a car, walking everywhere. But right now, my kids are thriving in the suburbs.
Marlene Baddeloo: My husband and I are both suburban people and we've always been. He likes to live less than five minutes away from his work. We have [an older neighbor] who [keeps an eye on] our house all day long. She's like our natural watchperson. I don't have to worry about anything.
Mary: I do like the quiet. We can't hear cars going down the street; we don't hear sirens.
Rachel Crowl: We're lucky: The lots are a little bigger [in our neighborhood] and our house is small, so we have a backyard that's sizable by city standards. The flip side is that I value that my kids are used to smaller spaces. They share a room. They don't expect rooms for everything. I'm not saying all suburbanites have this, but some are like, "Oh you don't have a media room?" "Where's your office?" "Where's the exercise room?"
The kids' take
Olivia Medina: We've lived in Geneva our whole lives. I feel it's a good way to grow up 'cause you can, like, run around outside. There are parks everywhere.
Sophia Medina: I really like it because the town's really not crowded; it's all spread out. You can hang out with your friends, and you're never too far from anything—pools, parks, lake.
Dominic: It's quiet [in Mount Prospect]. It doesn't seem as fast-paced as city living. There's not Els running through your neighborhood.
Linnea: I like living in the city because where I live, you can walk to almost everything. You can walk to a grocery store or you can walk to a school or a park. And sometimes when you're doing something like that, you end up seeing a friend. We can also bike to school.
What the parents say…
On culture
Our city parents love that their kids have easy access to world-class arts experiences. But it comes with a hefty price tag.
Rachel: When we are able to travel, the kids seek out new experiences. They're undeterred by other cultures when they're in other cultures. They kind of drink it up.
Ken: We go [to Millennium Park with our kids] and we get them to listen to really great music and have a wonderful evening with the best skyline in the world. People from the suburbs can take the train out to do that, but it's really easy for us.
Greg: One of the things I really love about the city is the extracurricular stuff. My kids have been going to Old Town School—Henry can ride his scooter there—and Lillstreet Art Center. There's world-class extracurricular stuff that you can walk to. I've got friends who I grew up with in Hinsdale who get into the city, like, twice a year.
Ken: It's great that we have the Old Town School right here, but that's more money going out the door for something that is probably pretty good in a lot of suburbs.
Mary: Mount Prospect has the best marching band. They go to state every year. They do well, and everybody's accepted: There are no tryouts. You're a freshman, you want to do it, go on out there, they let you do it.
Ken: And I think even when you find some of the musical things here, it's different than what you'll get at a kind of structured high-school kind of thing.
Rachel: And to be fair, we're from really nice sections of the city. There are quite a few sections, with food-desert and safety issues, that have very different experiences than what we're talking about.
The kids' take
Isabella: I love the city. I like the people and like the charisma, the attitude. I go there a lot with my family. We like to see plays. Or my friends and I take a train down to the city; the other day, I saw a Brad Paisley concert at Wrigley Field—that was fun. But it's nice to come home after a full day in the city and just relax, listen to the quiet.
Michael Baddeloo: I like that there's a better variety of things to do in the city. It's pretty boring at night doing the same things everyday. I guess driving is pretty awful in the city. But you can often walk or take the El, so it's usually not that big of a deal.
Olivia: In the city, everyone locks up their bikes; you have to be protective of your stuff. Everyone rides bikes to my school, and no one has locks. If someone were to steal your bike, that's really a weird thing to do. Even lockers—no one will really break into it. We had a couple of iPhones stolen, but that was pretty rare.
Michael: For the most part, Glenview's quite safe. We have an occasional DUI and that's it. There's no really big crime happening.