Tricks of the trade
The Chicago History Museum's new "Magic" exhibition conjures wonder and amazement.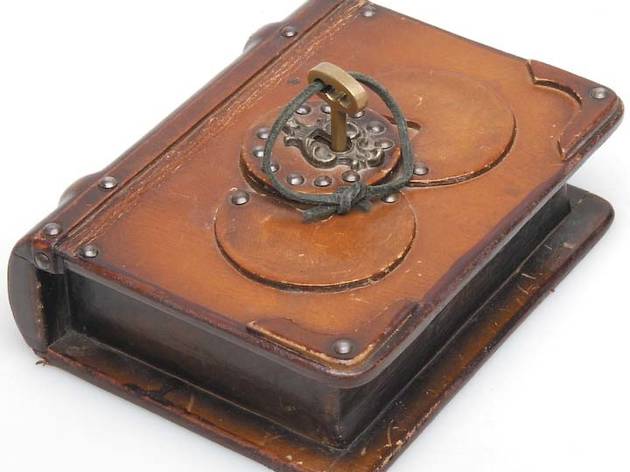 1/7
Photograph: Chicago History Museum
Chicago magician Eugene Burger toted his entire act in this small, leatherbound case.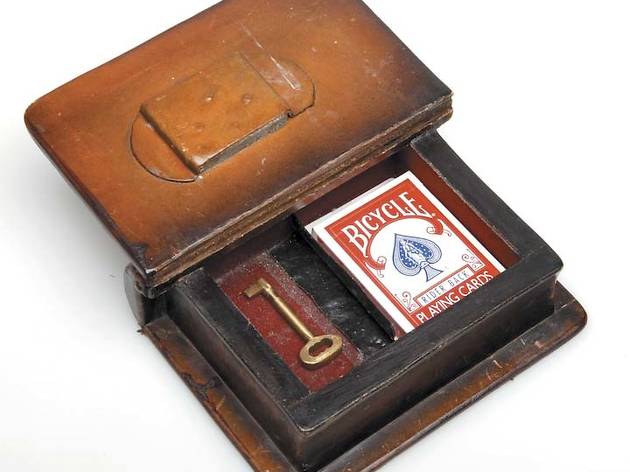 2/7
Photograph: Chicago History Museum
Chicago magician Eugene Burger toted his entire act in this small, leatherbound case.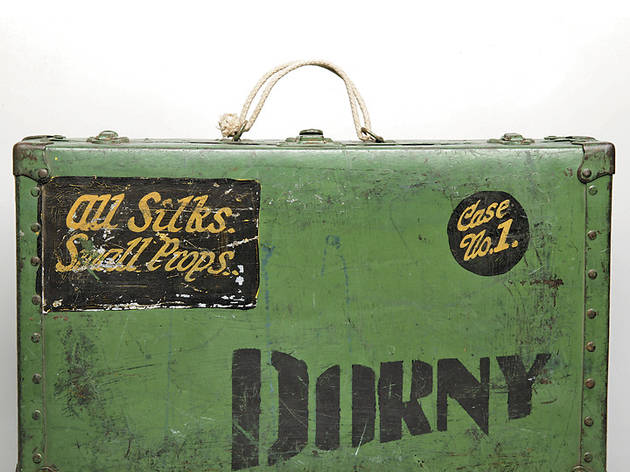 3/7
Photograph: Chicago History Museum
The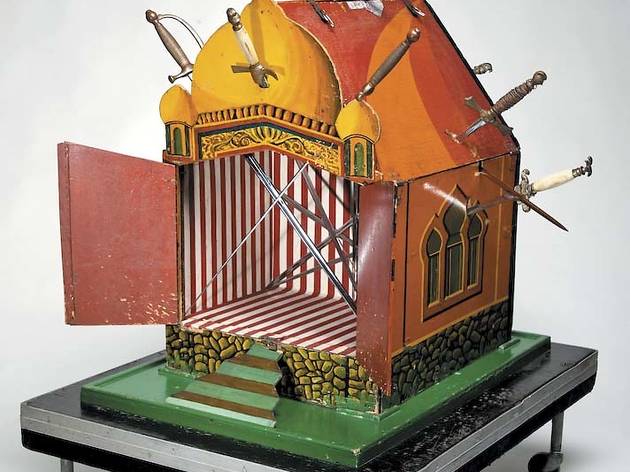 4/7
Photograph: Chicago History Museum
Marshall Brodien, best known as Wizzo the Wizard on the Bozo Show, incorporated a sword illusion box into his act.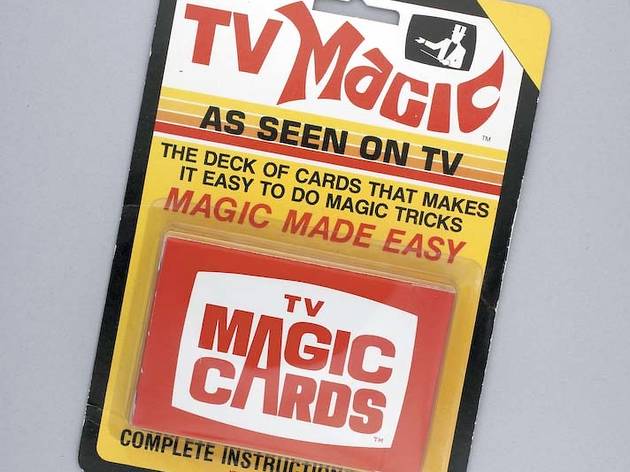 5/7
Photograph: Chicago History Museum
Marshall Brodien, best known as Wizzo the Wizard on the Bozo Show, also developed the Svengali deck, which sold more than 17 million sets.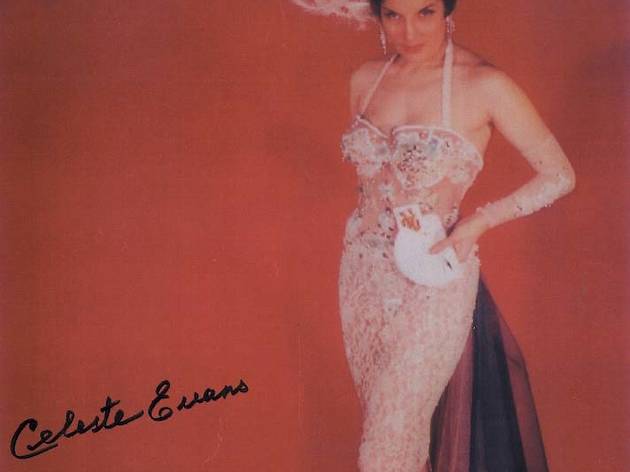 6/7
Photograph: Courtesy of Celeste Evans
Magician Celeste Evans in one of her famous evening gowns.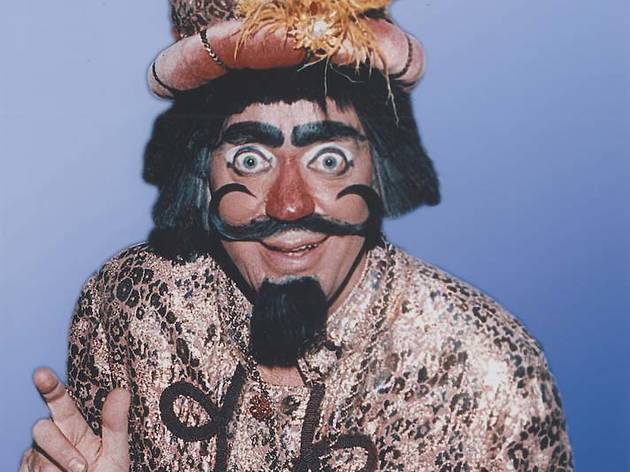 7/7
Photograph: Courtesy of Marshall Brod
The Bozo Show's Wizzo the Wizard was played by Marshall Brodien, who famously developed TV Magic Cards, a set of trick careds that sold 17 million copies.
Abracadabra, hocus-pocus—objects in the Chicago History Museum's re-created magic shop suddenly appear, then disappear, or magically move across a small stage. Amid dramatic sound effects and flashing lights, a wall appears to dissolve, leaving the audience to wonder how it all happened. CHM's new "Magic" exhibition, opening June 9, presents—but never gives away—some of the magic world's coolest illusions and some of the most storied Chicago magicians who performed them throughout the decades.
"We wanted to respect the tradition of this living art form, this craft, and all its secrets," says exhibition curator John Russick. "But as a museum, we're in the business of demystifying things for our visitors, so we had to find a way to create an exhibition that's meaningful and relevant, as well as revealing—but not too revealing." The museum opted to present the story of "Magic" through a fictional character, Greta, a tween who gets hooked on it after seeing a show at a birthday party. Hoping to learn the craft, she steps into Lon's Magic Shop, the CHM's life-size re-creation. So begins Greta's journey, a narrative thread that continues throughout the galleries.
While the optical illusions capture visitors' attention in the show's Object Theater Experience, the other half of the exhibition reveals more than 20 mystical artifacts. Among the must-see items are three stage costumes from some of Chicago's biggest talents: the imposing executioner's robe worn by the revered Harry Blackstone; the sparkly Far East–inspired getup Marshall Brodien wore as Wizzo Wizard on The Bozo Show; and the bombshell, sequined gown of one of the industry's first and most famous female magicians, Celeste Evans, who performed her dove act and escape artistry around the world at the behest of the U.N. and the USO, starting in the 1950s.
Brodien, a.k.a. Wizzo, whose interest in magic flourished as a teen when he worked as a barker at Chicago's celebrated Riverview Amusement Park, also contributed a deck of his Svengali trick cards to the exhibition. He developed and then marketed them on television beginning in 1970; 17 million decks have sold. Also on display is Brodien's Temple Illusion box, which he acquired from legendary magician Jack Gwynne in the mid-'50s. "You'd get a flexible woman in there who seemed to fill up the space, then close the door and jam swords into the box," Russick explains. "But then when the box was opened, she's not even there."
Chicago's charming, wizard-beard-sporting Eugene Burger lent some of his professional tools to the show, too. Burger, who still performs regularly and is dean of McBride's Magic & Mystery School in Las Vegas, built his career performing at bars such as Biggs and Cafe Royal in the Gold Coast. "Eugene would do his entire bar magic out of this little leather case that looks like a book with a lock," Russick says. "That's why we placed the case next to the Temple Illusion—it gives you the idea of a magician on the road in contrast to this massive object."
Among the other highlights is the milk can Houdini used in one of his escape acts, Werner "Dorny" Dornfield's prop case and the Tarbell Box magic kit, developed by Chicago magician Harlan Tarbell. "Tarbell famously created a magic correspondence course [in 1928]," Russick explains. "And as a kid, you could mail away to his address on Damen and Sunnyside, and you'd get the latest edition. This was a safe box where you kept all your magic secrets."
Two interactive components make up the show's few reveals. One is Pepper's ghost, a box developed in the mid-19th century that uses plate glass and light to make objects seem to appear or disappear. "Visitors can play with the transfers and change one object into another," says Daniel Oliver, the exhibition's designer. "These aren't exclusive to magic; one was recently used at the Coachella music fest to project Tupac Shakur onstage." The other giveaway is a lesson in card palming. "When kids walk into the exhibition, they'll each get a card," Oliver says. "We tell them to hang onto it because they're going to need it to learn a trick."
To further bring "magic" to life, the museum will have rotating live magicians roving the galleries to perform. And for the final act, the protagonist Greta returns to show off her progress by performing a grand illusion. But visitors beware: Young Greta's trick might have a twist of its own.
"Magic" opens at the Chicago History Museum June 9 and runs through January 6.