Volunteer oppportunities know no age boundaries
Families looking to combat the "gimme-gimmes" will be happy to know there are volunteer options for just about every age group.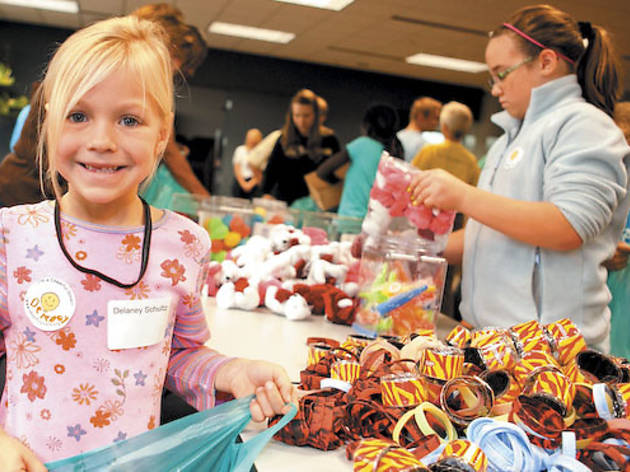 1/2
Photograph: Karen Kitchel-Image provided by Cheerful Givers/VolunteerMatch
Cheerful Givers at National Make a Difference DayWe provide toy-filled birthday gift bags to food shelves and shelters so that parents living in poverty can give their child a birthday gift. I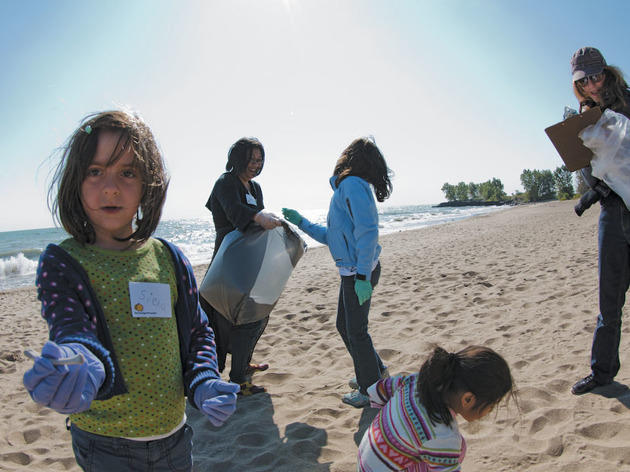 2/2
Photograph: David Schink
12th Street Beach Clean-Up in September 2011. Honeycomb Project
At just five years old, Sophia Srivastava is already a veteran volunteer. She began donating her time more than three years ago at the Tree House Humane Society, a cat adoption shelter with outposts in Andersonville and Bucktown, letting her mom know which litter boxes needed scooping.
Now, Sophia reads aloud to shy cats, "which helps her reading skills and helps the cats feel more comfortable," says her mom, Jeannette Srivastava. (Kids as young as eight can volunteer on their own at the shelter; go to treehouseanimals.org for info).
The mother-daughter team also has collected gently used crayons from Big Bowl restaurants for low-income schools and gathered toiletries for homeless shelters. "There is no limit to what children can do with a little guidance and partnership," Srivastava says. "Identify skills that your children already have and use them. Every child can volunteer, no matter what age they are."
Families looking to use volunteer work to combat the "gimme-gimmes" may be hesitant because of their kids' age. But even if you're not as resourceful as the Srivastanas, there are options for just about everyone.
More than Milk
Sample project Learningbow-making skills, then wrapping holiday gifts for Sarah's Inn shelter residents
It can be hard to get anything done with a baby, but founders Amy Cahill and Sarah Kozlowski wanted to help new moms find ways to give their time with this Chicago-based group. "We're not going to be the most productive volunteers," Cahill says. "But we're building awareness." The group has worked for Girls on the Run, stuffing goody bags for a 5K, and will partner with literacy group Open Books Chicago in early 2012. Volunteer sitters from Sitter Savvy Chicago are often at events.
The Honeycomb Project
Sample project Prepping and serving breakfast at Lincoln Park Community Shelter
Moms Kristina Lowenstein and Catherine Tannen founded this group last January when they were looking for community service work to do with their own kids. Each event is $15 per family. Opportunities are posted on the group's website, and organizers send e-mails before each project with info to help parents prepare kids.
Chicago Cares
Sample projectCollecting andplanting seeds in Beaubien Woods
The local branch of the nationwide volunteer service group offers projects for families with kids as young as eight. Food pantries are most popular because they need a wide range of skills, says marketing and communications manager Melody Burton. The group sponsors 215 projects each month and lists them all on its website, and also runs Youth in Service, a series ofongoing projects with a greater time commitment.
Volunteer Match
Sample project Delivering mail to CJE SeniorLife nursing home residents
This volunteering search engine helps users find projects geared toward specific age ranges and interests. Be sure to include "child" in your keyword search and use the "Great for Kids" and "Great for Groups" categories in the advanced search.