"Warm weather" spring break getaways in the suburbs
Forget hopping a plane, these vacationy destinations are just a car ride away.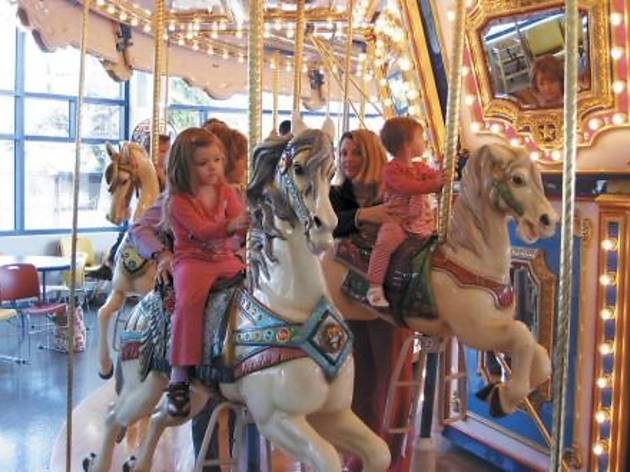 1/2
The indoor carousel at Elk Grove Park District. Photo: Courtesy of Elk Grove Park District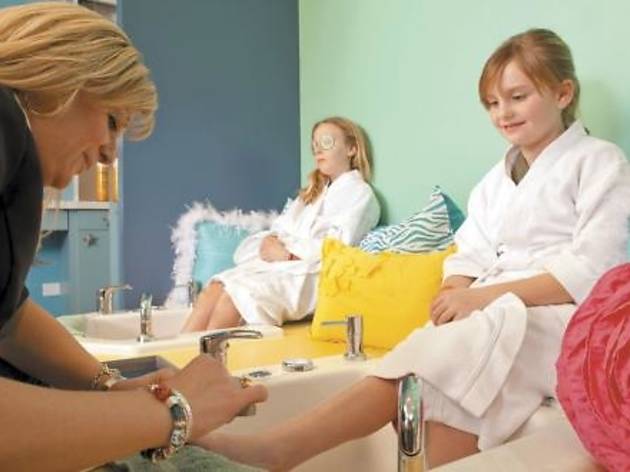 2/2
Enchanted Lagoon Kids' Spa at Key Lime Cove Spa Photo: Courtsey of Key Lime Cove
Technology makes it possible for tweens to play a round of golf at Pebble Beach, St. Andrews or dozens of other world-famous courses thanks to the virtual simulator at Golf Nation. Its high-tech, ball-flight tracking system makes it more realistic than a video game, and you can compete online with friends from anywhere. If that leaves your kid craving the real thing, a day pass gives him full access to the driving range and putting-practice area and gym. 399 N Quentin Rd, Palatine (847-202-4653). Simulator is $40/hour for ages 10 and up with strong golfing skills. Free day pass available to first-time guests; return visits are $30,kids $22.50.
One of the best features at poolside resorts is the spa services. Weary youngsters can relax with an indulgent face mask followed by a papaya-nectar mani-pedi, at the Enchanted Lagoon Kids Spa inside Key Lime Cove Resort & Water Park (which also has an adult spa). Kids who don't go for fruity frills can be entertained in the spa's new "mad lab," where they concoct their own bubble bath using fake eyeballs and mice. 1700 Nations Dr, Gurnee (224-656-8130). Servicesare $10–$40. Reservations required for non-hotel or water-park-only guests.
The whole family can luau together at Tiki Terrace, a slice of Hawaii right in Des Plaines. Order some coconut shrimp (or a Tiki burger from the kids' menu) along with a mai tai or rum runner (virgin for underagers) adorned with tiny umbrellas, and watch the popular luau show. While staying true to Polynesian culture, the hula dancers interact with the all-ages audience. 1591 Lee St, Des Plaines (847-795-8454). Shows at 8:30pm Fridays and Saturdays are free to diners; show-only tickets are $21–$24. Reservations required.
If you're dreaming about tropical, fish-filled waters, shed your winter coats and jump into the pool at Underseas Scuba Center in Villa Park, where instructors teach families how to snorkel (ages 5 and up) or scuba dive (10 and up). (The company also conducts classes at many Chicago-area park district pools.) The center hosts a special express scuba class, with intensive classroom and pool time, the weekend of March 16 for $299. Underseas Scuba Center, 611 N Addison Rd, Villa Park (630-833-8383).
So what if the outdoor amusement parks are closed? Head to the awesome, full-sized indoor carousel in the Elk Grove Park District's Pavilion and let your tots ride to their heart's content. Afterward, they can run around the adjacent Jumps 'n' Jiggles indoor playground or splash in the tot-friendly Pavilion Aquatic Center water park. 1000 Wellington Ave, Elk Grove Village (847-228-3490). $3.50 per child for unlimited carousel rides and Jumps 'n' Jiggles. Free for ages 1 and under. Aquatic center admission $8 (residents $6).