Best party supply stores in Chicago
Stock up on balloons, paper goods, decorations and favors for your next bash at these party supply stores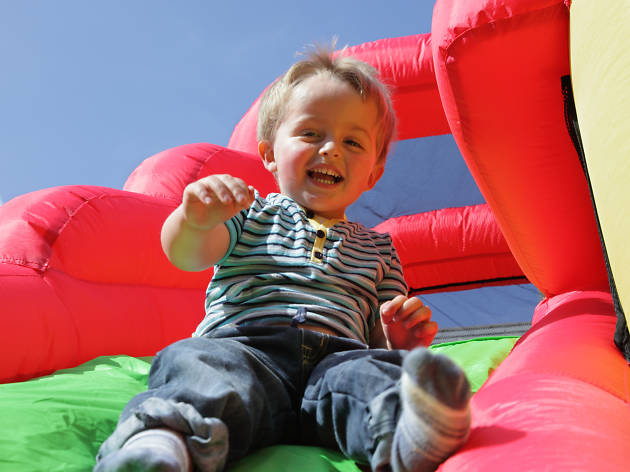 You nailed down the best birthday party ideas for your little one's celebration, ordering up the best cupcakes and buying gifts from the best toy stores from all around the city. Now it's time to tackle decorations and other fun fare. When you're done scouring Pinterest for ideas, take your list to one of these local party supply stores to find all that you need for the perfect bash, from Frozen cups and plates to giant metallic letter balloons.
Where to find the best party supply stores in Chicago
It's worth a trek to the suburbs to check out the selection at this giant party store, especially if a theme party is what you have in mind. You can find supplies for just about anything here, from Toy Story to a sock hop-themed party. They'll also deliver to select locations for orders $30 or more. 
Read more
No kid's birthday party is complete without fun entertainment, and in the case of the Jumper Store, a giant inflatable. This Chicago-based web store offers bounce houses, water slides and games along with more practical rentals like table and chairs. They suggest renting 2 weeks in advance and will deliver (and pick up) the rental.
Read more
Prepare for sensory overload at the local candy and party supply superstore Dulcelandia, where a seemingly endless assortment of colorful bulk sweets and rows of princess and superhero piñatas vie for your attention. Much of the candy here is imported from Mexico, and the flavors skew toward the tropical (think tamarind and coconut). On a recent visit, we picked up a tasty confection of milk candy wrapped around sweet-tart guava paste, as well as a rather adorable (and spicy!) elote lollipop.
Read more
What kid (or adult) doesn't love balloons? This delivery service boasts balloons for just about every occassion, from birthdays to graduations. They'll even design various balloon boutiques with soaring safari animals, Spider-Man or even a tower of balloon Life Savers. Head to their website to make your pick and choose a delivery time.
Read more
This shop has been around for over 25 years and they have the party business down pat. One of the specialties they offer is balloon decorating, and those impressive balloon arcs you see at openings or street festivals are often from Card & Party. If you aren't looking to go over-the-top, they also have run-of-the-mill party supplies like tableware and chairs. Kids will be thrilled with their selection of party goods that feature everyone from Cinderella to Justin Bieber. 
Read more
Balloons are what draw people to this fun party store, where they makes creations like bobbling Mickey and Minnie Mouse balloon sculptures and all sorts of other fun designs. They provide custom party favors and have all the fixins' for kid birthday parties, holidays and graduations. 
Read more
Let the World Know and its subsidiary Chicago Party Place is here to assure that your party is a fun one. From photo booths to moonwalks, clowns to popcorn games, there is no shortage of what you can rent. Looking to announce someone's achievement to the world? They can deliver a giant yard sign letting the whole neighborhood know what to celebrate. Email or call with what you desire, their store hours vary greatly.
Read more