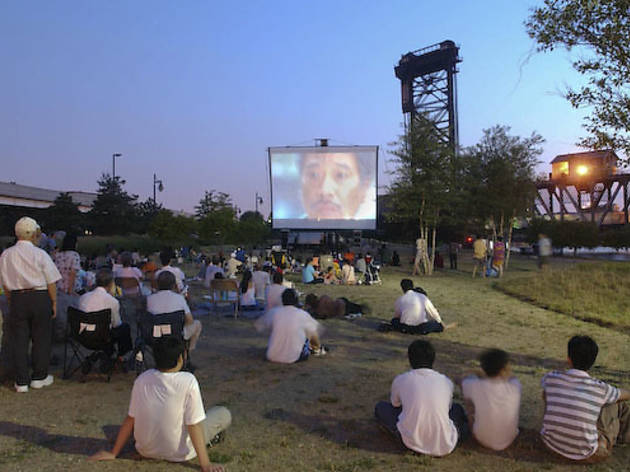 The tranquility of nature, the excitement of cinema. Get the best of both worlds with these upcoming outdoor movie events. All films are free and begin at dusk unless otherwise noted.
Buffalo Grove
Willow Stream Park, 600 Farrington Dr (847-850-2100, bgparkdistrict.org)
Jul 6 The Smurfs
Jul 20 Puss in Boots
Aug 3 The Muppets
Carol Stream
Hampe Park, 297 E Lies Rd (630-784-6100, csparks.org)
Aug 3 Lady and the Tramp
Chicago
Bucktown Community Organization's Movies in the Park
Churchill Park, 2007 W Churchill St (bucktown.org).
Dates TBA Ferris Bueller's Day Off, The Wizard of Oz, The Lorax
Chicago Park District's Movies in the Park
Various parks throughout the city (chicagoparkdistrict.com).
Jun 11–Sept 15
Movies in the Park: Outdoor Film Series
Chicago History Museum, 1601 N Clark St (312-642-4600, chicagohistory.org). On the outdoor palazzo.
Jun 20 A League of Their Own
Jul 18 Return to Me
Jul 31 Ferris Bueller's Day Off
Aug 15 The Princess Bride
Sept 5 The Blues Brothers
Ravenswood Outdoor Movie Nights
Ravenswood Elementary School, 4332 N Paulina St (773-534-5525, ravenswoodelementary.org)
Jun 2 The Muppets
Jun 23 E.T.
Jul 21 Toy Story
Aug 4 Toy Story 3
Aug 25 Harry Potter and the Prisoner of Azkaban
Evanston
Block Cinema, 40 Arts Circle Dr (847-491-4000, blockmuseum.northwestern.edu).
Outdoor movie screenings are scheduled every Wednesday night throughout the summer beginning July 27.
Glenview
Flick Park, 3600 Glenview Rd (847-724-5670, glenviewparks.org).
Jul 20 Toy Story
Mt. Prospect
Capannari Ice Cream, 10 S Pine St (847-392-2277, capannaris.com).
Jun 19 The Muppet Movie
Jul 17 Hugo
Aug 7 Tangled
Oak Park
Ridgeland Common Pool, 415 W Lake St (708-848-9661, oakparkparks.com)
Jul 20 101 Dalmatians (animated version)
Lindberg Park, 1055 Lemoyne Pkwy (708-848-9661, oakparkparks.com)
Aug 15 The Indian in the Cupboard, 7pm
Wheeling
Northside Park, 200 N 7th St (847-465-3333, wheelingparkdistrict.com)
Jun 11 Puss in Boots
Husky Park, 1044 Anthony Rd (847-465-3333, wheelingparkdistrict.com)
Jul 16 Kung Fu Panda
Pleasant Run Park, Paddock and Equestrian Drs (847-465-3333, wheelingparkdistrict.com)
Aug 13 The Muppets
Woodridge
Ides Grove East Park, 8127 Meadowwood Ave (630-353-3300, woodridgeparks.org)
Jun 24 The Muppets
Sunnydale Park, 2019 Wheeler Dr (630-353-3300, woodridgeparks.org)
Jun 27 The Smurfs
Windy Point Park, 2100 Egerton Dr (630-353-3300, woodridgeparks.org)
Jul 13 Tangled
Westminster Park, 1320 Westminster Dr (630-353-3300, woodridgeparks.org)
Jul 25 Cars 2
Falconridge Park, 8400 Janes Ave (630-353-3300, woodridgeparks.org)
Jul 29 Despicable Me