Superheroic sisters
A book-length comic book for kids, Takio by Brian Michael Bendis and Michael Avon Oeming, features female leads and adopted sisters.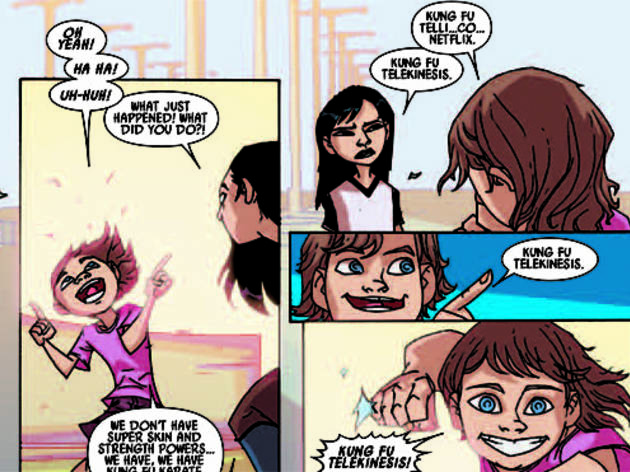 Kid lit is filled with brave young heroines: Dorothy and Alice and Pippi, of course—plus Ramona Quimby and Lucy Pevensie and Lyra Silvertongue. But one genre of fiction that kids love has so far failed to produce a similarly strong list: Where are the young, courageous female protagonists in superhero comic books?
Writer Brian Michael Bendis is doing his part to answer that question with an original, 96-page hardcover graphic novel, Takio. Although it's one of the relatively rare comics that features a strong female cast, it's notable for other reasons, too. Bendis is an industry A-lister backed by a major publisher, Marvel Comics, which boosts the book's visibility. (Takio is published under Marvel's Icon imprint.) Best of all, the story itself comes directly from the brain of his eight-year-old daughter, Olivia Bendis. Kids' comics don't get much more authentic than that.
She started to brainstorm the tale one day during a "daddy-daughter lunch." Bendis recalls how she dreamed up a story about two sisters, Taki (based on the wife of longtime Bendis collaborator Michael Avon Oeming) and Olivia (three guesses where that came from), who end up with superpowers. Because Olivia's three-year-old sister is adopted, she "instantly decided" one of the girls in her story is, too. "It's just the way she sees the world," the writer says. "And I thought, Wouldn't it be nice if there's a book that illustrates that?"
As her imaginative exercise grew more elaborate, "I thought, Did she steal this from something? Is this from Hannah Montana?" Bendis recalls. After he was satisfied it was original, the 43-year-old Portland resident contacted Oeming, an artist who lives in Seattle, to propose that they turn his daughter's idea into published reality. Eventually, Olivia even helped "Uncle Mike" design the costumes.
In the end result, Oeming's dynamic art deftly switches from sweet moments between the sisters to "whoa-ho-ho!" action, while Bendis's dialogue for precocious Olivia is laugh-out-loud funny. The tragedy of famous superhero origins gets dialed down: Although the girls' father is gone, no parent or guardian dies on panel here (unlike in the famous stories of Superman, Batman and Spider-Man). The writer also follows a tried-and-true formula for kids' entertainment from Peanuts to iCarly: Adults are barely seen or heard from—excepting Taki's friend's dad, whose crazy invention grants the girls their powers.
While it's true that a huge segment of Bendis's predominantly adult male fandom probably isn't interested in a book about two superpowered sisters, a good portion of that target market has by now stepped into fatherhood, and they're looking for something fun but not too violent to share with their kids. There's a female readership "hungry" for the same thing, Bendis says. So far, the book's hitting its mark with them, and "if [sales] continue well into the summer, we're looking at a new volume around this time next year."
But he's already gotten the best feedback ever—a week before it officially came out in March. Olivia took a case of the books to give to classmates, who "went nuts for it," he recounts. "One little boy said, 'Excuse me, Mr. Bendis. Will Olivia be coming to school here next year?' I said, 'Yeah, sure.' He said, 'Okay. I just want to make sure I get the next Takio. I was scared I wouldn't get it!'
"I went home and told my wife, 'That's about as good as it gets.' "
Takio (Marvel, $10) is available at local comics shops and at Amazon.com.