The best things to do with kids on and around the 606
With green space, cool new playgrounds and tons of family programming, the 606 is a total dream for Chicago kids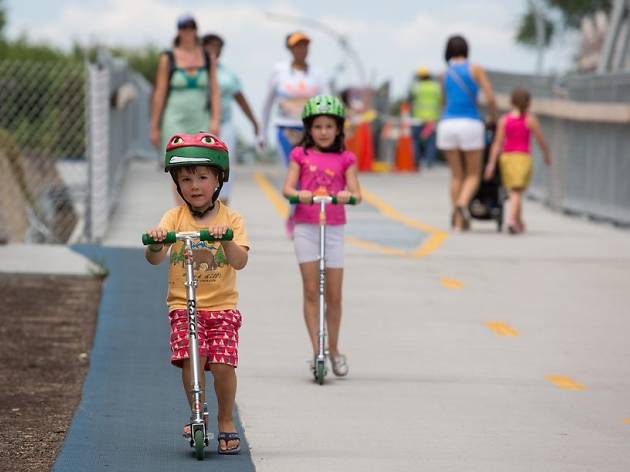 While the 606 is a beloved stretch for Chicago's runners and bikers, it's also a haven for the city's smallest set. With a car-free place to toddle, plenty of parks and playgrounds to monkey around in, and tons of programming for the whole family, the Chicago park space is a little one's dream. Here are some of the kid-friendly highlights of the Bloomingdale Trail.
RECOMMENDED: Our complete guide to the 606
What to do with the kids on the 606
Attractions, Public spaces
The trail itself is an ideal place to push a stroller or ride bikes with the kids. The 2.7-mile stretch is also home to an enticing lineup of family-friendly programming—see the park's website for a full roster of upcoming events.
Attractions, Parks and gardens
Situated on the eastern-most ground-level access point of the trail, this park features a sandbox, play equipment, an athletic field and basketball hoops.
Attractions, Parks and gardens
Baseball-loving kids will want to stop here for a chance to run the bases at the junior softball field (and beg their parents to take them to Miko's Italian Ice down the street when the weather permits).
Attractions, Parks and gardens
A climbing web keeps kiddos entertained for quite a while, and when they're done, they can turn their attention to the giant spider that serves two purposes—it's a piece of art and another thing to climb. There's a long sitting wall with nature-themed art waiting when they need a breather.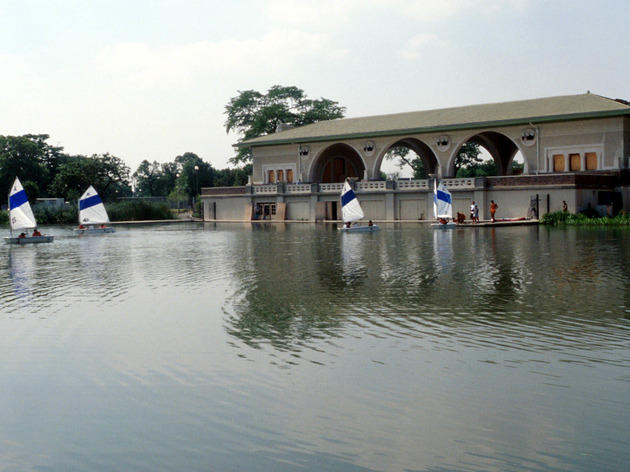 Humboldt Park is just a five-minute walk south of the Humboldt Boulevard entry point of the 606. Designed by William Le Baron Jenney in the mid-1800s and enhanced several years later by Jens Jensen, Humboldt Park was once the nation's greatest public park, boasting acres of Prairie-style gardens, grazing animals and a meandering river scene. Though the animals are long gone, the park still offers extensive rose beds as well as tennis courts, an inland beach, baseball fields and bike paths.
Located at the western trailhead of the 606, the Exelon Observatory hosts a popular all-ages stargazing series, For the Love of Stars. Chicagoans can learn about the night sky and sunsets with Adler Planetarium astronomers. The space was closed over the summer 2017 for remodeling and landscaping and will (hopefully) reopen for the 2018 season.