The best baseball movies of all time
These 12 baseball movies are the home-run hits of the genre
It's that time of year again: The crack of the bat, the roar of the crowd, the peanuts and Cracker Jacks, the Friday night fireworks. Baseball season is upon us, and in honor of our national pastime, we re-watched all the classics to bring you the 12 best baseball movies of all time. From sentimental tearjerkers to bottom-of-the-ninth comedies, there's a film on this list for everyone, even folks who aren't that into sports movies or (gasp) baseball. (But, assuming you are a die-hard baseball fan, be sure to check out our Chicago Cubs and Chicago White Sox guides to prepare for the upcoming season, including our pick of the best sports bars!)
12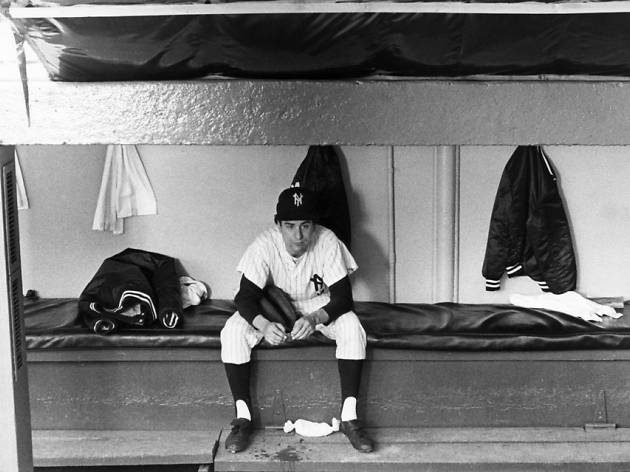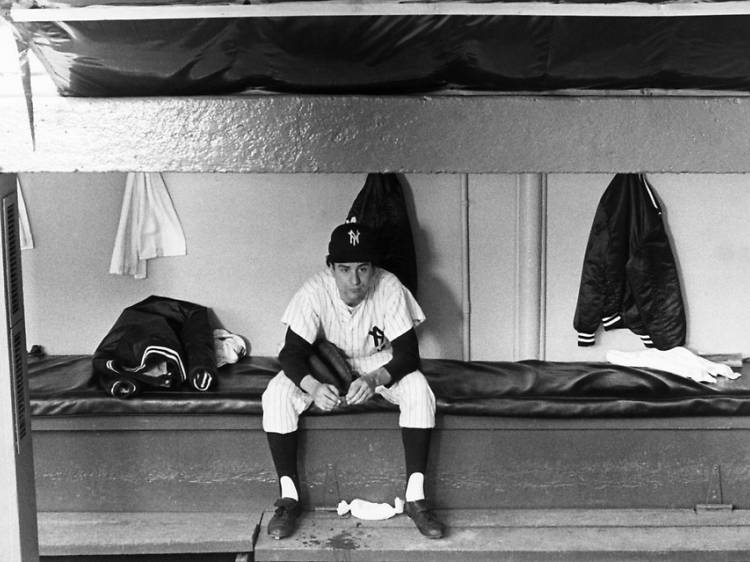 Bang the Drum Slowly (1973)
Director:
John Hancock
Cast:
Robert De Niro
,
Michael Moriarty
,
Vincent Gardenia
Best line:
"Everybody'd be nice to you if they knew you were dying." "Everybody knows everybody is dying—that's why people are as good as they are."
Robert De Niro's shy, sensitive catcher succumbs to terminal Hodgkin's Disease in this touching melodrama. The film was a commercial and critical success at the time of its release, and though the baseball scenes themselves are secondary and none too convincing, De Niro nails the sentimental stuff.
11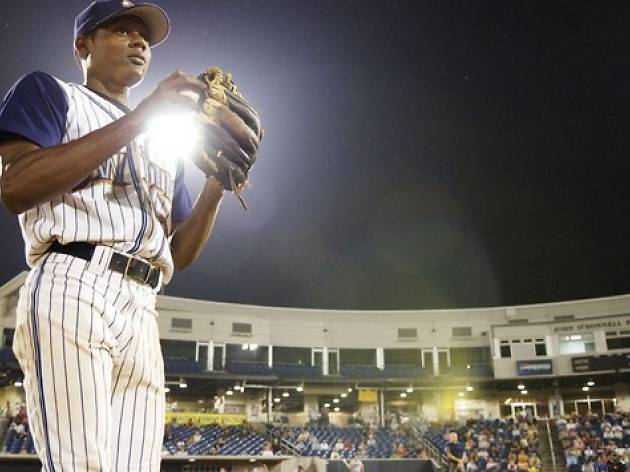 Director:
Anna Boden
,
Ryan Fleck
Cast:
Algenis Perez Soto
,
Jose Rijo
,
Walki Cuevas
Best line:
"No
cervezas
in the
casa
. No
chicas
in the bedroom."
For every Adrián Beltré success story (he was signed to the Dodgers at age 15 and transitioned well), there are a dozen Dominican players like fictional composite Miguel "Sugar" Santos—a talented pitcher hacking it out in the minors. Filmmakers Ryan Fleck and Anna Boden lay on the culture clashes beautifully, but it's the dangling promise of the American Dream that really gets this one on base.
10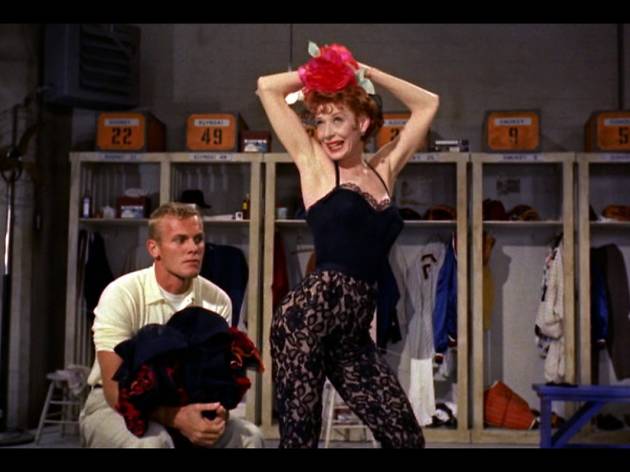 Director:
George Abbott
,
Stanley Donen
Cast:
Tab Hunter
,
Gwen Verdon
,
Ray Walston
Best line:
"Whatever Lola wants, Lola gets. And little man, little Lola wants you."
It's a humorous retelling of the Faust story, translated to the unlikely setting of 1950s baseball. Lifelong Washington Senators fan Joe Boyd sells his soul to the Devil—in the guise of the unctuous Mr. Applegate—in exchange for becoming the star player his team badly needs. Though lumbered with too much plot, the musical also has scintillating choreography by Bob Fosse and an equally brilliant score by Richard Adler and Jerry Ross (a songwriting team also responsible for the marvelous
The Pajama Game
).
9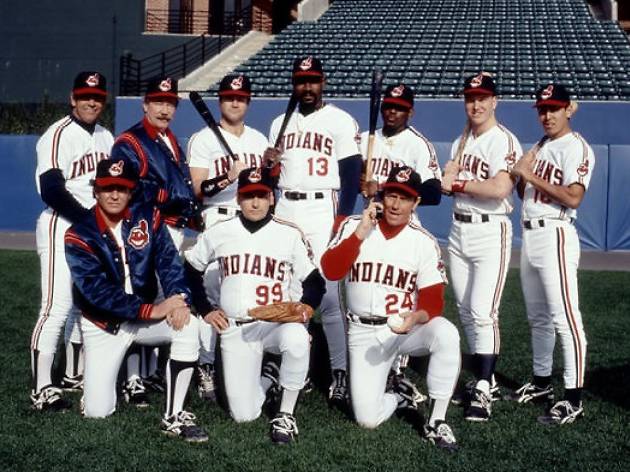 Director:
David Ward
Cast:
Tom Berenger
,
Charlie Sheen
,
Corbin Bernsen
Best line:
"Jesus. I like him very much, but he no help with curveball."
Rachel, an ex-showgirl and the new owner of the Cleveland Indians, desperate to relocate the team to sunny Florida and herself to an exotic condo. She gathers a bunch of players so awful that their failure will justify the move. Like so much of the film, it's a silly proposition, but the game sequences are superbly filmed, climaxing with Sheen's bullish entry into the arena at make-or-break time, the crowd singing "Wild Thing" in clamoring unison.
8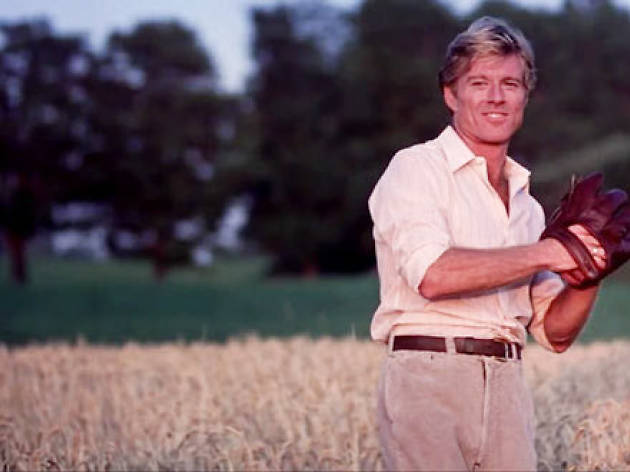 Director:
Barry Levinson
Cast:
Robert Redford
,
Robert Duvall
,
Glenn Close
Best line:
"People don't start playing ball at your age. They retire."
This is the moment when baseball becomes golden-hued pageantry onscreen, the diamond dappled with sunbeams and the promise of redemption. Even if the film changed the ending of Bernard Malamud's classic novel, there's no doubting the genius of cinematographer Caleb Deschanel (Zooey's dad) and effortless star Robert Redford as a minor league player who gets an elusive second chance at glory 20 years later.
7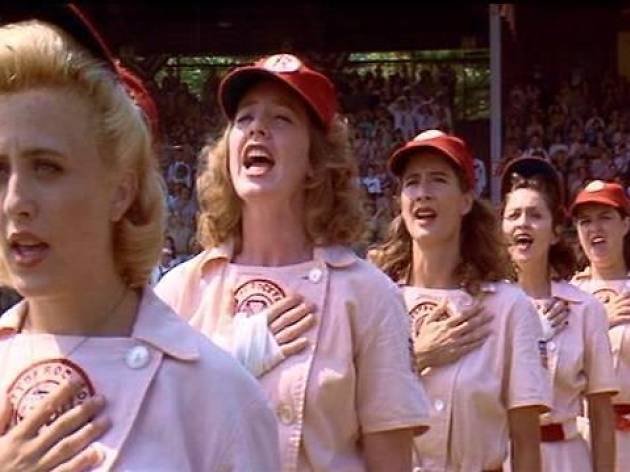 A League of Their Own (1992)
Director:
Penny Marshall
Cast:
Tom Hanks
,
Geena Davis
,
Lori Petty
Best line:
"There's no crying in baseball!"
Penny Marshall's funny and moving dramedy about a WWII-era women's ball team has an A-list roster (Hanks, Davis, Madonna), some stellar pinch hitters (Rosie O'Donnell) and memorable one-liners that'll have you choking on your chewing tobacco. It's also a touching testament to a time when women showed that they could do it all—in miniskirts, no less.
6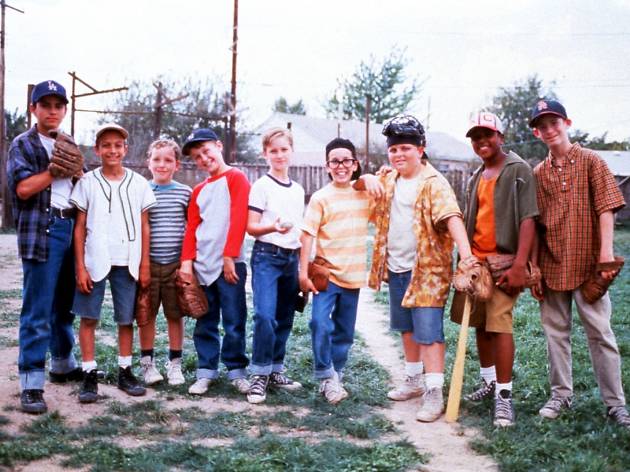 Director:
David M. Evans
Cast:
Tom Guiry
,
Mike Vitar
,
Patrick Renna
Best line:
"Oh! The Great Bambino, of course. I thought you said the great... Bambi."
There has to be room on this list for some lighthearted fun—a movie that makes kids want to play ball while letting the adults reminisce about summertime (and also rolling their eyes a bit). The film's scrappy team lives to play, but must alter their reality when faced with the perennial childhood ordeal of retrieving their ball from a neighbor's yard. Their dilemma is highlighted by the killer mutt who lives on the other side of the fence, and distractions include the pretty pool lifeguard, rival rag-tags and the making of s'mores.
5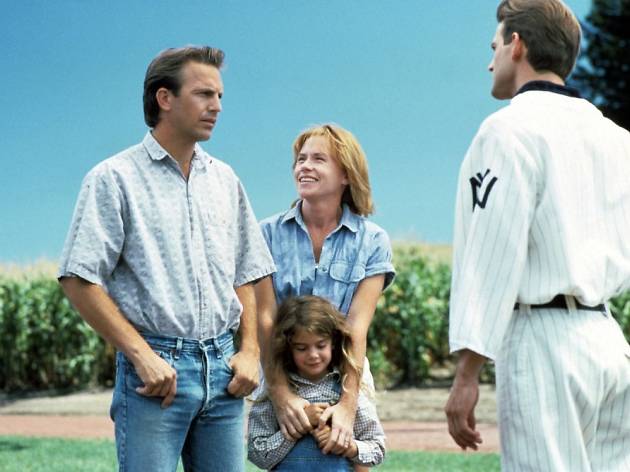 Director:
Phil Alden Robinson
Cast:
Kevin Costner
,
James Earl Jones
,
Ray Liotta
Best line:
"If you build it, he will come."
Kevin Costner had already strutted his stuff once in
Bull Durham
, but Phil Alden Robinson's syrupy tale of a man building a playing field in his backyard proved that the star was Hall of Fame material. Here, baseball isn't just a game; it's a chance for fathers, sons and even dead legends to have a final at-bat.
4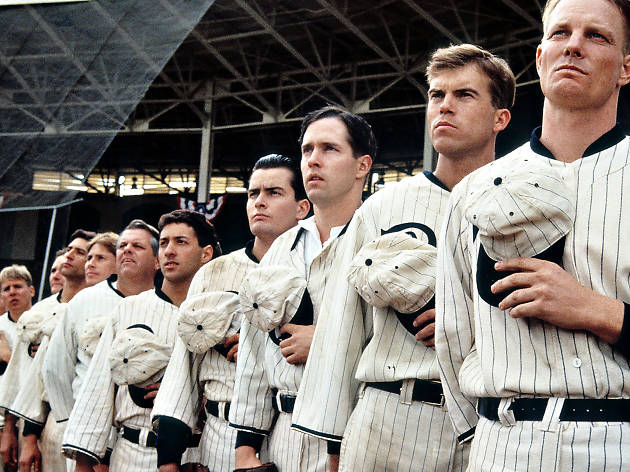 Director:
John Sayles
Cast:
John Cusack
,
Clifton James
,
Michael Lerner
Best line:
"When the bat meets that ball and you feel that ball just give, you know it's going to go a long way. Damn, if you don't feel like you're going to live forever."
This real-life scenario—about the infamous Chicago "Black Sox," who threw the 1919 World Series—makes Sayles' directorial stridency go down in riveting fashion, as does a dynamite cast (whose athleticism blesses the film's baseball scenes with true authenticity). But it's the film's mournful coda that lingers longest in mind, reminding us that, at the end of the day, it's the fans that count most.
3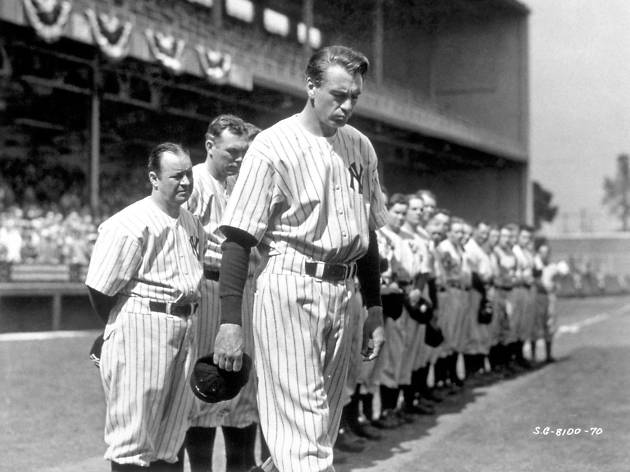 The Pride of the Yankees (1942)
Director:
Sam Wood
Cast:
Gary Cooper
,
Teresa Wright
,
Babe Ruth
Best line:
"He lives for his job. He gets a lot of fun out of it. And 50 million other people get a lot of fun out of him, watching him do something better than anybody else ever did it before."
Fans were still mourning the death of legendary pinstriper Lou Gehrig when Sam Wood's film about the first baseman hit screens, barely a year later. Gary Cooper's "luckiest man on the face of the earth" speech captures the dignity, grace and resolve of one of the game's true MVPs.
2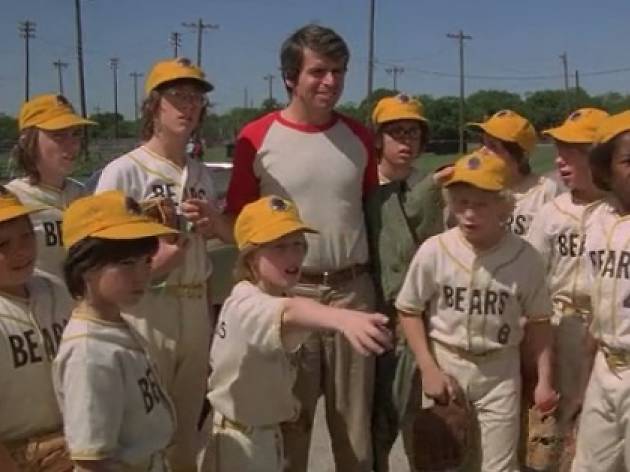 The Bad News Bears (1976)
Director:
Michael Ritchie
Cast:
Walter Matthau
,
Tatum O'Neal
,
Vic Morrow
Best line:
"Those Yankees are real turds."
A warm, inclusive and tender-hearted film that just happens to be about a drunken shyster coach (Matthau), a worldly preteen female pitcher (O'Neal) and a sex-obsessed adolescent operator (future
Watchmen
star Jackie Earl Haley), all batting for a team sponsored by a bail-bonds company. It's an utterly charming essay on the corrosiveness inherent in competitive sport, and the only real bad news came in the form of a couple of reductive sequels and a largely woeful 2005 remake starring the once goof-proof Billy Bob Thornton.
1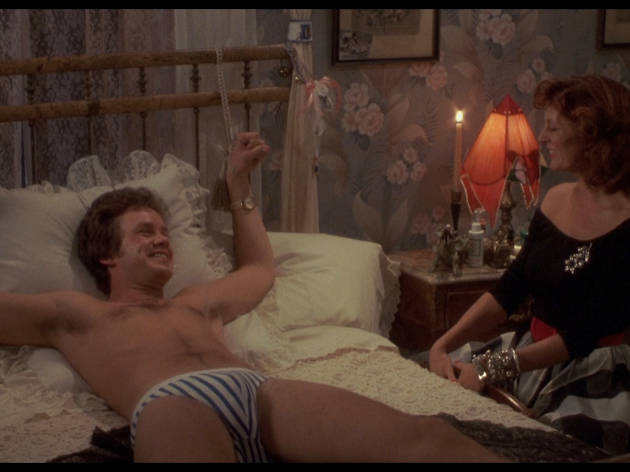 Director:
Ron Shelton
Cast:
Kevin Costner
,
Susan Sarandon
,
Tim Robbins
Best line:
"I've tried 'em all, I really have, and the only church that truly feeds the soul, day in, day out, is the church of baseball."
Director Shelton has dabbled in boxing (
Play it to the Bone
), basketball (
White Men Can't Jump
) and golf (
Tin Cup
), but will, it seems, always be at his best when taking on the poetry of baseball. The sport's finest comedy celebrates it in ways that are often overlooked: the long stretches of bum luck, the wispiness of job security, the transient thrill of a valiant at-bat. A former minor league ballplayer himself, Shelton knows all the bases and casts an insider's eye over the fates of an undisciplined young pitcher (Robbins) who's the future of the game, a fading journeyman clutching to memories of a 21-day stint in "the Show" (Costner at the height of his likability) and the ball-obsessed groupie (Sarandon) from whom they both learn a few valuable life lessons. The three of them make a triangle of need and resentment, undergirding a movie of rare grace. Any baseball film that trades in quantum physics, William Blake and quadraphonic Blaupunkts is fine by us.