10 acts to see on Friday at Lollapalooza 2013
With a few dozen bands on the menu, Lollapalooza can overwhelm with its options. We're here to make it easier for you. Here are the top ten acts we'll be seeing in Grant Park on Friday, August 2.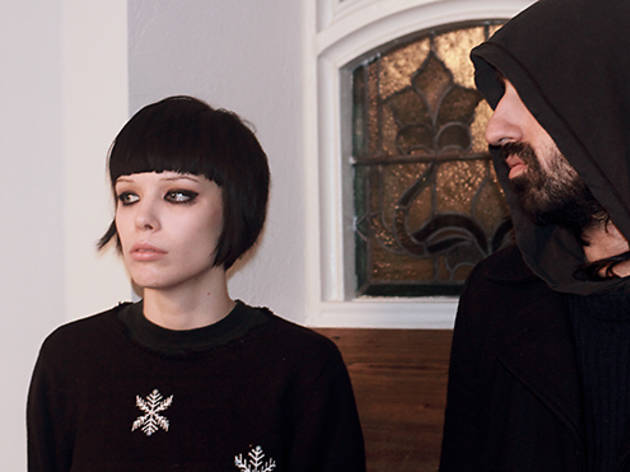 RECOMMENDED: 10 acts to see on Saturday
RECOMMENDED: 10 acts to see on Sunday
1. New Order
The Cure comeback (they haven't played Chicago since 2008) closing out the fest overshadows the return of another '80s titan. We know which one is bound to be more upbeat. "Bizarre Love Triangle," "Regret," "Love Vigilantes," "Blue Monday," "Temptation"—who else on this bill comes armed like that? Even minus Peter Hook, the band enraptured at the Aragon last October. Red Bull Sound Select stage, 6:15pm.
2. Hot Chip
It only makes sense that Hot Chip performs before New Order, right? Disciple leading into mentor. It's easy to overlook these guys, a group of bedroom dweebs in gaudy shirts. At Pitchfork last summer, the Londoners dazzled with unexpected muscle and a now-deep catalog. There still might not be a more exhilarating festival tune than "Over and Over," a hypnotic groove swirling with cowbell, harmony and organ. But the far newer "Flutes" comes close. Lake Shore stage, 7:25pm.
3. Disclosure
Yes, you are sensing an electronic-pop theme. "White Noise" and "You & Me" are two of the best dance singles of the last few years. Remarkable, considering they are some of the first tunes released by a couple of British kids around 20 years old. Read more in our summer album preview. Grove stage, 6pm.
4. Crystal Castles
Not long ago, I landed at LAX at sunrise. After going through customs, I walked outside and saw Crystal Castles squatting on the curb, as pale as the pavement, hating the daylight for coming back. They looked both angry and beautiful (as their music sounds), and I thought, This is exactly what a rock & roll band should look like. When Alice Glass last performed at Lollapalooza, the singer flopped atop the crowd like water on a hot skillet, spraying vodka straight from a bottle. I love that she brings the energy of Iggy Pop at a rave, all while singing her hell-angel trance about gender issues and war casualties. You can understand her better live, too, both her lyrics and her purpose. Red Bull Sound Select stage, 4:15pm.
5. Jessie Ware
If Lana Del Rey is a potential car crash (see below), this British crooner is a more likely success. On her debut, Devotion, the breathy 28-year-old brings buttery Sade sexuality to British dubstep, a bridge between Adele and James Blake. Dreamy headphone slow-jams do not make for the best festival fare, but with a sturdy voice and deep beats, we'll put money down on her as a highlight. Petrillo stage, 3:15pm.
6. Chance the Rapper
The local MC is both a throwback and a breath of fresh air: He can appeal to fans of Fu-Schnickens and Das Racist and, soon, kids growing bored with Wiz Khalifa. I spin his latest mixtape, the playful and surprisingly soulful Acid Rap, daily. Read more of my thoughts on it here. As he sings in "Favorite Song," "It's my jam, it's my jam, it's my jam, it's my jam…." BMI stage, 6:50pm.
7. The Killers
I forced myself to pick one headliner each day. It wasn't easy—the strength of this bill lies in the middle. Undoubtedly, many will scoff at this choice of Lolla repeats. But it comes down to this: What would I rather see on a hot August night, an industrial band going prog or All-American hot-dog rock with hooks as huge as the interstate system? Sorry, but "Runaways" tickles my "Jack & Diane" node, and Trent Reznor strikes me as being as fun as playing World of Warcraft outdoors in the rain. Red Bull Sound Select stage, 8:25pm.
8. Atlas Genius
Here's a dummies guide to festivals: You can't go wrong with Australians. Pop culture there is built upon dancing and summer festivals. It's no wonder Atlas Genius has a way with a keyboard, a ray of sunlight and a chorus. The slick, coconut-scented shuffle of "If So" and "Trojans" will be monsters. Remember when Foster the People played to a packed, jumping Hutchinson Field and naysayers we're like, "Christ in a life raft, this band is friggin' bigger than I thought"? Here's your top candidate for a ditto this year. Grove stage, 3:30pm.
9. Icona Pop
The pop is not in the name for nothing: The Swedish duo sports one of the biggest bona fide radio hits you'll hear all weekend, "I Love It." The Stockholm twosome are Abba for EDM house mobsters. As much of an earworm as "I Love It" is, Icona Pop have more anthems tucked away, and brainier fare like "Manners." Lake Shore stage, 1:15pm.
10. Lana Del Rey
This bombshell images herself as Dorothy Vallens writhing her python hips in Blue Velvet, but in David Lynchian terms her performances have been more akin to the Club Silencio diva collapsing in Mulholland Drive. In other words, Del Rey is an ice sculpture of voyeurism and seduction waiting to melt. A large portion of the crowd will be there largely out of curiosity and lust. Torch singing isn't exactly the best formula for working a festival crowd, but if she sticks to the stuff with a hip-hop bounce— "Diet Mountain Dew," "Off to the Races," etc.—she's a sleeper. I'll be hanging back by the concession stand, seeing how the lines grow after "Cola." Grove stage, 8:45pm.