10 new bands to see this fall
These rising acts are on their way to bigger stages—see them in a smaller venue while you have the chance.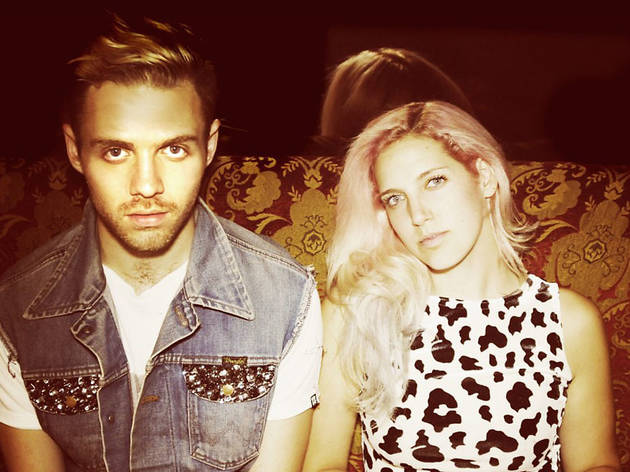 The fall concert calendar is filled with plenty of big names who either skipped the summer festival season or are coming back for round two. We're just as excited about seeing Phoenix and Atoms for Peace as you are, but we're also looking forward to heading out to some of Chicago's small and mid-sized venues to catch some acts who are on the rise. Just think, if any of these groups make it to the main stage at Lollapalooza within the next few years, you can brag about seeing them before they blew up.
Waxahatchee On Katie Crutchfield's latest record, Cerulena Salt, the singer-songwriter managed to bring her solo project out of the bedroom without losing the intimate feel of her DIY debut. After a captivating set at Pitchfork this summer, she'll be returning to Chicago, providing a more subdued counterpoint to the punk rock of tour mates Screaming Females and Tenement. Lincoln Hall. Sept 25 at 9pm. $14.

Jenny Hval Norwegian singer-songwriter Jenny Hval doesn't pull any punches with her explicit lyricism. She pens tracks about masturbation, gender identity and internet porn that would make Marilyn Manson blush. Behind the controversy-courting bravado is an artist clearly inspired by contemporaries like Kate Bush and PJ Harvey—she even tapped John Parish to produce her new record, Innocence Is Kinky. Empty Bottle. Sept 29 at 7pm. $10.

MS MR If the dense crowd in front of the NYC band's mid-afternoon set at Lolllapalooza this year was any indication, MS MR are still riding high on the buzz surrounding their debut record, Secondhand Rapture. The boy-girl duo channel the echoing percussion and sparkling synths of the '80s, creating pop anthems that seem primed for arena tours. The crowd is likely to skew young, so be prepared to wade through a throng of teens who will ask you to buy them beer. Lincoln Hall. Sept 30 at 8pm. $18.

Le1f While he's probably best known as the producer of the infamous Das Racist track "Combination Pizza Hut and Taco Bell," New York rapper Le1f's recent string of mixtapes clearly demonstrate his skill behind the mike. Layering sassy rhymes over amalgamated beats, Le1f's free flowing hip-hop exudes an otherworldly feel—fitting for a guy who calls himself "an alien from NYC." Empty Bottle. Oct 10 at 9:30pm. $10.

Water Liars Springing from the ashes of overlooked St. Louis alt-country act Theodore, Water Liars is the latest project of singer Justin Kinkel-Schuster, joined by longtime friend Andrew Bryant. In less than two years, the duo has released two albums worth of confessional folk ballads, accented with plush harmonies. These guys have been living on the road, so this is your chance to see them before they take a well-deserved break from touring. Schubas. Oct 12 at 10pm. $8, day of show $10.

Keep Shelly in Athens Armed with swelling synths and reverberating drum machines, Keep Shelly in Athens' debut full-length record, At Home, could be mistaken for the soundtrack to some long forgotten '80s film. Luckily, the Greek duo's nostalgic brand of pop is still in style—just wear your scorpion jacket and you'll fit right in. Empty Bottle. Oct 18 at 9:30pm. $12.

Lucius The Brooklyn music scene has produced plenty of sunny, harmony-ridden indie-pop bands over the past few years, but few of those groups are fronted by a pair of Berklee grads. In Lucius, singers Jess Wolfe and Holly Laessig put those degrees to good use, intertwining their voices in a way that evokes a '60s girl group fronted by Gillian Welch. Lincoln Hall. Oct 25 at 9pm. $15.

Braids Ditching the shimmery, atmospheric pop that characterized its debut record, Canadian ensemble Braids takes a page out of Thom Yorke's book on its sophomore release, Flourish // Perish. The band surrounds the ethereal voice of singer Raphaelle Standell-Preston with layers of glitchy electronics, channeling the ambient tendencies of groups like Burial and Aphex Twin. Schubas. Oct 29 at 8pm. $15.

Jessie Ware Another Lollapalooza performer making a return trip to Chicago, 28-year-old British crooner Jessie Ware brings a soulful sensitivity to dubstep-influenced beats. Whether you enjoy singing Adele songs in the shower or dancing to Disclosure, Ware's powerful vocals and buoyant personality are bound to win you over. House of Blues. Nov 9 at 9pm. $25, day of show $28.

Houndmouth Judging by their penchant for jangling pianos and earnest harmonies, all the members of this Louisville, Kentucky quartet have listened to Music From Big Pink a couple hundred times. Houndmouth's scrappy folk rock has already landed them on stage with the Drive-By Truckers and the Alabama Shakes. See them during a two-night stand at Schubas before they inevitably hit the road with one of those bands with a lead singer who plays a kick drum. Schubas. Nov 22-23 at 10pm. $15.
RECOMMENDED: more things to do this fall