Album of the week: Warpaint - Warpaint
The L.A. quartet builds a bewitching rhythm on its subtle sophomore LP. Stream the album and read the review.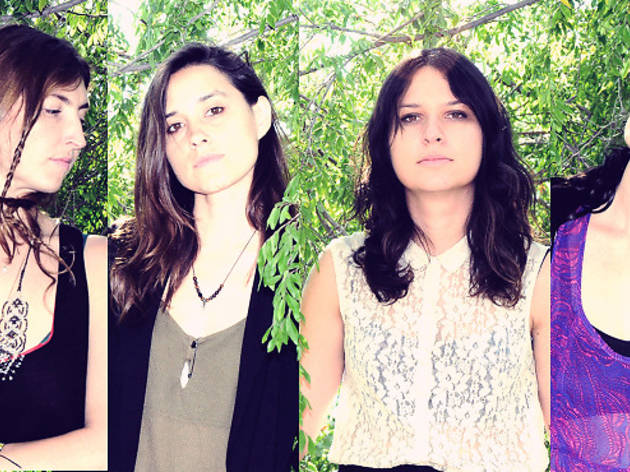 In 1981, in an act more punk than anything the Sex Pistols would do, Public Image Ltd. delivered The Flowers of Romance, which guitarist Keith Levene would describe two decades later as "probably...the least commercial record delivered [to a record company]." Indeed, the band's third LP was a heavy percussive affair, with Johnny Rotten wailing over clattering, tribal, dub drumming.
Funny how much changes in three decades. Warpaint has finally delivered its sophomore album, one which is remarkably similar to The Flowers of Romance, albeit much more cottony and celestial, and it's an event rock record. The female foursome will appear at festivals throughout the summer. U2, Smashing Pumpkins and PJ Harvey producer Flood applied the coats of polish to the record. Radiohead sound architect Nigel Godrich fiddled with two tracks. One of those, "Love Is to Die," was used in a Calvin Klein ad. Chris Cunningham, visionary director of Aphex Twin and Björk videos, snapped the photos. But this is a confidently subtle record, one dominated by the rhythm section.
Bassist Jenny Lee Lindberg and drummer Stella Mozgawa are the stars here. The two lock in tight, slowly undulating like a large empty cargo ship on a choppy sea, inside which Emily Kokal can echo her gentle chanting, backed with cultish harmonies. Pinpoint guitar notes plink off the walls. So if you're reading the tracklist and thinking "CC" is an ode to Poison's guitarist, I've got bad news. Drumsticks are as prominant as six-strings on the slo-mo avalanche of heavy trance.
Warpaint has not designed its self-titled LP as an immediate affair. There's nothing for the radio here, not that that matters when the intoxicating drum soup can aptly soundtrack lens-flared shots of hot bods in designer jeans. And, yes, the nocturnal churn of "Drive" is an audio boner pill for Nicholas Winding Refn. The purpose overall is to bewitch you into repeat listens, upon which the sly variation seeps in. After a desert folk open, "Teese" slips into something more synthetic for a bit of Lana-Del-Rey-lost-at-sea somnambulism. Despite the title, "Disco//Very" is not quite fit for the dancefloors, though its insistent groove comes off as ESG deep in a lude ditch, splashed with slashes of violent vocal lines from Kokal. "Go In" loops like a haunted Hawaiian jukebox, as sirens implore you to sleep-surf in the early AM.
What first struck me as a ZzzQuill sequel eventually limned something more defined and habit forming. This is a down duvet of sound, built for curling up underneath. Parental Advisory stickers have been replaced with Do Not Operate Heavy Machinery warnings. Not sure how it'll all translate to a bright festival setting, but its fine for hibernating.