Arcade Fire 'Reflektor' album review
The Canadians delve into dub and disco, but is it art or artifice?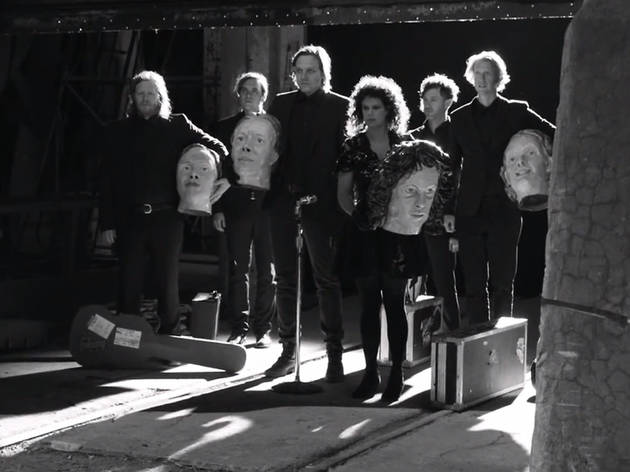 I listen to Arcade Fire and I feel nothing. Without fail, the band's music plays in my mind like some kind of spy tape that erases itself as it spools along. I listen with interest and immediately forget. The lush scenery whips by behind the glass of a speeding train. The record melts into smoke.
The Canadians won a Grammy for their last record, The Suburbs. I remember enjoying it, but little else about it. Win Butler said "rococo" and "kids," many times. There was a nifty interactive video. That's all I got. I often forget they even won that Album of the Year award, despite the Twitterverse rejoicing at the time as if it mattered, as if the trophy was somehow a triumph for all underdogs. Does anyone even listen to Neon Bible? Like The Suburbs, the unnecessarily large group's Reflektor is a museum of influences. It is well designed, monolithic and hollow, with no place comfortable to sit. It asks that you pass through and admire. Do not touch. A wooden carving of David Bowie. A black and white photo of the Clash. A grainy VHS video of New Order playing on a loop in a dark empty box of room. It all sounds good, but so what?
Reflektor is an apt title. This band and its music is impenetrable. The record will put out whatever you put into it. If you hope to view it as groundbreaking art, it will appear to you as groundbreaking art. If you see Arcade Fire as nothing more than reverent thieves, track after track will endlessly bring to mind highlights of the 1970s and new wave. The 13 songs, needlessly split into two discs, are mere mirrors of records that fill "Greatest of All Time" lists. As the album played, I began to note the familiar elements. The "Billy Jean" bass line of "We Exist." The dubby swing and horns of "Flashbulb Eyes," like "The Call Up." The Bachman-Turner Overdrive chug (yah, really) of "Normal Person." The "Rusholme Ruffians" shuffle of "You Already Know." The "Hey Jude" climax of "Awful Sound." The "Nightclubbing" drum machine of "Porno." The "Temptation" high-hats, shimmer and house stabs of "Afterlife." This not-as-diverse-as-it-thinks-it-is mix-tape is produced by James Murphy of LCD Soundsystem, a man with a fantastic record collection and an uncanny ear for recreating it.
In many ways, the first half resembles the Clash's Sandinista!. In both cases, you have an activist rock act injecting sounds from the Caribbean and Latin America into a swirl of reggae, disco, punk and folk. Thrown in the bowl are strings, carnival percussion, dancehall toasters, a cowbell, sound effects. Because of this, the first half of Reflektor is a lot more fun than the somber melancholic grooves in the back six. Of course, this is not to say Arcade Fire comes close to achieving the brilliant sprawl of the Clash's epic triple album. In fact, there's no point to this even being a double album, as it would neatly fit on a single CD. Sandinista! was meant to overwhelm, to buck the established record delivery system, to give fans more for their money. Reflektor was split for aesthetic purposes (or, if you're cynical, sales counting purposes). Sandinista! was willing to experiment and play. Reflektor, like most of its peers, is fearful of stepping outside the boundaries of what has been branded cool. The echoing fingersnaps and Miami Vice synths of "Porno" are begging to be a hip-hop bed. But you'd never hear a rapper on it, not on an Arcade Fire record. And, of course, the Clash have pop smarts and oceans more charisma, where as Arcade Fire have…members.
Win Butler and Régine Chassagne sound like backup singers waiting for the star to appear and take the mic. They are directors, writers, editors and sound engineers starring in their own movie. There's hardly an ounce of the naturally occuring magnetism found in those icons who bafflingly praise this band—Bono, Bowie, Byrne. And I believe Arcade Fire themselves would humbly nod their heads and kindly agree with this opinion. Which proves my point. For what is this band tying to accomplish? Where is the ego? What does it stand for? What are they trying to tell me about Haiti? Why is the only refrain that sticks "Little boys with their porno?"
It hardly helps that the vocals fight for attention amongst all the hip, vintage gear. While Arcade Fire "going disco" (though I challenge you to dance to any of this) might be an unexpected direction for a troupe that used to holler and beat each other on the head with drum sticks, no sound found across these 79 minutes surprises. It is all cottony comfort for music geeks. Being one of those myself, I have been listening to it again and again this week for this review with little objection. There is a nifty interactive video. But something else will come along soon, next week even.
In the final track, the concluding statement, "Supersymmetry," the vocalists quietly excuse themselves halfway through and slip out the back. A pretty keyboard arpeggio plays over and over like a carousel. As if the music will stand for itself. It doesn't.