Chicago International Movies and Music Festival
CIMMfest's slate of film premieres showcases every facet of the Chicago scene.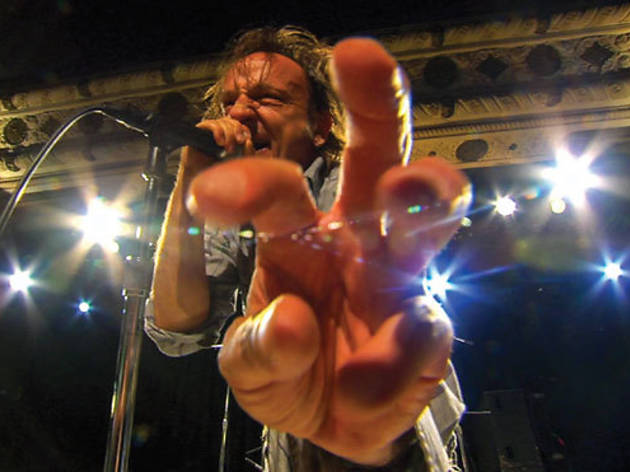 CIMMfest, or the Chicago International Movies & Music Festival, turns five this year, and with a massive slate of screenings and concerts it's easy to miss the C amongst all the M and M, but Chicago is well represented. Of the four premier events, only the opening night appearance from Van Dyke Parks (Thursday 18, Constellation) has no local connection. The other major live music event sees the Funky Meters' southern soul supported by Chicago stalwarts JC Brooks & The Uptown Sound and Jesse De La Pena (Friday 19, Congress Theater).
Receiving the festival's Lifetime Achievement Award, or the Baadasssss Award, is Melvin Van Peebles, the visionary auteur who hosts screenings of three of his features, including the rarely seen Don't Play Us Cheap (Saturday 20, Constellation). Though Van Peebles made his name in Paris, L.A. and New York, he's a Chicago native. "CIMMpathy for the Stones," a three-day series of Rolling Stones concert films, includes the band's famed set at the Checkerboard Lounge with Muddy Waters and Buddy Guy in 1981 (Music Box Theatre, Friday 19–Sunday April 21).
In addition to these high profile bookings, there are several notable features with local roots. Blowing away most of the concert films on the CIMMfest slate (including the Mick and Keith docs) is Tony Ciarrocchi's The Jesus Lizard: Last (Saturday 20, Society for Arts). Although a concert from the abrasive Chicago band's 2009 reunion/farewell tour was released on DVD in 2011, that Nashville show found frontman David Yow turned up to just 11, while the last show of the tour (and perhaps their career) on New Year's Eve at the Metro, had him fully off the charts. The secret to a good gig film is capturing the audience's energy, and Chicago fans had such intense love for this band that the director couldn't help but bottle that electricity.
In Steven Harnell's lively, long in the works documentary Unconscious Therapy (Saturday 20, Logan Theatre), the director lets the talking heads present a global perspective and loose genre parameters when defining house music. While that may rile some nostalgia-based Chicago house heads, our city is well represented between the banging BPMs, with the origin story of Frankie Knuckles at the Warehouse verified and turned inside out, with appearances by Windy City–bred DJs and producers like Derrick Carter, Mark Farina and Diz.
Several screenings are connected to local label Drag City. Apocalypse: A Bill Callahan Tour Film (April 19, Society for Arts) follows the lo-fi Smog-meister around the country in 2011. It plays with the beautiful short Magnetic Reconnection, featuring sounds made by Jim O'Rourke and Will Oldham. The festival closes with another "band" championed by Drag City, Ya Ho Wa 13, the psych-rock arm of the health food restaurant/commune/cult known as the Source Family in the early '70s. In advance of its theatrical run in June, the mind-blowing documentary, The Source Family, premieres here (Sunday 21, Constellation).
The most ambitious offering may be Sacrificial Youth (Friday 19, Logan Theatre), a follow-up of sorts to Joe Losurdo's You Weren't There: A History of Chicago Punk 1977-1984. This hardcore punk take on Jesus Christ Superstar tells the story of TJ, a straight-edge rocker, who gets X-shaped stigmata on the back of his hands and turns wine into water. When the scene is threatened by corporate emo-punk (and an evil manager played magnificently by Mike O'Connell of Liar's Club), TJ has to lead his band away from the flaming pits of sell-out hell. A full-fledged musical with a teenage cast may not be everyone's cup of blood, but the fact that the pit of hell is literally depicted in Evil Dead–worthy special effects and located in a punk show's "pit" should invoke a toasty feeling of Chicago pride.
CIMMfest runs Thursday 18–Sunday 21.