Chicago World Music Festival 2011 | Preview
Our critics pick the best of this year's impressive, sprawling World Music Festival.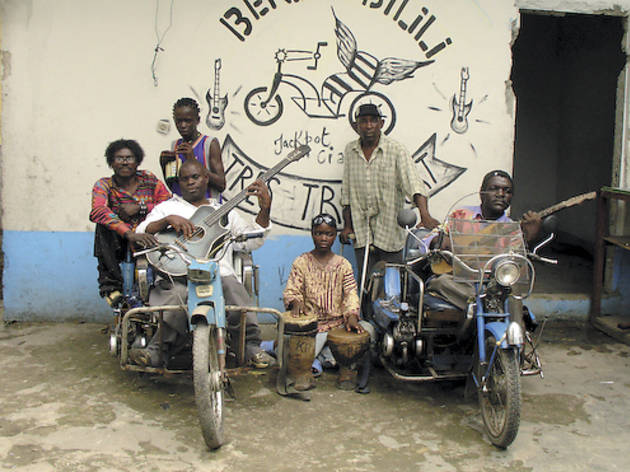 From Ron Artest's rap album to Jay-Z owning a piece of the Nets, hip-hop and basketball are inextricably linked. Not too long ago, it was unthinkable that another country could best America on the court or in the vocal booth. But just as Argentina won Olympic gold in 2004, rhyming's reigning kings no longer come from Brooklyn and the Bronx. Global hip-hop, once a mere amusing curiosity, simply has more creativity and élan than Yankee-Doodle boom-bap.
Ghana-born MC Blitz the Ambassador (Saturday 17) spits over Afrobeat-infused loops. Blitz, a.k.a. Samuel Bazawule, has spent most of the last decade in New York marinating in the influence of Public Enemy and the Roots. On the new Native Sun, the polyglot spitter flows in English over mellow, soulful Cuban grooves on "Accra City Blues," and bobs through snare breaks, scratches and Fela horns on "Victory." Yet it's on "Akwaaba" that Blitz breathlessly slays, acrobatically curling his tongue through Twi-language couplets. "You need subtitles, holler at me," he says. It's cool, he needs no translation app to impress.
With tracks like "Raindrops" and "Turtle Shell," it seems as if House of Waters (Friday 16, Saturday 17) should be filed next to the rain sticks in relaxation boutiques. Certainly there are stress-relieving tranquility and a bit of wind chimes to be found in the New York trio's trance. But hammered dulcimer whiz and Chicago native Max ZT pushes the combo into jazzy psychedelia with his rushing arpeggios and rounds.
No good world-music bill is complete without a bossa-nova beauty. Luisa Maita (Tuesday 20) might not have the bloodline of Bebel Gilberto, but she eschews bland cosmopolitan electronics in her acoustic tropicalia. Her vocals are a feather's touch over that irresistible Rio shaboom-shaboom.—Brent DiCrescenzo
One of the more remarkable back stories at this year's WMF belongs to Staff Benda Bilili (Wednesday 21), a Congolese street band centered around four polio victims using tricked-out tricycles. Importing soulful rumba grooves from the Kinshasa Zoo where it holds court, the fascinating group makes its Chicago debut with sturdy harmonies, bustling percussion and whiny leads supplied by a customized one-string lute fashioned from a tin can. This would be novelty if it weren't so charming, as captured in the doc Benda Bilili!, which screens here as well (Sunday 18).
Evanston native Abigail Washburn (Tuesday 20) gives a taste of the earthworn Americana that's made her a hit in Nashville. The multifaceted folkie's unlikely skill set—supple voice, clawhammer banjo skills and fluency in Mandarin—has endeared her to collaborators running the gamut from Béla Fleck to John Paul Jones.
The elegant duo of Ballaké Sissoko and Vincent Ségal (Friday 16–Sunday 18) reprises the delicate chemistry captured on its 2009 album, Chamber Music. Sissoko, a Malian kora master, runs pointillistic circles around the French cellist, whose lyrical support is no less essential to this collaboration. It's a spellbinding fusion that avoids the usual pitfalls of cultural and stylistic compromise.
Making the leap from the studio to the stage, Mad Professor (Saturday 17, Sunday 18) reassembles his space-age dub soundscapes for live audiences. Lee "Scratch" Perry's delightfully warped worldview echoes throughout the Guyana native's wall-pushing Dub Me Crazy series, tracing the arc of reggae music from its roots to its modern-day, electronic incarnation. Since launching his Ariwa studio and imprint more than 30 years ago, the U.K. transplant's racked up countless production and remix credits.—Areif Sless-Kitain
More information can be found at worldmusicfestivalchicago.org.