Lollapalooza in sign language
For the hearing impaired, Barbie Parker squeezes all the sex, drugs and subtle nuances of pop music into her hands.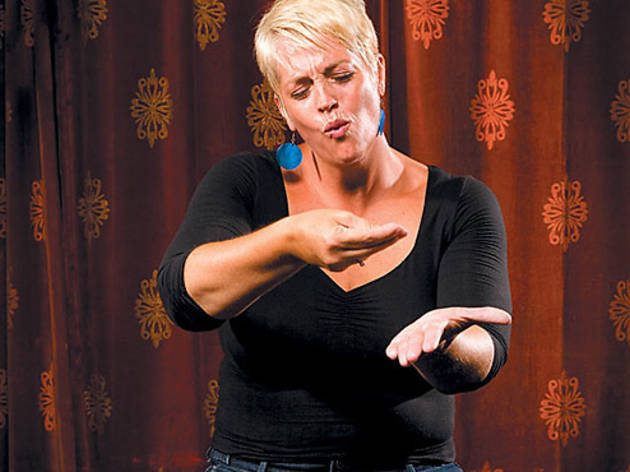 Try this at Lolla! Parker shows how to sign Snoop Dogg's lyrics, "Mind on my money, and my money on my mind."
Even by Texas standards, 108 degrees is blazing hot. In fact, on September 12, 2005, that mercury reading meant a record high in Austin. The oven atmosphere baked the city's Zilker Park into a field of dust—pretty much unbearable conditions to stand around and wait for frickin' Coldplay. To make matters worse, the headlining Brits were late, and as Barbie Parker looked out from her perch on the side of the stage, she could sense the crowd before her was not just restless, but sunburned and pissed as hell. Parker would know; she can read people well. It's critical to her gig as a translator for the hearing impaired.
What's the worst that could happen at a Coldplay gig? This is a fan base whose idea of rock & roll is sleeping without pajama pants. But when Chris Martin pranced out, people up front discovered some American Sign Language interpreter was blocking their view. So they threw bottled water at Parker. "I still have post-traumatic stress," Parker says. "I couldn't tell you what Coldplay's opening song is called, but I break into a sweat when I hear it."
Fortunately, that's the lone nightmarish memory for Parker and her Austin-based team, Alive Performance Interpreting. Which is not to say that converting the Beastie Boys' rapid-fire pop-culture references or Björk's esoteric emoting into hand gestures is a breeze. Parker and her core trio are seasoned pros—if not the pioneers in the field, having worked major festivals since 2002. But it takes months of studying to pull off something like Lollapalooza.
For last year's Lolla, Alive started prepping for the Radiohead show in January, memorizing the bulk of Thom Yorke's dark poetry by listening to iPods with printouts of the lyrics. The band has dozens of songs in its catalog and puts together a different set list each night. Multiply that by the 15 acts Parker will tackle at this year's Lolla, and it's clear why this is a full-time job.
Fifteen years ago, Parker worked as an accountant—no, make that a terminally bored number cruncher. While browsing a library, the now-41-year-old randomly picked up a book on sign language. The next day she met an ASL interpreter. Calling it kismet, she decided to take a class. "From that moment, I was hooked," Parker recalls. She went on to earn a degree from San Antonio College.
Starting out, signing was a day-to-day event for Parker—helping out with doctors' visits, court appearances or funerals. When her clients began requesting assistance at concerts, Parker followed, and Lolla now hires her company for its show.
Naturally, the first question most people ask is, Why are deaf people going to rock shows? "There's a range to deafness," Parker notes. "It's an access to music on some level. Music has become so visual after MTV. Right by the speakers they get a great feel of vibration. Our audience is always going to be in a place with a reggae beat or heavy bass." Bands like Fleet Foxes, with their gentle folk strumming and cooing, don't go over so well—unless their lyrics and look are interesting.
"There's no subtlety in sign language," Parker says. "Music is full of metaphors, and that's our challenge." Don't be surprised to see one of the four women of Alive pouting, snarling, giggling or seducing. "That's part of our code of professional conduct. We must convey the message as it's being conveyed." Yes, even the gin 'n' juice–soaked sexual eruptions of Snoop Dogg. Parker's just glad the Mars Volta and its arcane Aztec vocabulary aren't on this year's lineup. "I had to break out a Latin dictionary just to get an idea of what they were talking about," Parker says with a laugh. "I wanted to crawl under something."
Catch Parker interpreting at Lolla for Ben Folds, Andrew Bird, Kings of Leon, Coheed & Cambria, Kaiser Chiefs, Vampire Weekend, Snoop Dogg and Jane's Addiction.