Metal Alliance Tour at House of Blues | Concert preview
Anthrax, Exodus and High on Fire take headbanging to extremes.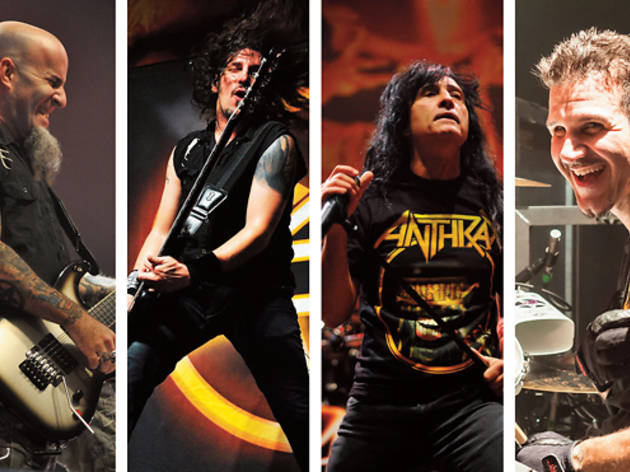 Although Chicagoland has always had a metal scene bubbling in suburban waters and South Side sewers, there have been long stretches, especially in the post–Thirsty Whale era, when metal shows in a 606 zip code were scarce. But in the last few years we've seen something of a live metal renaissance with Reggies' commitment to heaviness, the Empty Bottle's relationship with Nachtmystium frontman Blake Judd and some bolder bookings at the House of Blues.
Anthrax (whose drummer Charlie Benante lives in Long Grove) has long been the American standard bearer for thrash metal, and as Metal Alliance Tour headliner it's bringing the big guns out. In addition to performing its classic 1987 album, Among the Living, in its entirety ("I Am the Law" and "Caught in a Mosh" should cause volcanic eruptions in the pit), it's supporting Anthems, a new EP of cover songs, which no hard rock act this side of Metallica has had as much success with.
Support comes from thrash vet Exodus, still anchored after 33 years by the heaviness of guitarist Gary Holt and drummer Tom Hunting. But what makes this tour more exciting (and the equivalent of successfully mixing uppers and downers) is the inclusion of stoner-rock stalwart High on Fire, whose late '90s formation makes the band a virtual rookie compared to its tourmates. Last year's Lovecraft-ian gem, De Vermis Mysteriis, was a confounding, feedback-soaked concept album that was as absurdly ambitious as Anthrax covering Cheap Trick is satisfyingly simplistic. We should feel blessed by the metal gods for the opportunity to experience these extremes of speed and sludge on one glorious night.