North Coast Music Festival after-shows and after-parties
Keep the party going with jam sessions, boat parties, rising rappers, a drum god and a ton of trap.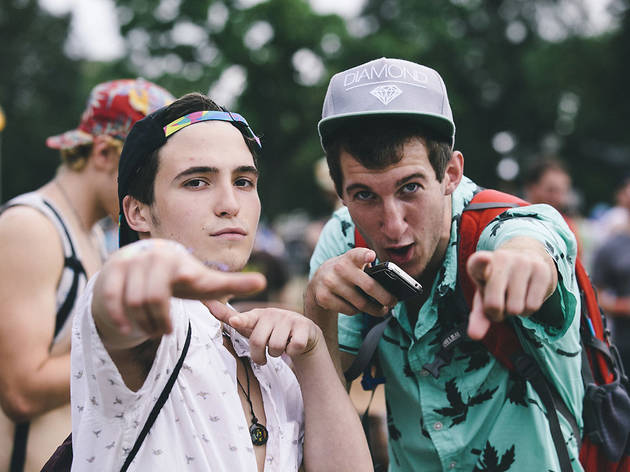 The folks behind North Coast Music Festival have announced a fat stack of after-shows. Lollapalooza and Pitchfork aren't the only ones who get in on the after-party action. The highlights come early with a bonus kick-off gig featuring Chet Faker, Mount Kimbie and Fujiya & Miyagi. Other notable gigs include an appearance by Afrobeat legend Tony Allen, a performance by electro-fusion act STS9 at House of Blues, and a massive jam sesh with Talib Kweli on a yacht.
Take a look below to see the full list of after-shows. Tickets for all concerts are on sale now.
RECOMMENDED: Crowd photos and our complete guide to North Coast Music Festival
The official NCMF pre-party brings some sweet bonus content. Festival player Chet Faker, a James Blake analogue from down under, headlines with two Brit acts, micro-dubhouse delight Mount Kimbie and neo-krautrockers Fujiya & Miyagi, both of which are not on the weekend bill. Faker is touring his debut album of glossy glitch-soul, Built on Glass, while F&M have amped up the electronics on their latest.
Canadian trap trio Keys N Krates drop bass-heavy bangers like "Treat Me Right" with the energy of a live band.
More trap, this time all the way from Sydney, Australia. What So Not bring a poppier, uplifting, synth-smeared take on low thump and skittering riddims. "Jaguar" shifts gears from growling dancehall to bubbly video game melodies, and has racked up millions of Soundcloud spins.
This local dance-rock trio has gained quite a following from both ravers and psych-rockers. Expect to hear stuff from all six of their albums, and a guest appearance by the group Orchard Lounge.
Indie hip-hop artist Allan Kingdom just dropped his first album, Future Memoirs. The Twin Cities kid will be making his Chicago debut at the Cobra Lounge. Fans of Chance and Childish should enjoy this one, as his trippy beats and sentimental rhymes mix well.
With hits like "Rise and Fall" and a sexy, amped-up remix of Flight Facilities' "Crave You," the Canadian duo has created a sound that's upbeat and accessible, yet true to their hard-hitting sensibilities. They've played in the big leagues before—making appearances at Electric Daisy Carnival and Ultra Music Festival.
ProbCause is a hip-hop artist that has done work with hard-hitters like Chance the Rapper and Action Bronson. His show at Schubas will showcase work from his latest album, The Recipe Volume 2. Ghosthouse and Itylyon help out with the roll-up-and-have-a-party vibe.
Best known for his collaborative work with Diplo, Grandtheft showcases his own mad decent trap beats at Evil Olive.
Get your Dirty Dutch fix. Progressive house producer Nick Rotteveel will be coming all the way from Holland to press some buttons and make asses shake at the Mid. DJ Nathan Scott will also be making an appearance.
Show more