Pitchfork Festival 2011 picks
Time Out Chicago's music critics plan their Pitchfork weekends. Who to see? Stick with the geezers, the rappers and the dudes bustin' out the Ghostbusters theme.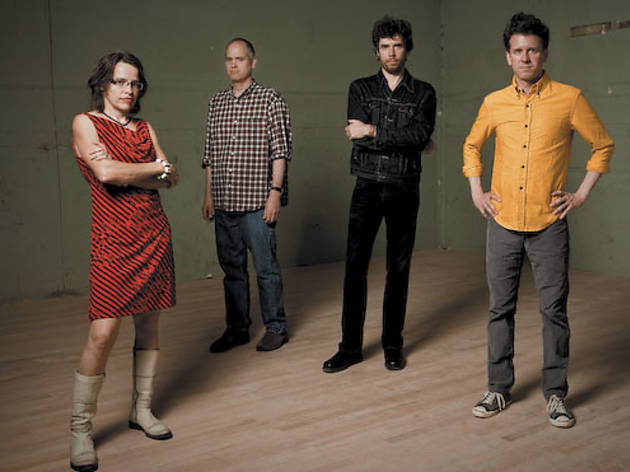 I'm filling out my Pitchfork itinerary as I would my fantasy hockey team, with lots of veterans and some Swedes. It takes ritual readings of Pitchfork to have an inkling of who the newcomers on the bill are. There's Twin Something, Sun Whatever, groups obsessed with capitalization. So, as predictable and geezerish as it seems, I'll stick with the middle-aged musos who've more than two LPs and experience playing on a giant Erector Set, in a field, in the heat.
Thurston Moore's acoustic guitar and violin combo might be too delicate and lovely for the setting, but the cool dad packs in a plethora of string-bending and pretty melodies in what amounts to Sonic Youth unplugged. He's an ideal Friday warm-up for Neko Case, the only act all weekend who could get by a cappella.
Saturday is dire. But at least I can relive my teen skateboarding days with O.G. California punks OFF!, my ill-advised B-boy phase with turntable hotdog DJ Shadow and my collegiate house-party memories with funky nerds the Dismemberment Plan. That's not nostalgia. I'm watching people with spark and charisma. Even Sweden's the Radio Dept., which strikes me as a relative newcomer, has been around since 1995. Indelible Scandinavian pop know-how is at work behind its melancholic fuzz and beautiful boo-hoos.
This megaconcert pits bands who've hung around for decades against derivative bands with a shelf life of days. It's as if Pitchfork exists to stir jaded, mortal feelings in thirtysomethings. I feel old. Imagine how Superchunk, Sunday's best band, must feel. I bought its first tape in 1990. But, hey, the North Carolinians' latest, 2010's Majesty Shredding, is their giddiest, most electric record ever. So there's hope for us yet.—Brent DiCrescenzo
The sixth year of Pitchfork feels like a reissue rather than a new release, though the slate remains broad in scope. It's disappointing to see barely any local acts. For that there's always Bitchpork, I suppose.
Hip-hop takes the focus this year, and while I'm as curious as anyone to see if these Odd Future protests materialize on Sunday, that's about where my interest ends. Tyler the Creator should take a cue from Brooklyn's Das Racist, which deftly inserts social commentary into clever rhymes dripping with goofball charm on Friday. The same can be said of Tune-Yards, whose Merrill Garbus stretches her elastic voice over an alternatingly tribal and tropical patchwork on the same stage earlier in the day.
Gang Gang Dance picks up the art-pop baton from Garbus on Saturday, dyeing the lawn fluorescent green with its spellbinding techno-dub hybrid. It's a far cry from the Woodstock-era simplicity promised from Fleet Foxes, and that's not a bad thing. Anyone who's seen Robin Pecknold and his scrappy chorus knows those harmonies hold up live.
Sunday brings Philly acid-rocker Kurt Vile, who swims in a similar vintage, his slacker drawl a perfect soundtrack for sipping suds in the sun. By nightfall, however, I'll be staking my place for TV on the Radio, making its Pitchfork Fest premiere in the closing slot. Last month at Glastonbury, the group treated unsuspecting fans to a convincing cover of Ray Parker Jr.'s Ghostbusters theme. Listening to thousands of indie fans singing, "Bustin' makes me feel good" in unison? That sounds like a 10.0.—Areif Sless-Kitain
Pitchfork Music Festival takes over Union Park Friday 15 through Sunday 17.