Pitchfork Music Festival 2012, live review | Schoolboy Q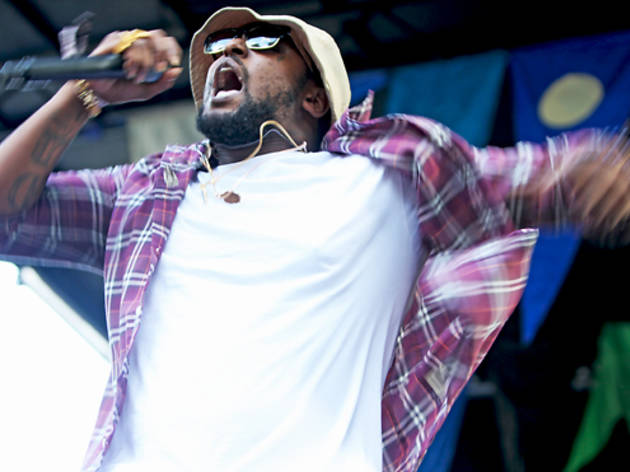 When you're at a hip-hop show and someone on stage says "make some fucking noise," that's the defining moment when shit either gets real or fails to do so quickly. Schoolboy Q went hard from the top of the set, perhaps in part because Blue Stage lead-in Nicholas Jaar had run over his allotted time slot due to technical problems. Regardless, Schoolboy dispensed with the standard hype-man intro and hit the stage sporting a beige fishing hat and a flannel hung over his plain white T. Dressed in that modest attire, he proceeded to decimate, ripping through one of the best sets I've seen all weekend, maybe even topping Big K.R.I.T., though Schoolboy did have better weather on his side. Either way, it made A$AP Rocky look obsolete, removing that East Coast rhymer from the conversation completely.
The L.A.–based Schoolboy is still starting out, and he's hungry. In a brusque cadence, the rapper ripped through "Oxy Music," off this year's impressive Habits & Contradictions, issued by Top Dawg Entertainment (which easily got its quota of shout-outs), though he's since been signed to Interscope, as have his buddies in the Black Hippy crew. The song's menacing, slow-flowing groove slithered out of the PA as he made his way through the dark lines: "Yeah/I got my hustle dog/I gets my hustle off/Oxycontin heroin." "I'm faded," he confessed after wrapping up the song, before asking who had brought weed, which seems pretty mild compared to those other narcotics. From there he transitioned into another ode to staying faded, "iBETiGOTSUMWEED," from 2011's Setbacks, before shouting out the South Side, West Side and "bad side" and exhorting everyone to blaze up. For a stoner, the guy's high energy. For a while at least, he worked the crowd into a frenzy early and fed off that energy for the first half of the set. His stamina needs a little work, but the guy's getting there.
"How many people got Habits & Contradictions?" he asked before shouting out Pitchfork for giving it an "A+ or whatever." Another cut off that album, "Druggys Wit Hoes Again," came next, and the pace grew thicker, slower. Soon we were hearing Kendrick Lamar's "A.D.H.D." which brought that rapper to the stage as expected, a day ahead of the fellow Black Hippy member's own Blue Stage slot. Things took a surprisingly sober turn after that, illustrating the rhymer's ability to pivot between being lewd and coming off like a life counselor. "I've been homeless," he told us in a pep talk, shouting out the students in the audience, which led to "Blessed." Things got interesting at that point, when the mostly white crowd was asked to join Schoolboy in the chorus, "Don't stress my nigga, yes my nigga/We all blessed my nigga." He attempted to disarm the lyric by saying it was in the name of music, which was good enough for the crowd. Soon after that it was time for Schoolboy to deliver his hit, "Hands on the Wheel," the tune he'd been teasing the whole set. But before that he took off his shirt to reveal his ample belly, playing it off by saying he was just performing for hipsters anyway. "Shout out to Frank Ocean," he shot off slyly before tearing through the cut aggressively. The crowd gamely filled in the "FUCK THAT" refrain of the titular sample, while Schoolboy shot back with "we the pros" on repeat. He'd earned that boast, easily. Next month he hits the road with Wiz Khalifa, Mac Miller and Lamar on a tour that arrives at the First Midwest Bank Amphitheatre before the month is up. This might've been Schoolboy's practice test. If so, no question, he aced it.