Prince at United Center | Concert preview
A timeline of the Purple Yoda's Chicago concerts over the years.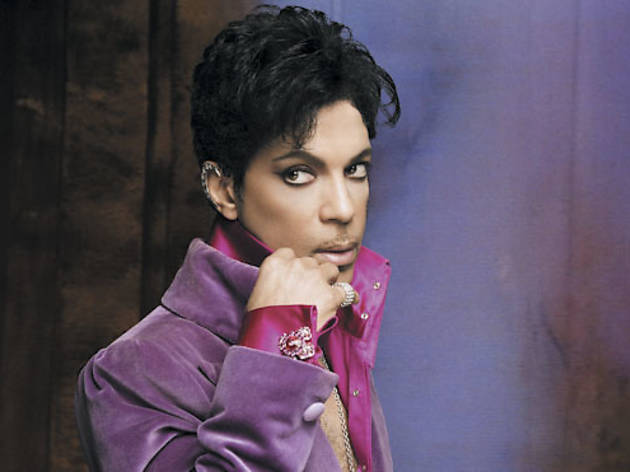 A fan of the blues, gospel and Pops Staples's guitar playing, Prince has made Chicago a regular stop since he started touring more than three decades ago. To usher in his Welcome 2 Chicago residency, we've compiled some of the Purple Yoda's most memorable moments on local stages.
1980
Feb 28, 29
Uptown Theatre (Fire It Up/Prince Tour)
After canceling the solo tour that would have seen Prince (promoting his self-titled sophomore album) debut in Chicago the previous December, the Minneapolis singer opens for Rick James. Upon arriving in town, Prince decides to ditch Matt Fink's prison-themed stage costume and has an assistant buy a surgical gown and mask from a nearby supply store. Dr. Fink is born.
Dec 26
Uptown Theatre (Dirty Mind Tour)
When the Southern tour behind the just-released Dirty Mind proves troublesome, Prince cancels the remaining dates and books a tour-ending show at the Uptown, where he performs his new anthem, "Uptown," in what turns out to be the legendary theater's final season.
1981
Mar 24 (two shows)
Park West (Dirty Mind Tour)
Prince makes his Park West debut during the triumphant second leg of the Dirty Mind Tour, delivering two shows of his rawest songs wearing only bikini briefs and a trenchcoat, backed by a classic lineup.
Dec 5 (two shows)
Arie Crown Theater (Controversy Tour)
His popularity rising, Prince sells out two shows at a venue four times the capacity of the Park West. "Uptown" makes it into the set even though this is the farthest south he will ever play in Chicago. The Time opens.
1982
Dec 9–11
Auditorium Theatre (1999 Tour)
During this three-night stand, Prince raises funds and awareness for educator Marva Collins's Westside Preparatory School. During his stay, Prince sits in on classes at the Garfield Park school, stating "This is the kind of school I always wanted to go to." In 1994 Prince features Collins in his video for "The Most Beautiful Girl in the World."
1983
Apr 10
UIC Pavilion (1999 Tour)
Showing his appreciation for Chicago fans, Prince closes the 1999 Tour with a return visit.
1984
Dec 9–11, 13, 14
Rosemont Horizon (Purple Rain Tour)
Riding the wave of movie superstardom, Prince puts on an elaborate five-concert run, in two-hour shows that eschew catalog material, feature numerous costume changes and have Jerome Benton (Morris Day's valet from the movie) serve as his Man Friday. Prince also takes an onstage bath.
1988
Sept 17–19
Rosemont Horizon (Lovesexy Tour)
Prince's most elaborate tour features a $2 million set, our hero arriving onstage in a white T-Bird, Sheila E. elevating the musical stakes and an amazing survey of his first decade of recordings (even if he only plays snippets of faves like "Controversy").
1991
Aug 16
Hyatt Regency Chicago (WEA annual convention)
A mere two years before a dispute with Warner Bros. would have Prince write "slave" on his cheek, forego the use of his own name and negotiate an "emancipation" from his longtime record label, he plays nice and performs at an industry function for the label.
1993
Apr 4–6
Chicago Theatre (Act I Tour)
This run (the first featuring Prince's future wife and current reality television star Mayte García) gets upstaged by a mighty after-show at Metro on the 6th, which features a Howlin' Wolf cover, Prince reading fresh lyrics from a purple notebook, a guest appearance by onetime Hendrix drummer Buddy Miles (playing "Them Changes") and a rap by The Cosby Show's Malcolm-Jamal Warner(?)!
1996
Nov 21
Park West
In town to do Oprah—on which he performs "Do Me, Baby," "If I Was Your Girlfriend" and "Sleep Around," giving housewives a thrill in the pre–Fifty Shades of Grey era—this show kicks off a little before 1am, and features a tight five-piece combo in a career-spanning set that only lasts a little over an hour—a microsecond in Prince concert time.
1997
Jun 28
United Center (Love 4 One Another Charities Tour)
Prince's last Chicago appearance before Larry Graham's spiritual mentorship eventually leads the artist toward the Jehovah's Witness faith and a cleaner repertoire. The show features a section so dirty Prince stops the set to give parents a chance to take children outside. He makes an appearance at the after-party at Excalibur, but doesn't perform.
1998
Apr 24
Aragon (New Power Soul Tour)
In addition to featuring hometown diva Chaka Khan, the show also spotlights Graham, whose influence may have led to Prince's lengthy lecture about the historical inaccuracies concerning the crucifixion before cuing "The Cross."
2000
Nov 16
Riviera Theatre (Hit N Run Tour)
A musical low point in Prince's local gig timeline, where an extended portion of the show is given to smooth jazz saxophonist Najee's circular breathing exercises. The thrilling Metro after-show makes up for it, where Common raps over "D.M.S.R." and Macy Gray duets with Prince.
2001
Mar 30
Park West
Billed as a party for his new website, no concert is promised but Prince and his band play a thrilling career-spanning set including "Uptown," "Controversy" and "Housequake."
2002
Mar 2, 3
Chicago Theatre (One Nite Alone… Tour)
In addition to the shows, Prince invites fan club members to a soundcheck, where he polls them on whether he should license "Little Red Corvette" for a Chevrolet commercial.
2004
Jul 22–24
Allstate Arena (Musicology Live 2004ever Tour)
Performing in the round, Prince not only challenges Jordan-era Bulls fans by wearing a Pistons jersey in concert (it bore NBA Finals star Tayshaun Prince's last name across the back) but also sneaks into the crowd during Maceo Parker's solo to distribute Jehovah's Witness literature. A House of Blues afterparty follows the July 24 concert where Prince invites seemingly half the crowd onstage to dance, plus additional tour dates June 25 and August 3.
2006
Feb 28
Congress Theater (Támar Presentation Tour)
Prince plays behind protégé Támar (a member of the earliest incarnation of Destiny's Child and frequent star in Tyler Perry's stage plays) in his most recent appearance. Tickets are $31.21 (tying in with his 3121 album) and the 1am set features Prince on guitar and some vocals, and includes covers of the Ohio Players, Aretha Franklin, Sly Stone and, because he always shows our region some love, songs by a couple of our Gary neighbors—Michael and Janet.
Prince plays United Center Monday 24–Wednesday 26.