Rebecca Gates at the Hideout | Interview and concert preview
How the former Spinanes frontwoman got her start in sound art.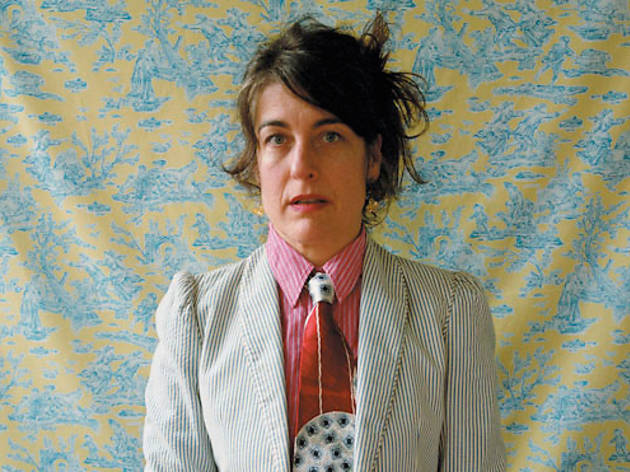 "I love my people," Rebecca Gates says. The singer-guitarist is recalling a fan who apologized for tossing a wad of gum in her hair when Gates's old band, the Spinanes, was opening for Fugazi in Philadelphia nearly two decades ago. The apology came a couple of years after the fact—in Trenton, not Philly—and speaks to the allegiance her music inspires. Gates recently hit the road again to promote a new album, The Float, her first in more than a decade, backed by a band that includes members of Wild Flag, the Jicks and Blue Cranes, all of whom reside in her current home of Portland, Oregon, where she's just returned from picking raspberries in her backyard.
Gates relocated the Spinanes to Chicago from that city in 1997 and spent the next six years here immersing herself in the vibrant postrock scene. Arches and Aisles from 1998 was the last album under the Spinanes banner before her solo debut, Ruby Series, released in 2001. During that time she also lent her voice to recordings by Califone, the Mekons and Joan of Arc. "There's a part of me that always just wanted to be a backup singer," says the 48-year-old. Since then she's sung behind Willie Nelson, contributing "gang vocals" on the Ryan Adams–penned and produced "Blue Hotel." "My mom swears she can hear me in there and I'm like 'Okay,' " she says, laughing.
That was back in 2007, when she called New York home after a stint in Rhode Island. If it sounds as if Gates gets around, that's a by-product of her work in the art world, where she's immersed herself in everything from soundtracks and curating to photo styling. An array of jobs has taken her across the country, and The Float was formed along the way. "It was nice to do an artist residency in Vermont, and to have time to sit and think about sound and music and start writing, and to be driving in West Texas," she reminisces. "I write a lot when I'm on a long drive. It's great because it feels really woven in with my real life."
About a third of the album was first put to tape in Chicago over a week in fall 2004 at a few studios, including Soma, where she captured the new album's closing cut, "Slowed Lowed Lowered." It's a standout affair, free of vocals or conventional structure, more atmospheric in texture and the most tangible link to Gates's interest in sound art. That the track was captured in town isn't just coincidence—it's here that Gates's fascination with audio other than music first took hold. "I started thinking about sound in a lot of different ways and quit putting out my own records for a while."
Picking up where Ruby left off, The Float conjures something warmly familiar to anyone who's followed Gates's career. Her deep, soulful and caressing voice holds together a varied collection of songs easily filed in the indie-pop bin, which was still a relatively new genre when the Spinanes' Sub Pop debut, Manos, arrived in 1993. "That's part of being a singer, you just have that through line of someone's voice, like PJ Harvey or Rosemary Clooney or Shirley Horn, or you know, Thom Yorke." That continuity is impressive when taking into account the idyllic travelogue that served as background scenery as she was writing. "It was not without its challenges," she says, reflecting on the drawn-out gestation process. "If someone would have said, 'I just put a million dollars in your bank account and hired a manager,' I probably would have made a record a lot more quickly."
Rebecca Gates & The Consortium plays the Hideout Sunday 29. The Float is out now.