The Darkness at the Vic Theatre | Concert preview
Glam revivalist strikes the right balance of kitsch and cliché.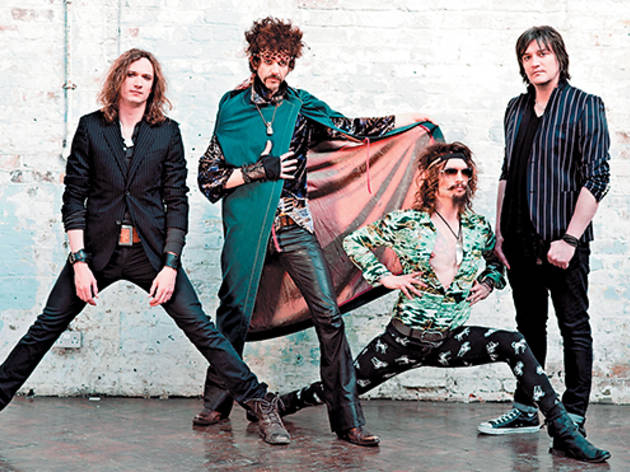 The Darkness debuted as a big, dumb joke, which might have been funnier had the band itself not taken its role as hair-metaller-cum-glam-revivalist so seriously. Which is to say, the lack of a punch line was the punch line, with barely a wink as the group anachronistically embraced spandex, guitar solos and bombast with seamless aplomb, appropriating the best (which means the worst, too) of the likes of Queen, Slade and other masters of over-the-top rock.
The problem was that the difference between dumb-dumb and smart-dumb remains subtle at best, and alas, the group's eventual implosion in a haze of drugs, alcohol and acrimony lent more credence to the dumb-dumb theory. Yet leader Justin Hawkins's realization that the Darkness was too good a creation to give up supports the smart-dumb theory, ratified by last year's solid reunion album, Hot Cakes. The disc returns the British band to the land of its infectious debut, Permission to Land, striking the right balance of kitsch and cliché through total conviction, topped off with a cover of Radiohead's po-faced "Street Spirit (Fade Out)," reimagined as a histrionic, Iron Maiden–esque gallop.
If that doesn't bring a smile to your face then maybe the Darkness has failed in its mission, but don't think for a minute that the group will give up so easily in its goofy quest to lighten up heavy metal. As if it weren't obvious, the Darkness isn't the type to take "no" for an answer.