volcano! at Empty Botle | Interview and concert preview
The unusual inspiration behind the local trio's third album.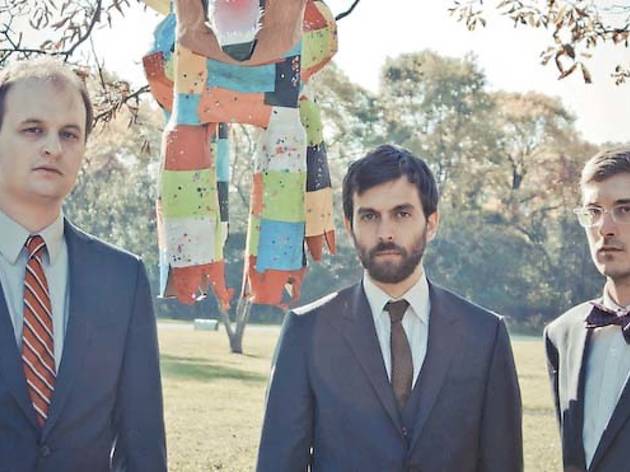 A couple of things quickly become apparent upon meeting Aaron With, frontman of the band volcano! Not only is he an unusually bright guy, but he's got good taste, too. In audio gear, at least. Upon entering his modest second-floor apartment on a shady Roscoe Village street, I'm greeted by a pair of horn-shaped Specimen speakers. With tells me how he took an amp-building course with Specimen mastermind Ian Schneller and made his own guitar amp. He's similarly nonchalant when explaining how the band edited its new album, Piñata, here on a Pro Tools rig (though it was recorded and mixed in Benton Harbor, Michigan), and how he has little background in writing, despite being editor-in-chief of Groupon, thus overseeing a stable of writers and editors that dwarfs TOC.
That last fact in particular would seem to explain the four-year gap since the Chicago group's prior disc, Paperwork, but With says the wait is on account of his bandmates as well. "We've all kind of had crazy commitments surface in the last few years," says the 31-year-old Northwestern grad, citing the academic pursuits of drummer Sam Scranton and keyboardist-bassist Mark Cartwright. Scranton's working on a master's degree in composition at Roosevelt University while Cartwright is completing a Ph.D. in computer science.
In a 60 Minutes interview, With described Groupon's editorial voice as being "weird but playful [with a] positive, humorous approach." The same could be said of the music made by volcano!, in case the exclamation point didn't give that away. With's quirky yet soulfully elastic vocals soar over unpredictable arrangements that combine oddly funky guitar licks with jazzy drumming and outer-space synth jabs, forming something refreshingly difficult to categorize.
The music itself draws attention, but With's imaginative lyrics are just as unusual. "There's a number of songs that are based on either dreams I had or a moment where I caught myself having a really stupid, petty fantasy." An example of this is the waltz-like "Child Star," which is based on "like, if you could be born again, but retain all your knowledge and skills, so you'd have more time in your life to be better than all your peers, and just, like, this longing to be superior and to have this stupid, ridiculous time-machine leg up on people. I had this ridiculous dream where I went through that and won a fencing tournament as a child."
In a video series dubbed Seed to Flower, the band similarly reveals the inspiration behind most of the album's tunes, giving a further glimpse into its idiosyncratic sense of humor. In the first clip, for "Fighter," With explains how the band had what it called the "knife hands dance," but that it lacked music. The three proceed to bust herky-jerky moves as the song plays. When asked if this is factual, he summons a trace of a smile, before dryly saying, "They're all true. Print it."
Piñata's final track, "Long Gone," was inspired by the band's weekly mall hang. "Every Saturday we go to the mall in Lincolnwood Town Center," With says. "We have lunch in the food court, sit in massage chairs, get gum balls." Sure enough, they do all these things in the video, dressed in "I'm with stupid" T-shirts.
"We knew we wouldn't be able to tour as much on this album, so we thought we'd promote it through the 100 percent true stories about the origins of our songs." I ask if the band considered the most obvious promotion of them all, a Groupon. But With quickly shoots that notion down. "No," he says with a dismissive chuckle before underscoring the point again. "No."
Volcano! plays the Empty Bottle Monday 18. Piñata is out now.