Warpaint | Interview
Seven things you didn't know about the L.A. outfit.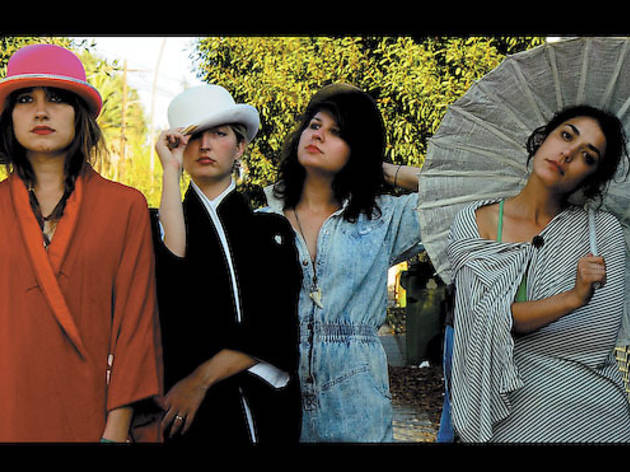 Many groups are just now getting home from the annual sun-and-booze-soaked summit that is South by Southwest. But for Warpaint, that was so 2010. The all-female L.A. foursome was one of the few acts to follow through on their buzz, rocking a slot at Lollapalooza and opening for the xx at the Chicago Theatre—with just an EP, Exquisite Corpse, to its name.
Back in town to headline, the band's plugging an impressive full-length, The Fool, a moody and seductive album that swings like few rock albums can anymore. On the phone from her boyfriend's place in El Sereno, bassist and cofounder Jenny Lee Lindberg gives us the lowdown.
1. Warpaint was almost World War 4.
"It was just three of us for a while, and we called ourselves World War 4. Then my sister [actor Shannyn Sossamon] got back in the band and we decided to call ourselves Warpaint. Because World War 4 seemed kind of stupid with four people."
2. Being an all-female band doesn't make Warpaint a "girl group."
"We don't see ourselves as an all-girl band; that was never the intention. Other than the voices coming from ladies and being somewhat feminine, I think the music is really masculine sounding at times. But because there is such a lack of female groups, it's important to send a strong message to the rest of the world, or just to the women, that if you love doing something, you can do it."
3. Half the band come from Oregon, but were fans of Lilith fare like Sarah McLachlan and Sheryl Crow, not Sleater-Kinney.
"Emily [Kokal] and Theresa [Wayman] grew up in Eugene, which is very much a hippie town. They grew up with a lot of '60s and '70s music—folk, the Grateful Dead, and all of that business."
4. Meanwhile, Lindberg was rocking Jazzercise videotapes, not 120 Minutes.
"I'm a sucker. I liked a lot of weird, obscure pop music that was dance-driven. I was in middle school when the whole grunge movement happened and I didn't understand it and didn't like it because I couldn't dance to it."
5. Lindberg's come to terms with the '90s. The '00s she can do without.
"A long time ago I would have been like, 'Ew, the '90s were so dorky,' but now I really like that decade. It's the '00s that were just really lost. There was no [new] genre. Everyone was just emulating time periods and genres that happened before."
6. The band shares more than half its fans (and a former bandmate) with the Red Hot Chili Peppers.
"All of our fans were definitely Chili Peppers or John Frusciante fans [the former RHCP guitarist mixed Warpaint's debut EP; his replacement, Josh Klinghoffer, drummed on it]. And I think they've carried over. Now maybe 70 percent of our fans are those fans. So, yeah, gotta give a shout-out to them, I suppose."
7. Lollapalooza doesn't always run on rock time.
"It was interesting, because when we played it was like breakfast time. It was so early, we were like [Makes groggy morning voice] kinda tired. But we were pleasantly surprised at how many people came out at that early hour. I think we played at like 11:30am or something [Editor's note: It was actually 2:15pm, but to be fair that's 12:15pm PDT]. Yeah, it was like breakfast: eggs, bacon, coffee…Warpaint!
Warpaint plays [node:33955 link=Lincoln Hall;] Thursday 24.